The town of Minehead is situated on the north coast of Somerset. The town was a prosperous port and has since developed as a holiday resort. Butlins decided to build a holiday camp there in 1962. Major flooding by the sea occurred in 1910, 1981, 1992 and 1996.
Interest groups include:
local residents

Butlins

local businesses

local council

the Environment Agency
Further flooding of private houses and businesses was considered unacceptable. The future costs of further flooding were estimated to be £21 million. It was decided to adopt a hard engineering approach and to spend £12.5 million on:
a sea wall

rock armour

beach nourishment

four large rock groynes
Some argued against the scheme, stating that it was too expensive and looked unattractive. Developers gave careful consideration to environmental factors, such as preserving sea views and providing seating and an attractive promenade.
On 15 May 2001, the new sea defences were officially opened.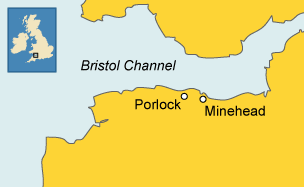 Porlock Bay is located 20 km to the west of Minehead. The area is north of Porlock village and is a combination of salt marsh and farmland. A natural shingle beach protects the farmland from flooding.
Interest groups include:
National Trust

National Park Authority

local residents

environmental groups (the area is a Site of Special Scientific Interest (SSSI))

farmers (coastal grazing marsh)
In 1996, the sea broke through the shingle ridge and caused extensive flooding. In response, a working group recommended a managed retreat approach where some farmland would be lost in the hope of stopping flash flooding from occurring. Planners decided that it would not be cost effective to build expensive sea defences to protect land that is low in value. Environmentalists argued it would recreate tidal habitats and encourage salt marsh species of plants and insects to develop. Some local residents protested against the decision, stating that it would cut the local bus service route in two.