Adaptations of plants to extreme environments
Desert plants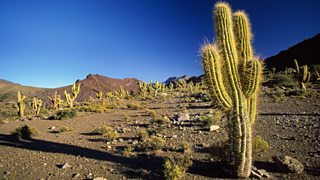 Cacti are well adapted for survival in the desert. They have:
Stems

that can store water.

Widespread or very deep root systems

that can collect water from a large area or from very deep underground.

Spines

which are modified leaves. These minimise the surface area and so reduce water loss. The spines also protect the cacti from animals that might eat them.

Very thick, waxy cuticle

to reduce water loss by

evaporation

.

Reduced number of

stomata

to reduce water loss by

transpiration

.