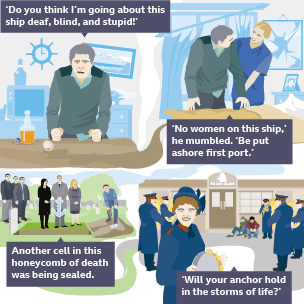 The Eye of the Hurricane is divided into six sections. It opens with the narrator, Barclay, stating that he moved into the ground floor flat of Captain Steven's house, in Hamnavoe, three months ago.
Every Friday afternoon Barclay collects a half-bottle of rum for Captain Stevens from the local shop. One Friday morning, Captain Stevens requests to have his bottle collected earlier than usual because he has a cold. Despite this being an inconvenience for Barclay, he agrees. Section one ends with Captain Stevens requesting two more bottles after claiming that one had smashed in an accident. Despite his suspicions about this claim, Barclay again agrees.
In section two we learn more about Barclay. He is a writer, a recent incomer to the island and a Catholic. Barclay arrived in Orkney after the end of a relationship with a woman named Sandra. We are also introduced to Miriam, a young woman who cleans for Captain Stevens every morning. Miriam explains to Barclay that Captain Stevens started to drink after his wife died ten years ago. She also tells him not to buy rum for Captain Stevens. Miriam claims that, though Captain Stevens won't be impressed by Barclay's refusal at the time, he will be thankful once his bout of heavy drinking, which usually lasts for about a week, is over. Soon afterwards, Captain Stevens beckons Barclay to his room and asks him to collect more rum. As he promised to Miriam, Barclay refuses. Captain Stevens does not respond well and tells Barclay he is evicted and must leave before the end of the month.
In the third section, Barclay struggles with writer's block. Miriam again asks him to refuse to buy alcohol for Captain Stevens, and tells him not to let two seamen called Robert and Stony visit the Captain, as they also supply alcohol to Captain Stevens. Captain Stevens' behaviour becomes increasingly angered and he shouts abuse at both Miriam and Barclay. He is so drunk that he is convinced that he is at sea with Barclay and accuses Barclay of trying to seduce Miriam.
The fourth section opens with Barclay describing the book that he is writing. The book concerns the voyage to Jerusalem of an Orkney Earl, Rognvald Kolson, in the twelfth century. Miriam begs Barclay to come upstairs to help her and when he does, he finds Captain Stevens is lying on his back in a paralytic state. When Barclay tells Miriam of Stevens' threats – He's going to put the law on me Miriam responds by asking Barclay to pray for him.
On a walk around Hamnavoe, Barclay enters the graveyard, where he sees the grave of Captain Stevens' wife and child. From the dates, we can assume that Mrs Stevens and her son both died during the birth. Barclay returns to the house, where Miriam asks Barclay to call for her if Captain Stevens becomes distraught. Miriam then unexpectedly kisses Barclay.
Barclay drifts off to sleep and dreams about Miriam. His dream is interrupted, when Stony and Robert, the sailors who Miriam had previously warned Barclay about arrive at the house. The two sailors, who have alcohol with them, push past Barclay and head to Captain Steven's room. Soon afterwards, Barclay hears a terrific crash from upstairs. When he goes upstairs to investigate, Captain Stevens is standing in his dressing gown. Captain Stevens goes on to talk to Barclay, Robert and Stony as if they are onboard a ship and tells them that they are in the midst of a hurricane. Stevens advises them that they are going to need courage and more importantly, love. Stevens then collapses.
Concerned, Barclay rushes down the street to get Miriam. By the time they arrive back at the house, Robert and Stony have put Captain Stevens to bed. Miriam tries to comfort Captain Stevens, but he passes away.
In section five, Barclay describes Captain Stevens' funeral. Stony tells Barclay about his admiration for Captain Stevens – he considered him a courageous man. After the funeral, Barclay is comforted by music that has religious themes.
In the story's closing section, in the weeks since the funeral Barclay has continued with his writing. He wanders around Hamnavoe and at the pier-head he sees twelve Salvationists singing will your anchor hold in the storms of life? Amongst the singers, he recognizes Miriam, whose face was radiant under the street lamps.