One quick way to improve your style is to avoid repeating key words close together. It also helps to extend your vocabulary, for example, by using synonyms. Find ways to increase your vocabulary so that you can add new words to your writing.
If you are using a word processing package on a computer, you can often do this by 'right clicking' the mouse on an individual word and choosing the synonym menu option provided by the software. This will give you many different choices – but care is needed as the software is not foolproof.
Here the writer has done this with the word 'scared':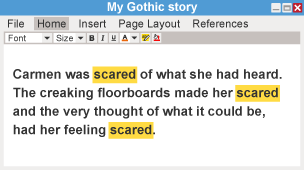 You can also use a print or online thesaurus and dictionary to help you to generate new words that you can add to your work.
Get into the professional writer's habit of reading back each sentence and paragraph you write to sense its liveliness and appropriateness for your reader and purpose. Put on your reader's hat occasionally as you write and see what you can change for the better.