New developments
The UK government is investing in infrastructure developments. These include new road, rail, port and airport facilities. The Department for Transport is the part of the government that oversees all forms of transport within the UK.
Roads
The Highways Agency are responsible for any new major roads in the UK. They are part of the government and they collect money through Vehicle Excise Duty (VED). Smaller roads are managed by local councils and roads in Scotland and Wales are managed by either Transport Scotland or the Welsh Assembly.
The Highways Agency have an ongoing programme of resurfacing roads and building new roads. In December 2014, the government announced that they would be spending £15 billion on improving and expanding UK roads. This money involves building smart motorways that use technology to manage congestion. Smart motorways are planned for busy routes between London, Birmingham, Manchester and Yorkshire.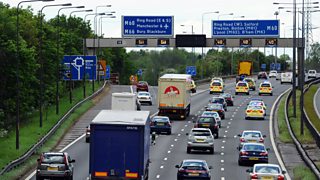 Rail network
Network Rail is responsible for running, maintaining and developing Britain's railways. The number of rail journeys made have doubled over the last twenty years. As a result of this, £25 billion is being spent to upgrade the network by 2019. Improvements will include longer platforms that can cope with bigger trains and better stations.
High Speed 1 (HS1) is a fast train link between London and Paris. HS2 is a planned fast train link between London and the North of England (Manchester and Leeds). HS2 is planned to be completed in 2026, at an estimated cost of at least £43 billion. It will dramatically cut journey times, for example the current journey time from London to Birmingham will be cut from an hour and a half to just 49 minutes. A further extension of high speed rail to Scotland is possible in the future.
Ports
The importance of UK sea ports has declined over time. Many people now travel by air and the Channel Tunnel has meant that lorries no longer need to drive to a port to travel between the UK and France. Cargo ships do still arrive into UK ports, but containerisation has meant that fewer workers are needed to load and unload them. Larger ships are now used, which has made less accessible ports redundant.
UK ports remain the largest in Europe, in terms of volume of goods handled. UK ports are modern and work well, and so the government are not currently planning any major redevelopments.
Airports
The Airports Commission is the part of the government that deals with UK airports. The Airports Commission produced a report in 2015, which recommended that the expansion of UK airports was important for the country's prosperity. This is a controversial issue because many people living close to airports don't like the noise and some lose their homes to make space for runways. Airport expansion can lead to a reduction in house prices in nearby areas.
A new runway has been proposed for Heathrow. The development will generate an estimated £147 billion over 60 years and 70,000 new jobs by 2050. Flights will run to 40 new destinations. The cost of the scheme is estimated to be £18.6 billion. The proposal has largely been backed by business groups. However, some special interest groups are unhappy as there are concerns about the impact on noise and air quality on the surrounding areas, and are considering actions such as a ban on night flights and a guarantee that a fourth runway will not be built.