The English army returns to Scotland
In the summer of 1298, Edward I again marched north into Scotland. Wallace tried to avoid a pitched battle through a number of actions:
He hid his army from the English and destroyed crops and buildings in the North of Scotland so that the enemy army would have to return home.

Edward discovered that Wallace's army was near Falkirk.
The two armies faced each other at Falkirk, on 22 July 1298.
Neil Oliver describes events leading up to the Battle of Falkirk in the video below.
The Battle of Falkirk
Edward I's army was much bigger than Wallace's army: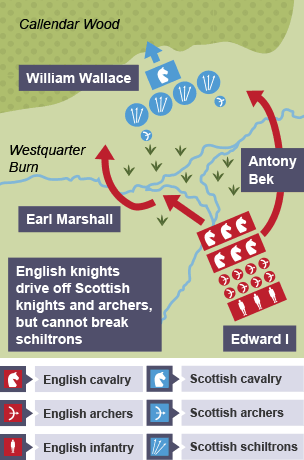 Facing the English, Wallace set up his men in four 'schiltrons'.

The Scottish archers would defend the schiltrons.

They were defended on either side by the Scottish cavalry.

In front of the Scots was soft, boggy ground that would be hard for the English to cross.
However, the English army was too strong for the Scots: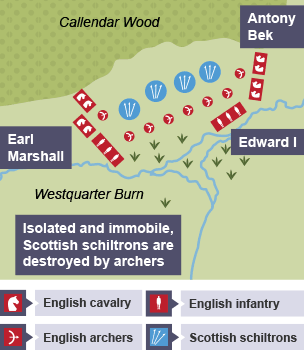 The English cavalry drove the Scottish cavalry from the battlefield.

The English cavalry was then able to defeat the Scottish archers.

Without the protection of either cavalry or archers, the Scottish schiltrons were vulnerable. As the English charged again, the Scottish schiltrons fell apart.

The Scottish army was massacred.