Continuous variation
Most characteristics are controlled by more than one gene and are described as being polygenic.
Polygenic characteristics have phenotypes that can show a wide range of values, with each value following on from the value before. This is described as continuous variation.
Continuous variation in a group of individuals can be shown using a histogram.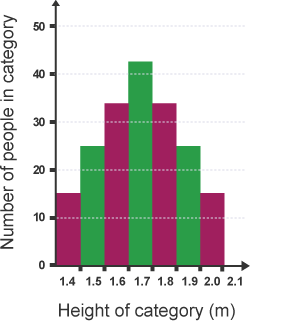 The table gives some examples of characteristics that show continuous variation.
| Characteristic | Possible phenotypes |
| --- | --- |
| Height | Wide range of values, eg 1.69m |
| Body mass | Wide range of values, eg 58kg |
| Circumference of left wrist | Wide range of values, eg 15cm |
| Milk yield of cow | Wide range of values, eg 7500 litres/year |
| Root length of plant | Wide range of values, eg 5cm |
Many phenotypes are also affected by environmental factors, such as the conditions to which the individual has been exposed. For example, a person's height is determined by the genes they have inherited and by the availability of food when they are growing.