Characteristics such as eye colour, height and body mass differ between individuals in a population. These differences are called variation.
The particular version of a characteristic seen in an individual is described as their phenotype and is determined by the genes on the chromosomes they inherited from their parents.
Combining different versions of genes from two parents contributes to variation within a species of sexually reproducing organisms.
Example one: Characteristic - colour in snapdragon flowers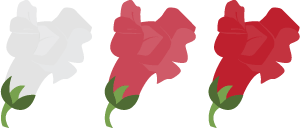 Colour phenotypes: white, pink and red
Example two: Characteristic - adult height