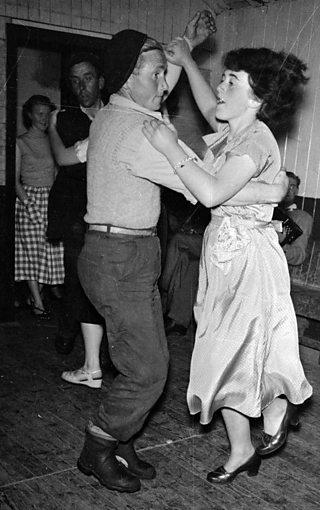 The ceilidh remains a popular social occasion and entertainment in the Highlands. At a traditional ceilidh, participants:
sing or take turns playing traditional songs on musical instruments

tell regional folk tales, myths or legends

dance vigorously into the small hours
The ceilidh format is intelligently employed by McGrath as the structure for The Cheviot, The Stag and the Black, Black Oil. In the opening stage directions we are told that:
the evening begins with THE FIDDLER playing Scottish and Irish fiddle tunes among the audience […] the audience stamp their feet, clap […] if they want to".
When all the audience are seated, the M.C. "welcomes the audience, comments on weather, conditions in the hall, etc." and "proposes to start the evening with a song" ('These Are My Mountains').
The words of the proposed song are printed on a sheet held up by two members of the company for the audience to read and sing along with.
The play's opening makes the audience very welcome and invites them to play an active role in the evening's proceedings.
At ceilidhs, the function of the M.C is to compère the songs, storytelling and music, and to ensure the smooth progression of the evening's planned entertainment. John McGrath uses this established feature effectively - employing a number of M.C.s to function as both host and narrator of the play:
Later on we're going to have a few songs like that one – if you know the words, join in – and then we're going to have a dance, and in between we'll be telling a story.
The M.C.s also provide context for the action and reiterate the ideas being explored in each of the shorter sections.
Features of the traditional ceilidh are to be found throughout the play, such as Gaelic laments and traditional ballads (such as 'The Battle of the Braes' and 'I Will Go, I Will Go').
It is fitting that this play which bases its structure on a traditional Gaelic ceilidh, culminates in Gaelic song. The Gaelic is glossed by the M.C. who translates and reinforces the song's poignant lyrics:
Remember that you are a people and fight for your rights – There are riches under the hills where you grew up. There is iron and coal there grey lead and gold there – There is richness in the land under your feet. Remember your hardships and keep up your struggle The wheel will turn for you By the strength of your hands and hardness of your fists. Your cattle will be on the plains Everyone in the land will have a place And the exploiter will be driven out
The cyclical nature of the play (it begins and ends in song) allows McGrath to reinforce one of the central concerns of the theme of change – that despite developments and innovations, nothing ever changes that much. History will keep repeating itself.