The diagram represents a simple electric motor that a pupil investigates in their lesson.
The current in the coil flows from W to Z. This is shown on the diagram.
An ammeter is used to measure the current through the coil.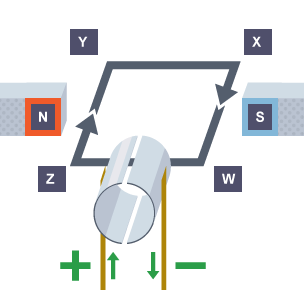 a) Use the diagram to explain how you can determine the direction in which the coil rotates. [1 mark]
b) The pupil would like the motor coil to rotate in the opposite direction. Give two different ways that could make this happen.[1 mark]
c) The length of YZ is 0.12 m and the magnetic field strength is 5 mT. Select an equation from the list of equations at the start to calculate the reading on the ammeter if the force is 2.4 x 10-3 N [2 marks]
Explain what the effect would be on the coil if the current supplied were doubled and the magnetic field strength halved. [2 marks]
Eduqas, GCE Combined Science, SAMs Component 3, 2016 - Higher.
a) i) Left hand motor rule [1]
Finger of (left hand) represents B-field direction (N to S) and second finger of (left hand) represents current direction (+ to -) [1]
Direction thumb points gives the force direction [1] (coil will rotate clockwise)
b) Reverse current [1]
Reverse magnetic field [1]
c) Manipulation of F = BIL (i.e.) I = F / BL [1]
I = 2.4 x 10-3 / (5 x 10-3 x 0.12) = 4 [A] [1]
d) Current doubles the force but field if half the force [1]
Net effect is zero [1]