As demand for energy increases, CO2 levels are also increasing. Low income countries (LICs) are largely responsible for this due to increasing populations, economic growth and urbanisation, however high income countries (HICs) such as the USA and Japan are also responsible. As a result, many countries are trying to tackle their own energy insecurity as the traditional form of fossil fuel production runs dry.
There are several ways individuals and governments can reduce the impacts of climate change.
Invest in low carbon technologies such as solar panels and tidal energy. This will lead to fewer greenhouse gases being emitted into the atmosphere so the effects of the greenhouse effect will be reduced.
Improve fuel standards in cars or buy electric cars, fewer fossil fuels and a reduction in CO2 will reduce the greenhouse effect.
Improve public transport systems and encouraging people to use public transport will reduce the number of cars and vehicles on our roads. This will help ease congestion and reduce pollution, especially in urban areas.
What can governments do to help?
In Wales, the new development of Cardiff Central Square is designed to encourage people to use public transport. This is achieved by linking the main train station to the bus station together with a new taxi rank and cycle routes. The whole area is going to be pedestrianised, making it easy and safe for people to get around and to reduce the need for a car. Public transport systems across the UK also make the movement into, through and around an urban area more favourable than using the car. An example of this can be found in Edinburgh, Scotland where the new tram system connects the airport to the city centre.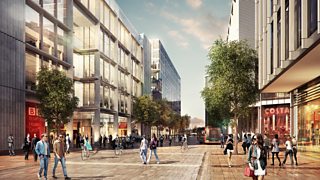 Increase energy efficiency in our homes
There are many strategies and technologies which can be used or constructed around our home to increase energy efficiency. The graphic shows some of the ways this can be done. The benefit of this is that CO2 emissions will be reduced which is good for the environment, and also running costs are reduced which is good for the consumer. Government incentives can persuade many to switch to energy efficient technologies, but often it is the choice of individuals to design and alter the way their home generates power.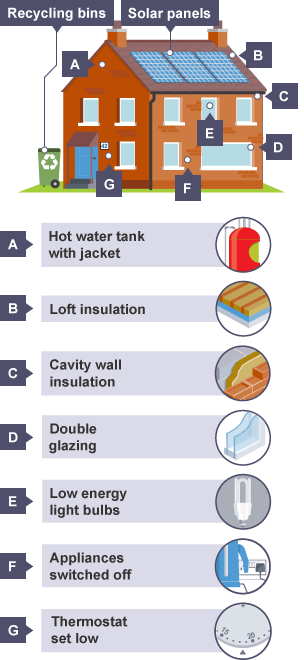 Buy locally produced organic food
Supporting local farmers is another way to reduce our impact on the environment as it reduces food miles. Much of our food is grown or sourced abroad and often this has to travel by rail, road, sea and air before ending up in our local supermarkets - this leads to a rise in carbon emissions. In addition, some of the goods we buy from abroad, such as fruit, use fertilisers and pesticides which further damage our environment. So not only should we buy locally produced food with reduced food miles, but also buy organically produced food in which artificial fertiliser and pesticides have not been used. Government adverts and messages can help persuade some people to change the way they buy, but often it is the individual lifestyles which determine where goods are purchased.