Case study: Thar Desert, India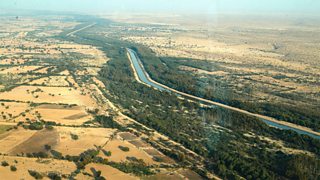 The desert has a population density of over 80 people per km2. (Other deserts have population densities below 10 per km2). There are many mobile sand dunes, and sandy hills.
Subsistence
The desert area is not very fertile. Soils are quickly drained, and contain few nutrients.
The farming is limited, typically a few animals on more grassy areas and fruit. Most is subsistence farming.
Commercial farming
Commercial farming has been possible since the building of the Indira Ghandhi Canal. This irrigates an area near Jodhpur. Wheat and cotton can be grown. The canal also supplies drinking water.
Mining and industry
Resources such as limestone and gypsum (for making plaster) are found in this desert - and are valuable for the building industry.
Tourism
Tourism is a growing industry, and locals can act as guides and provide transport – such as hiring out camels.