Technological innovation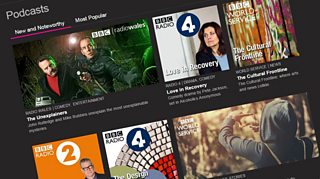 BBC podcast download screen
New technology has helped the radio industry evolve and increase in popularity.
There's been a huge increase in the number of people downloading podcasts and streaming internet radio. Most radio stations archive past broadcasts on their official websites, for listeners to access on-demand.
Studio webcams and social media have changed the audience relationship with radio by making listeners feel more connected to the presenters.
This type of media convergence is also achieved through the use of blogs and forums on radio websites.
Radio is available on more platforms than ever before, including:
DAB (Digital Audio Broadcasting)

FM Radio

LW (Long Wave)

MW (Medium Radio)

Freeview TV, Sky TV and Virgin TV

Online

On mobile phones via mobile apps

On digital music players
Brand identities
A radio station will have a specific brand identity which informs their house style.
A radio station's target audience can be identified by the music it plays; a station like Gold, for example, focuses on playing classic pop songs for an older audience.
Another feature of house style is the language presenters use on air.
For example, Radio 4 uses clear diction and formal language whereas a station targeting a young audience will be more energetic and use informal, everyday language that may include some slang or abbreviations like 'LOL' or 'YOLO'.
The BBC is a good case study to show how a single broadcaster can have a range of brand identities that target different audiences.
Each station has a different remit:
BBC Radio 1

: to entertain and engage a broad range of young listeners with a distinctive mix of contemporary music and speech.

BBC Radio 1 Xtra

: to play the best in contemporary black music with a strong emphasis on live music and supporting new UK artists.

BBC Radio 2

: to be a distinctive mixed music and speech service, targeted at a broad audience, appealing to all age groups over 35.

BBC Radio 3

: to offer a mix of music and cultural programming in order to engage and entertain its audience.

BBC Radio 4

: to be a mixed speech service, offering in-depth news and current affairs and a wide range of other speech output including drama, readings, comedy, factual and magazine programmes.

BBC Radio 4 Extra

: to provide speech-based entertainment. Its schedule includes comedy, drama, stories, features, readings and programmes that appeal to children.

BBC Radio 5 Live

: to provide live news and sports coverage.

BBC Radio 5 Live Sports Extra

: to bring a greater choice of live action to sports fans by offering a part-time extension of BBC Radio 5 live.

BBC Radio 6 Music

: to entertain lovers of popular music with a service that celebrates the alternative spirit in popular music from the 1960s to the present day.

BBC Asian Network

: to provide speech and music output appealing to British Asians, with a strong focus on news and current affairs.

The World Service

is broadcast internationally and provides news, analysis and information.