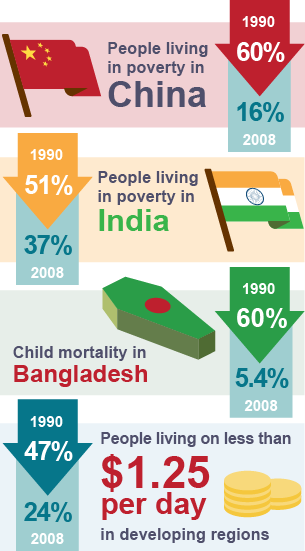 While there are still huge problems of poverty in sub-Saharan Africa especially, there is growing optimism about tackling the issue of poverty. African people are putting pressure on their leaders to end corruption and be more democratic.
Africa is among the fastest-growing regions in the world and its people are embracing modern technology. Access to communications is changing the continent and the use of and access to mobile phones has had a huge impact. Farmers have started using hand-held gadgets to gain access to weather reports. The internet is changing the way business can be carried out. More countries are having democratic elections.
The number of people living in extreme poverty has fallen in every developing region, including in sub-Saharan Africa where rates are highest. In the developing regions, the proportion of people living on less than $1.25 a day fell from 47% in 1990 to 24% in 2008.
Some regions have seen greater progress than others. In China in 1990, 60% of the population lived in poverty, by 2008 it had dropped to 16%. In India and in the Southern Asian region excluding India, poverty rates fell from 51% to 37% and from 52% to 26% respectively, between 1990 and 2008.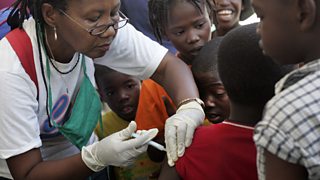 Child mortality in Bangladesh has been cut by more than 60% since 1990, while the proportion of mothers dying in childbirth has fallen threefold. Almost 90% of children are immunised against measles, diphtheria and polio, compared to just 1% in 1985. According to research by Oxford University's Poverty and Human Development Initiative, Bangladesh the most densely populated sizeable country on earth, will if current trends continue, have "eradicated" absolute poverty within the next two decades.
There are similar triumphs worldwide. Every day 12,000 fewer children under the age of five now die than in 1990. Measles deaths are down by 78% since the turn of the millennium and more than 90 per cent of children now start primary school.
If this progress continues, MDG Target 1, cutting the extreme poverty rate to half its 1990 level by the end of 2015 will have been comfortably achieved.
This will still leave many millions of people, almost 16% of the world's population, living on less than $1.25 a day by 2015. Four out of every five people living in extreme poverty will be in sub-Saharan Africa and Southern Asia despite significant progress.
Despite the sub-Saharan African poor rate falling by almost 5% to less than 48%, between 2005 and 2008, this still left 386 million people in 2008 living in poverty.