MSPs are elected to the Scottish Parliament every four or five years (this varies to avoid any clash with Westminster elections). The electoral system used to choose MSPs is known as the Additional Members System (AMS).
For the purposes of this election, Scotland is divided into 73 constituencies. Each constituency elects one MSP but there are also an additional 56 regional or list MSPs making 129 MSPs in total.
The last election to the Scottish Parliament was in 2016. The outcome of this election was that the SNP were the largest party and formed a minority government. The next UK General Election is scheduled to be held on 5th May 2022.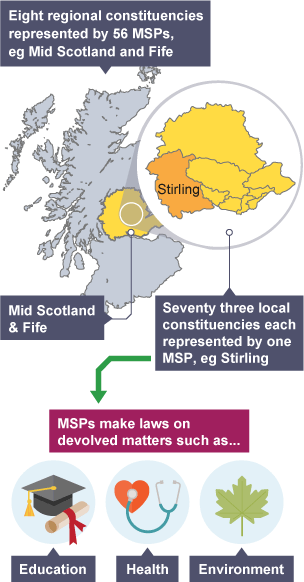 Further representation
As well as appointing 129 MSPs to the Scottish Parliament, Scotland is also represented at the UK Parliament via 59 Scottish MPs. As of the 2017 General Election, the SNP remained the largest Scottish party at Westminster with 35 MPs, the Scottish Conservatives increased their share by winning 13 seats, Scottish Labour slipped into third place with 7 seats, and the Liberal Democrats won 4 seats.
Scotland is also currently represented at the European Parliament by six MEPs – two SNP, two Labour, one Conservative, and one UKIP. This representation will end once the UK leaves the European Union as part of the BREXIT process.