Read Turas inntinneach air an robh mi. It is a good example of a piece of writing created using a writing plan. If you feel you need to, you can use the vocabulary list to help with unfamiliar words.
Turas inntinneach air an robh mi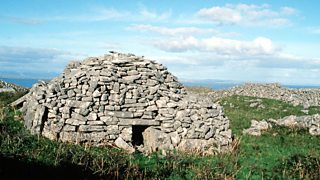 O chionn dà bhliadhna, chaidh mi air saor-làithean a dh'Arcaibh. Chaidh mi ann còmhla ri mo theaghlach - mo mhàthair agus mo phiuthar bheag. 'S e eileanan a th' ann an Arcaibh. Tha iad eadar Alba agus Nirribhidh.
Dhràibh sinn à Peairt gu Scrabster. Tha Scrabster ann an ceann a tuath na h-Alba. Fhuair sinn bàt'-aiseig bho Scrabster gu Stromness, prìomh-bhaile Arcaibh. Thug an turas sia uairean deug oir bha an t-sìde cho garbh. Cha robh cur na mara idir orm ach bha mo phiuthar gu math bochd. Bha am bàt'-aiseig uabhasach mòr, le trì cafaidhean, bàr, taigh-bìdh agus seòmar telebhisein. Bha tòrr ri dhèanamh. Chuir mi seachad an ùine a' coimhead filmichean agus a' cluich geamannan coimpiutair.
Bha sinn a' fuireach còmhla ri mo sheanmhair. Tha i a' fuireach ann an taigh beag faisg air a' mhuir. Tha an taigh aice sean, ach tha e snog agus spaideil. Bha mo mhàthair a' fuireach anns an taigh seo nuair a bha i òg.
Diluain, chaidh sinn air turas-mara. Bha i ciùin ach bha i beagan fuar. Chunnaic mi ròin air na creagan agus thog mi tòrr dhealbhan. Chaidh sinn gu taigh-tasgaidh ann an Skara Brae. Bha mi ag ionnsachadh mu dheidhinn Skara Brae ann an Eachdraidh anns an sgoil. Bha e inntinneach Skara Brae fhaicinn. Fhuair mi bileagan fiosrachaidh airson an tidsear.
Tha Arcaibh glè shàmhach agus iomallach ach tha tòrr ann ri dhèanamh. Bidh mòran luchd-turais a' dol a dh'Arcaibh gach bliadhna. Chòrdadh e rium a bhith a' fuireach air eilean oir tha e sàmhach. Ach 's docha gum biodh an cianalas orm airson a' bhaile-mhòir. Dè an rud a b' fhèarr mun turas? A' faicinn mo sheanmhair. Tha mo sheanmhair èibhinn agus coibhneil. Chòrd an turas air a' bhàt'-aiseig rium, bha e spòrsail. Tha mi ag iarraidh a dhol air ais ann an-ath-bhliadhna.