Structure
The poem is structured as a series of eight stanzas of five lines. The last line of each stanza is noticeably shorter and indented which emphasises its importance. It is also part of the more general disruption of the rhythmic structure which uses hexameters as its basis. Many of these short lines are either rhetorical questions or the repetition of the phrase 'But nothing happens'. Both have the effect of emphasising the apparent pointlessness of what is going on.
The first four lines of each stanza follow the rhyming pattern of abba. This regularity emphasises the unchanging nature of daily life in the trenches. Closer inspection shows that many of the rhymes do not quite work as full rhymes eg: knive us/nervous, wire/war, brambles/rumbles. Owen is employing a technique known as half rhyme. This helps to unsettle the reader and defy the expected outcome, something which again echoes the experience of war.
Language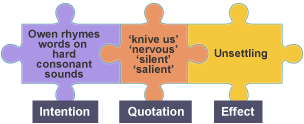 In contrast to the brutalities of the war, the vocabulary Owen uses is sophisticated. The most notable feature of the language is Owen's skilful use of alliteration and assonance.
A particularly effective example of alliteration comes in the fourth stanza with the repetition of the letters 's', 'f' and 'w':
Sudden successive flights of bullets streak the silence.
Less deadly than the air that shudders black with snow,
With sidelong flowing flakes that flock, pause, and renew,
We watch them wandering up and down the wind's nonchalance,
The repeated use of the 's' sound reminds the reader of the bullets which are whizzing past the ears of the soldiers. As the lines follow one another so, gradually, the 's' sounds fade away; just as the hail of bullets would do. Intertwined into the same stanza are two other careful uses of alliteration as Owen uses the repeated 'f's on the third line and 'w's of the fourth line to form intricate word patterns.
The poignant misery of dawn begins to grow…
We only know war lasts, rain soaks
A clear example of assonance can be found in the third stanza where the sound of a long 'o' in the words 'soak', 'know' and 'grow' emphasises the slow tedious wait for something to occur. This same long 'o' sound occurs again in the sixth stanza.