Introduction
The video games industry has grown to become one of the biggest and most profitable media industries in the world.
Increasingly games can make more money than some of Hollywood's biggest films.
Jurassic World was one of the highest grossing films of 2015, making an estimated £336m in its opening weekend. Later that year, over the same time period, the game Call of Duty: Black Ops 3 generated £361m.
Some of the most successful video games producers are:
Ubisoft: (

Assassin's Creed

and

Far Cry

series)

Bethseda: (

Fallout

and

Skyrim

series)

Rockstar: (

Red Dead Redemption

and the

GTA

series)

Valve: (

Left 4 Dead

and

Half-Life

series)

Electronic Arts: (

FIFA

and

The Sims

series)

Activision: (

Call of Duty

and

Guitar Hero

series)
UK spending
The UK Interactive Entertainment Organisation (UKIE) supports the video games industry in the UK. They provide research on game use, demographics and sales statistics - these help video game producers to tailor content to their audiences and maximise sales.
According to UKIE, the UK industry was worth £3.9 billion through gamer spending in 2014 and £4.2 billion in 2015.
Gamers
GameTrack, a tracking survey commissioned by the Interactive Software Federation of Europe (ISFE), found that 20 million people in the UK aged 6-64 play video games - this is around 42% of the population.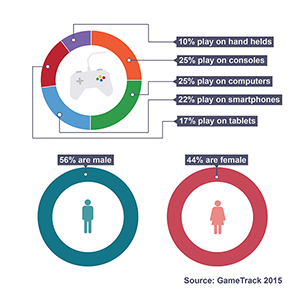 The survey results suggest that gamers can be found in all groups and genders - this demographic is reflected globally.