The central metaphor of the book, with its chapters named after stages in the farming year, reflects the close relationship between man and the land.
The stages represent stages in Chris's own life. This is an appropriate analogy for a girl whose life is the land.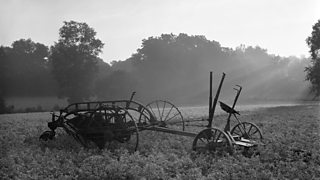 Of the two facets of Chris's character, the 'English Chris' loves books, but the Scottish Chris loves the land: the smell of the earth in your face, almost you'd cry for that, the beauty of it and the sweetness of the Scottish land and skies.
She enjoys an almost sensual closeness with it: the wet fields squelched beneath her feet, oozing up their smell of red clay.
Farmers are often called by the name of their farm as if they're inseparable: old Netherhill's daughter; Cuddiestoun himself came ben the road.
John Guthrie is called Blawearie by his neighbours, and Ewan becomes Blawearie when he marries Chris. Ewan is particularly close to the land and rises to be the foreman of a farm at a young age: he had fair the land in his bones.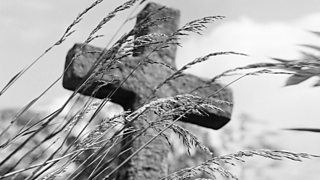 Chris is amazed when he coaxes the difficult land of Blawearie into fertility, but she realises he has the crops and the earth in his bones and his blood.
The land seems to reflect the decay of its human inhabitants: Chris notes the skeleton timbers of the great wood the night Ewan deserts her.
John Guthrie becomes embittered by his struggle with the land, although his difficulties are partly due to his stubbornness in refusing to adopt modern methods. He admits that he loved the land better than his soul or God.
The land gives Chris security. After her father dies leaving her £300, Chris is given the opportunity to choose her life. She looks out across the Mearns countryside, past the ancient tower the Pictish folk had reared, and thinks of how generations have come and gone. She realises that nothing endured but the land... the land was forever, you were close to it and it to you.
After Ewan leaves, Chris turns to the land for consolation, as if to an old friend; hurt and dazed, she turned to the land, close to it, and the smell of it, kind and kind it was, it didn't rise up and torment your heart, you could keep peace with the land.
When Ewan faces the firing squad, he is able to confront his death calmly as he began to speak of Blawearie to Chae who visits him on the eve of his execution.