Bill
Bill is a hard-worker. I had built the house myself and made her [the boat] with my own hands.
Following these descriptions, Bill states that he fished alone. He is an introverted character who is isolated from the community (presumably because of jealousy, given Bill's marriage to someone of a higher social class than himself).
Much of Bill's isolation from the community is unwarranted but he can be confrontational and aloof. When Mr Sinclair first visits, Bill is unwilling to prioritise the company of his father-in-law, telling Mr Sinclair to say what you have to say now, for I have work to do. Bill is rude to other characters. In section eleven, he refers to Anna as ugly.
Bill's stubbornness can be seen as confrontational, but it is also a mark of his courage. He resists the forces of powerful adversity, highlighted through his disagreements with the Laird and Mr Sinclair.
At times, Bill can appear to be quite conceited. He claims that he doesn't attend church because he knew better and dismisses the prospect of christening his child as nonsense.
Despite his obvious flaws, there is a gentle side to Bill's character. He loves Ingi and is desperate to provide for her. In section two, Bill states that he didn't feel the need of anyone except Ingi. In turn, he recognizes the effort she puts into their relationship, acknowledging that she was doing her best to please me. Bill also shows his tender side when in the company of his child, underlined when Bill states that the child slept on in my arms.
Ingi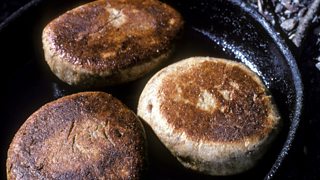 Ingi is consistently cheerful and considerate throughout the story. She is devoted to Bill – highlighted when he arrives home - always when I reached the door Ingi stood before me.
She is not domestically skilled the fish was raw and the bannocks full of soda. but tries her best to provide a comfortable household environment.
Ingi is diplomatic and tactful. When Bill argues with John and Peter of Two-Waters, she stands by her husband but wisely states that this valley is too small for bad blood.
Despite her diligent nature, Ingi is often viewed as being weak. Her father tells Bill that Ingi is not a strong girl. She needs looking after and Arthur also comments that Ingi is not a strong woman.