A Time to Keep is divided into twelve sections, suggesting the twelve months of the year. In the first section, Bill and his wife Ingi arrive home to their new croft following their wedding.
In section two, Bill, the narrator, describes his work as a fisherman during winter. The other islanders kept apart from Bill and he fishes alone. Whenever he arrives home, Ingi stands at the door waiting for him.
Section three focuses on Ingi's work around the croft. Setting fires, smoking fish and baking bannocks are all part of her daily life. These jobs are physically demanding and Ingi works hard but she is not domestically skilled and Bill acknowledges that she is doing her best.
Bill discovers that two of his lambs have been born dead at the start of section four. It is Good Friday and Ingi attends church as usual. Bill, however, spends the day in the pub and returns home drunk.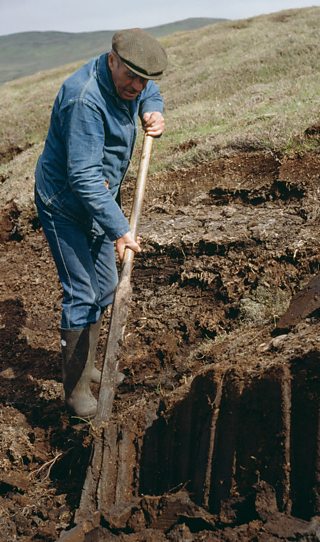 In section five, we learn of Bill's skill as a fisherman and as a peat-cutter. Bill is threatened by the Laird and Ingi again tells Bill of her desperate need for new shoes for the church. It is hinted that Ingi is pregnant. One morning Ingi was very sick.
The tension that had previously been building between Bill and some other characters elevates in section six. Peter and John of Two-Waters accuse Bill of stealing. Though Ingi believes Bill when he protests his innocence, she warns him she does not want any fights, particularly as Anna of Two-Waters is her best friend in the valley.
In section seven, Ingi's father, a well-off man, arrives at the croft. Ingi's father, Mr Sinclair, accuses Bill of neglecting Ingi and not giving her enough money to comfortably live on. Mr Sinclair also complains that Bill spends too much time in the ale-house and doesn't attend church.
In the eighth part of the story, Bill meets some Highland fishermen while out at sea. The Highlanders, though peacefully offering him whisky, accuse Orkney fishermen of poaching in their waters. As a storm brews, Bill heads home, where Ingi is waiting for him.
Section nine documents harvest time, Bill joins the other crofters to help to gather each crop. Bill has a beautiful harvest, but the night before it is due to be cut it rains heavily. The rain continues for a week, ruining Bill's crop.
At the start of section ten, Bill receives a loan from Mr Sinclair. The loan is granted on two conditions: that Bill drinks less alcohol and that he regularly attends church. Bill doesn't verbally agree to this but signs the paper anyway. When Bill returns home, Ingi is in labour and after a difficult childbirth, Ingi gives birth to a baby boy.
After the birth, Ingi dies. In section eleven, she is buried. After Ingi's passing, Anna of Two-Waters helps to look after the child and she suggests to Bill that she and him get married. Bill shouts at her and after refusing the minister's offer to christen the child, takes his baby son to the beach to perform his own 'Christening'.
In the closing section, it is Christmas and it can be assumed that Anna, Bill and the child will soon become a family. Anna talks admirably about the Christmas service and the story ends with Bill going to the shed to get his fishing equipment.