Testing for ions - flame tests
The Group 1 elements in the periodic table are known as the alkali metals. They include lithium, sodium and potassium, which all react vigorously with air and water.
It is possible to use a flame test to detect the presence of an alkali metal ion.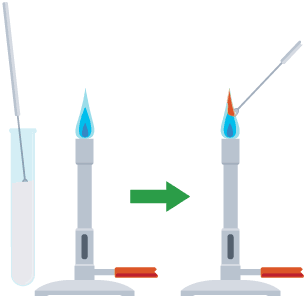 A cleaned, moistened flame test wire is dipped into a solid sample of the compound. It is then put into the edge of a blue Bunsen flame. The flame colour produced indicates which alkali metal ion is present in the compound.