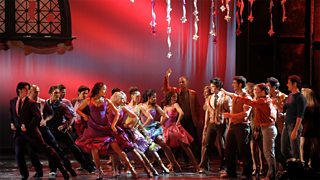 West Side Story is an American musical and was completed in 1957. The music is by Leonard Bernstein and the words are by Stephen Sondheim. It is a jazzy musical based on Shakespeare's story of Romeo and Juliet. It is set in 20th-century New York against a background of racial gang warfare.
There are two rival gangs - the Sharks, who are originally from Puerto Rico and the Jets, who were born in New York. Tony (tenor) and Maria (soprano) meet at a dance and fall in love but have allegiances with opposing gangs. Both acts end with a murder.
The musical was groundbreaking because of its tragic tone, sophisticated musical style and innovative extended dance sequences which are integral to the show.
The music has elements of opera, musical, jazz and Latin-American dance music. Something's Coming is one of the well-known songs from West Side Story. Others include Somewhere, Maria and Tonight.
The first production was on Broadway. In 1961, it was made into a successful film and since then has been performed many times by theatre groups, opera companies and schools.
Leonard Bernstein had a successful career as both a composer and conductor. His best-known works include Chichester Psalms and Candide. Stephen Sondheim went on to write innovative musicals of his own including Company and Sweeney Todd.