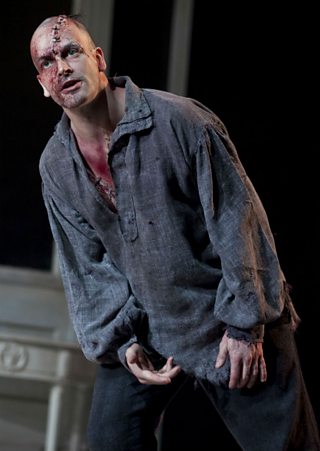 Unlike most characters in a novel, the Monster has no background, family or past history. He is Victor's creation formed out of numerous body parts and brought to life as the result of a scientific experiment.
At first, despite being enormous, he has the mind of a young child and when he is abandoned this starts a spiral of events which nobody can stop. The Monster hides from people and acquires human characteristics such as speech, rational thought and human emotions. However, his appearance works against him and he becomes the victim of human weaknesses and prejudice.
He ends up lonely and isolated and asks Victor for a mate but he will not cooperate. In desperation, the Monster turns to murder as a means of revenge.
How is the Monster like this?

Evidence

Analysis

Self-educating

Although the Monster has a deformed body, his brain is fully functioning and highly active. He is capable of sophisticated thought processes. He teaches himself to survive in a hostile environment and develops an understanding of language (including reading and writing) by secretly observing the De Lacey family. In his discussions with Victor he is able to develop and deliver complex arguments. Unfortunately his education only makes him more aware of his own loneliness.

By degrees I made a discovery of still greater moment. I found that these people possessed a method of communicating their experience and feelings to one another by articulate sounds. I perceived that the words they spoke sometimes produced pleasure or pain, smiles or sadness, in the minds and countenances of the hearers. This was indeed a godlike science, and I ardently desired to become acquainted with it.

Like Victor, the Monster makes discoveries based on observation and experimentation - this is shown in phrases such as '

I made a discovery

', '

I found

' and '

I perceived

'. The Monster gradually realises that sound is used to communicate and that the people he is observing use language to show their feelings and emotions to each other. It is ironic that the Monster describes this as '

a godlike science

' - this echoes Victor's own attitude to his learning and discoveries and suggests that the Monster will also be at a disadvantage from his education.

Lonely

From the moment he is brought to life, the Monster is constantly rejected. He is abandoned by his creator who literally runs away from what he has done. Then he suffers prejudice from other humans he meets who cannot bear his hideous appearance; they assume that because he looks terrible, he actually is terrible. The Monster therefore has no companion, friend or mate and it is this which leads him to demand that Victor create a female version of himself.

"Believe me, Frankenstein: I was benevolent; my soul glowed with love and humanity: but am I not alone, miserably alone? You, my creator, abhor me; what hope can I gather from your fellow-creatures, who owe me nothing? they spurn and hate me. The desert mountains and dreary glaciers are my refuge."

Shelley uses contrast here to show how the Monster has become isolated. Positive words such as '

benevolent

', '

glowed

', '

love

' and '

humanity

' are contrasted by '

alone

', '

abhor

', '

spurn

' and '

hate

'. Even the magnificent scenery amongst which the Monster spends its time is seen as a '

desert

' and '

dreary

'.

Vengeful

As the Monster faces more and more rejection and prejudice and becomes increasingly lonely, his thoughts turn to gaining revenge on all who have abused him. Thus he becomes destructive and homicidal. He murders William, Henry and Elizabeth and is indirectly responsible for killing Justine and Alphonse. The Monster realises that by keeping Victor alive he can prolong his suffering and torment even further.

"Oh, earth! how often did I imprecate curses on the cause of my being! The mildness of my nature had fled, and all within me was turned to gall and bitterness. The nearer I approached to your habitation, the more deeply did I feel the spirit of revenge enkindled in my heart. Snow fell, and the waters were hardened; but I rested not."

Revenge is an extreme emotion and the Monster's use of language here reflects this, such as '

imprecate curses

' and '

spirit of revenge

'. The whole of his nature has changed from one extreme ('

mildness

') to another ('

bitterness

'). The negativity of his emotions is reinforced by the key word '

not

' being placed last in the final sentence.

Remorseful

The Monster seems to be driven by an unstoppable force and is therefore unable to curb his own destructive nature. This is increased by his experiences of prejudice, fear and loneliness. He does, however, display the human quality of remorse or regret towards the end of the novel. As he visits Victor for the last time, he asks for forgiveness, at the same time realising that it is too late to save either of them. The Monster's remorse for his actions finally leads him to commit suicide.

"Farewell, Frankenstein! If thou wert yet alive, and yet cherished a desire of revenge against me, it would be better satiated in my life than in my destruction. But it was not so; thou didst seek my extinction, that I might not cause greater wretchedness; and if yet, in some mode unknown to me, thou hadst not ceased to think and feel, thou wouldst not desire against me a vengeance greater than that which I feel. Blasted as thou wert, my agony was still superior to thine; for the bitter sting of remorse will not cease to rankle in my wounds until death shall close them for ever."

The Monster's language here becomes very formal and almost outdated. Sentences are lengthy and complex and he uses '

thou

' and '

thine

' which gives his words a serious tone. It is as though he is making a speech at a funeral - as Frankenstein is dying at this point, this is very appropriate. Even though both of them have suffered, the Monster claims that he has suffered more ('

my agony was still superior to thine

') and suggests that to go on living would be greater torment than to die.