Economic impact of Scots
Farming
In Australia and New Zealand, Scots were instrumental in building farmsteads and introducing sheep-farming. This led to large amounts of wool and meat being transported back to Great Britain by boat.
William Davidson was the first Scot to send frozen meat back from New Zealand in 1882.
Mining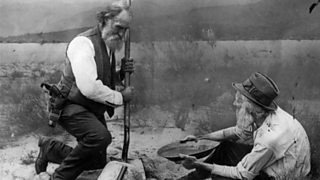 Many Scots became involved in gold mining and worked as prospectors in the USA, Australia and South Africa. Many of these Scots lived in temporary accommodation or tents as they searched for their fortune.
Convicts
Australia and Tasmania were used as prison colonies before 1868. They were controlled by a governor and a body of troops. This provided much needed free labour as convicts were put to work for the duration of their sentence.