How to become a teacher
There are lots of options to get into teaching, and lots of variety once you're there! The biggest initial decision is picking which age group you'd like to teach: early years (children up to the age of 5), primary (ages 5-11), secondary (ages 11-18), or further education (e.g. colleges or sixth forms).
Newly Qualified Teachers (NQTs) have an induction period in which they get extra support to settle into the role. From September 2021, this period will increase from one year (three school terms) to two years (six school terms), so there will be more time to get to grips with life in the classroom.
Scroll down to hear from young people working in teaching and find out how you could follow in their footsteps.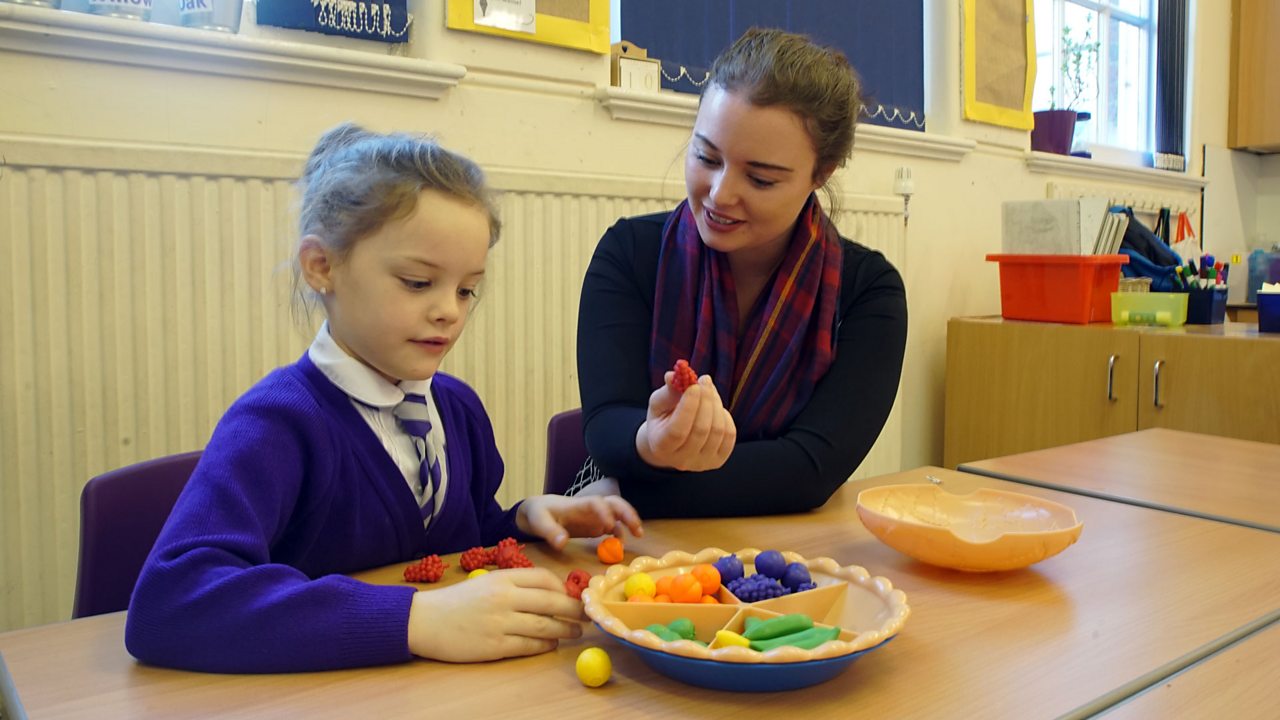 Teaching assistant Stacey works with 5-11-year-olds. Teaching assistants (TAs) support teachers with classroom activities such as helping children with reading and writing. From a TA role, you could choose to train to become a teacher.
Working with children is challenging, but it is a job that you go home and think: 'I made a difference today.'
Primary school teacher Toby trained via Teach First, a programme which offers the opportunity to teach for two years while earning a Postgraduate Diploma in Education and Leadership (PGDE).
We try to build our children to be fully formed human beings... to be able to interact with the rest of society in a positive way.
Secondary school teacher Dina did a one-year PGCE (Postgraduate Certificate in Education (PGCE)) after her Maths degree to qualify as a teacher. Half of her PGCE was a placement in a school and the second half of the year was spent in university.
Being a young teacher means children relate to me more and I can to them!
Geography teacher Alice qualified as a teacher by doing a Postgraduate Certificate in Education (PGCE) after her Geography degree. She wasn't always sure what sort of job she wanted to do so just pursued subjects she enjoyed, which led her to a career she loves.
You don't have to be an extrovert to be teacher!
What to expect if you want to become a teacher
Teacher average salary:

£25,714 to £41,604 per year

Teacher typical working hours:

37 to 45 hours per week
What qualifications do you need to be a teacher?
Typical entry requirements:

Undergraduate degree

: You could get into this role by doing an undergraduate degree that leads to qualified teacher status (QTS), such as a Bachelor of Education (BEd). You'll usually need GCSEs (or equivalent) at grades 9 to 4 (A* to C), including Maths, English and Science and two to three A-levels or equivalent for a degree

Postgraduate study/training

: If you have a degree in a curriculum subject without QTS, you can qualify as a teacher by completing a postgraduate teacher training course at university or on a school-based training programme

Apprenticeship

: You can also get into this career through a teacher higher apprenticeship, if you have a relevant degree. You'll usually need GCSEs (or equivalent) at grades 9 to 4 (A* to C), including Maths, English and Science, and a degree in a relevant subject

Work

: You could also work towards this career by starting as a teaching assistant and doing a part-time degree. You could then move onto a postgraduate teaching course to get qualified teacher status.
This information is a guide and is constantly changing. Please check the National Careers Service website for the latest information and all the qualifications needed for primary and secondary teaching. (Sources: LMI for All, National Careers Service).
Learn more about routes into teaching on the Get Into Teaching website.
For careers advice in all parts of the UK visit: National Careers service (England), nidirect (Northern Ireland), My World of Work (Scotland) and Careers Wales (Wales).