Can school design boost your grades?
In the past 15 years, school design has changed massively in the UK.
Dingy classrooms with clanging radiators and cobweb-covered pipes have little chance of finding their way on to a drawing board these days.
Instead, many children are being taught in open-plan interiors with carefully picked decor and plenty of natural light and ventilation. Architects and designers are even encouraged to experiment with curved walls and floor-to-ceiling glass, to create an environment both staff and pupils want to be in. But why is it so important to re-think school design - and what impact does it have on learning?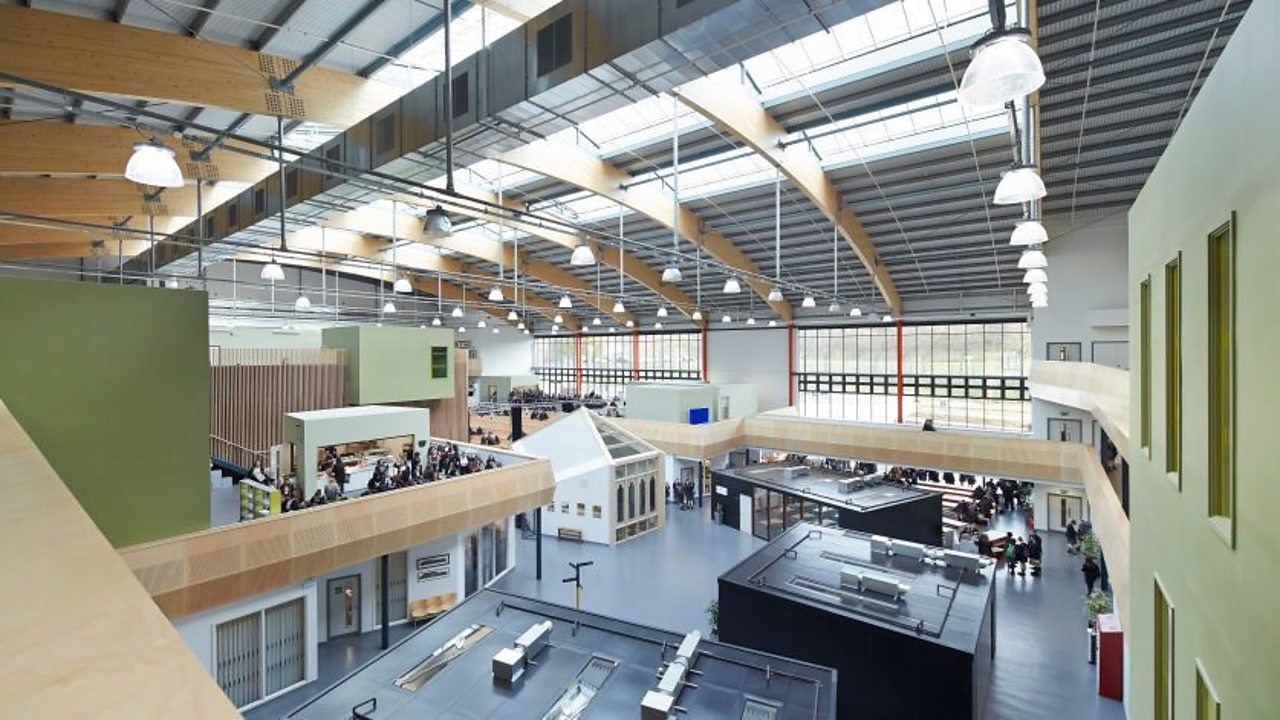 Caroline Buckingham is a member of the Royal Institute of British Architects (RIBA) and has spent much of her career working on schools, seeing the shift in design at first hand.
She told BBC Bitesize: "Historically, the Victorian era was quite a good one for school design. They had really big, high windows and high ceilings. As things progressed, ceiling heights were a lot lower, and a massive thing which is still a challenge at a lot of schools is the acoustics."
Caroline cites the 2003 Building Schools for the Future programme as the catalyst for the new wave of educational buildings cropping up around the country.
She continues: "If you walk into lots of schools, you will still see lots of classrooms designed for 30 children, either primary or secondary, and usually one teacher who stands at the front and is quite 'dictatorial' to their class of 30.
"The vision was to allow flexible spaces that encourages more group thinking and brings people together. If you put your child in quite a dark space, with blank walls and not a lot of colour, with no proper ventilation and uninspired teaching, you're going to have a very low attention span and not get the results you want. Some of it is quite common sense."
This is why so many new schools feature high ceilings, plenty of glazing, and a fluidity to their internal structure which means few internal walls or classrooms tucked away behind doors. Changes aren't just restricted to the learning spaces. Areas where students gather at break and lunchtimes have also been rethought.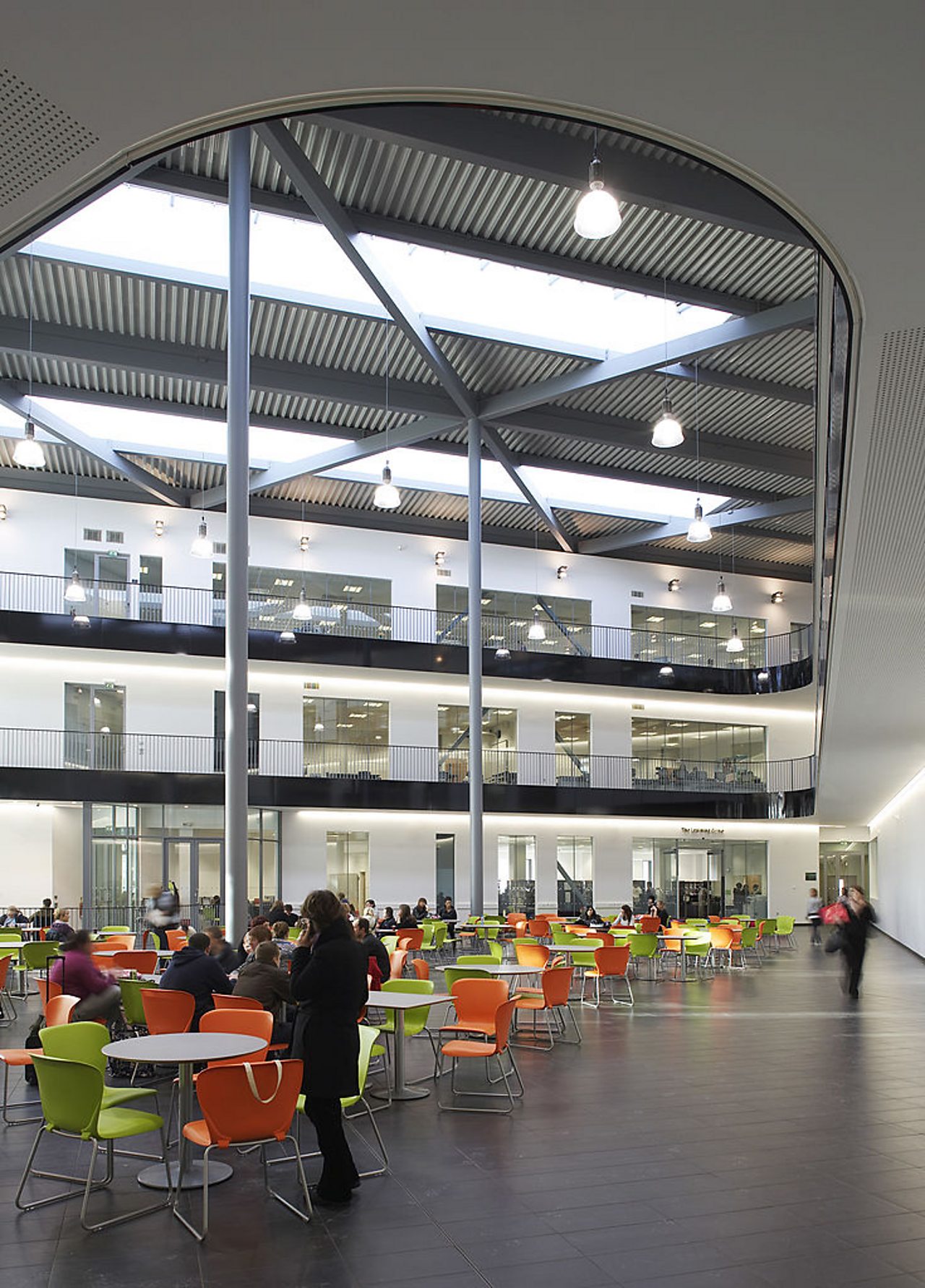 As Caroline explains: "Corridors with a very narrow circulation have a negative outcome on people.
"Children go between classrooms all the time. If you've got up top 1,000 children passing through the corridors, they're going to bang into each other, bags are going to hit the wall and there's bottlenecks."
The solution is to make the corridors easier to navigate and improve the footflow through the school. More importantly, school design today will keep 'dog legs' in corridors to a minimum as, traditionally, these nooks and crannies were perfect hiding places for bullies.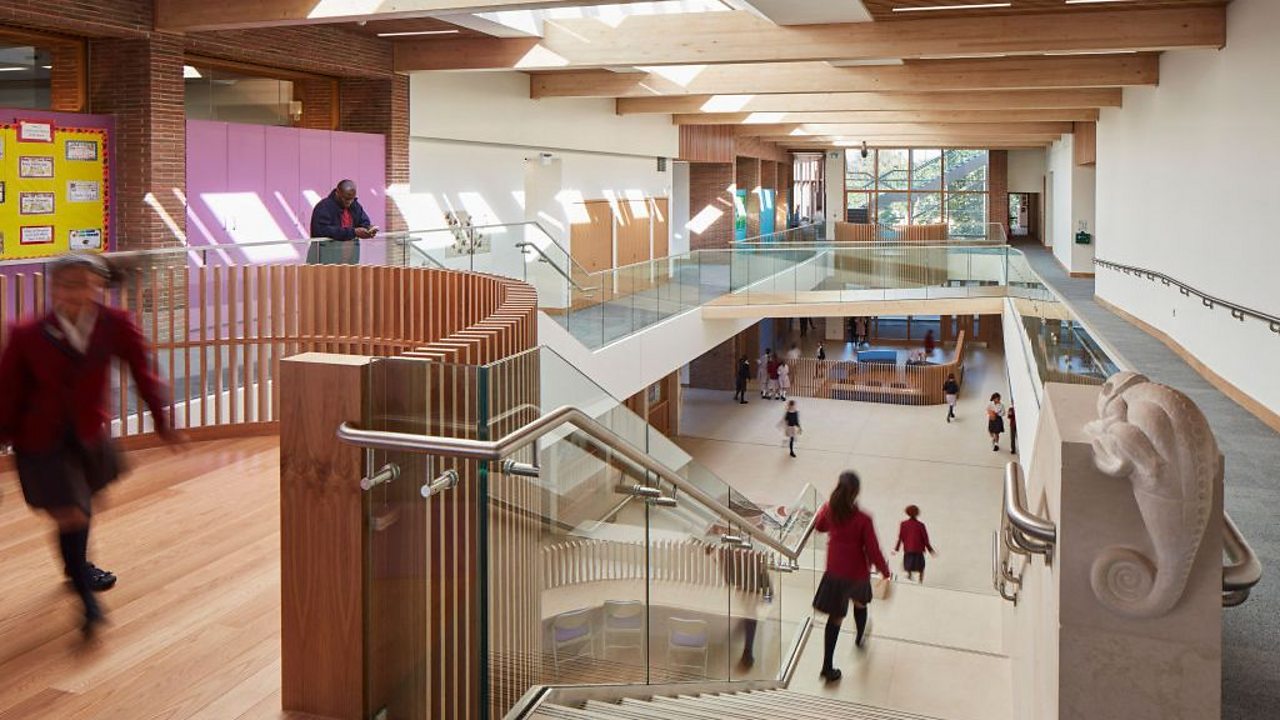 A similar approach is taken to school toilets. Anyone old enough to remember Gripper Stebson's reign of terror among his fellow Grange Hill pupils on the classic CBBC drama will remember how the boys' toilets were his terrifying domain. Today, mixed toilets are more common, and although the cubicles themselves are private, open-plan design makes them easier to supervise and less of an area to congregate.
It's not just the UK where this is happening either. Part of a major new refurbishment programme in Finland has led to open-plan schools, where a core group of 100 primary pupils share the expertise of a group of teaching staff in a large space with no internal walls. Special roofing material, along with carpets and curtains, absorb the excess noise this style of teaching can generate and results have shown that it helps to motivate both staff and pupils.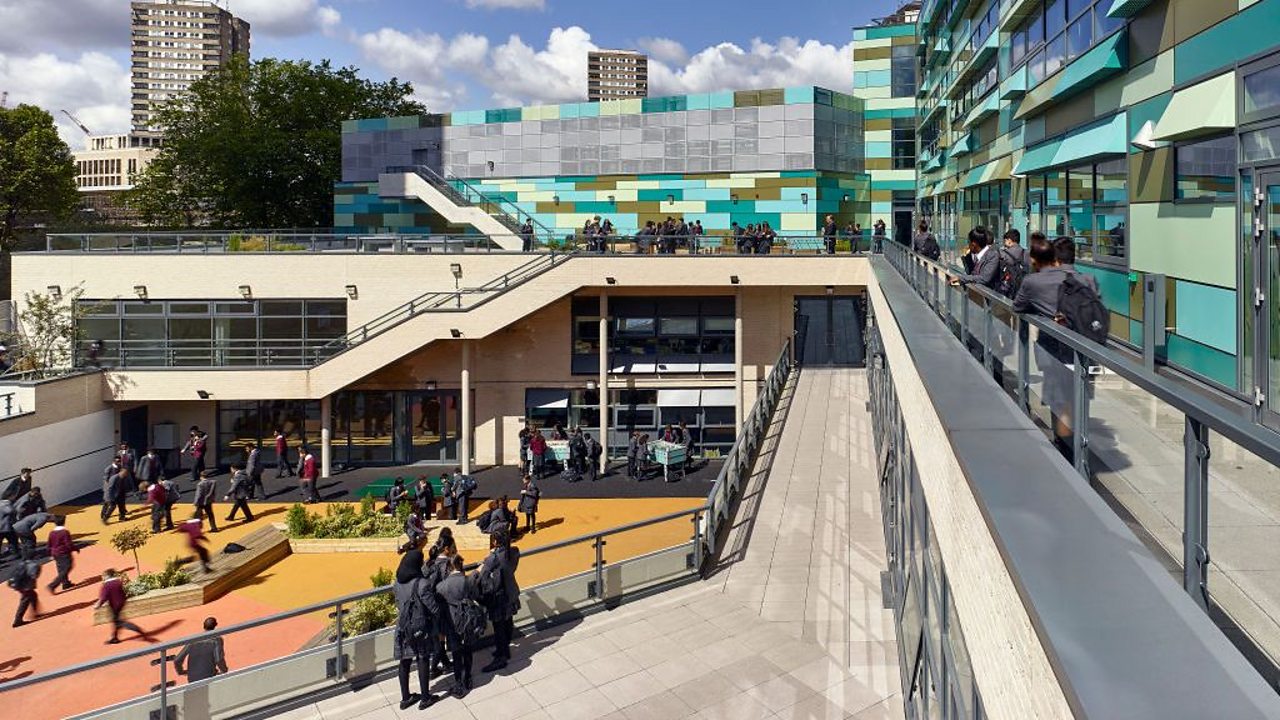 RIBA conducted its own investigation in 2016, with more than 90% of teachers agreeing that well-built and designed schools improved pupil behaviour and the outcome of their teaching. And 20% of those surveyed also admitted to have considered quitting the profession due to the poor conditions of the buildings where they work.
Their report also found that good design can reduce maintenance costs in schools by more twice the average teacher's salary each year.
Good design has been found to pay off academically too. A 2015 study by the University of Salford saw that factors such as natural light, temperature, air quality and individual design for classrooms had a positive impact on students' reading, writing and maths.
But while new thinking can alter the size and shape of our schools, one aspect that hasn't changed over the years is the use of colour.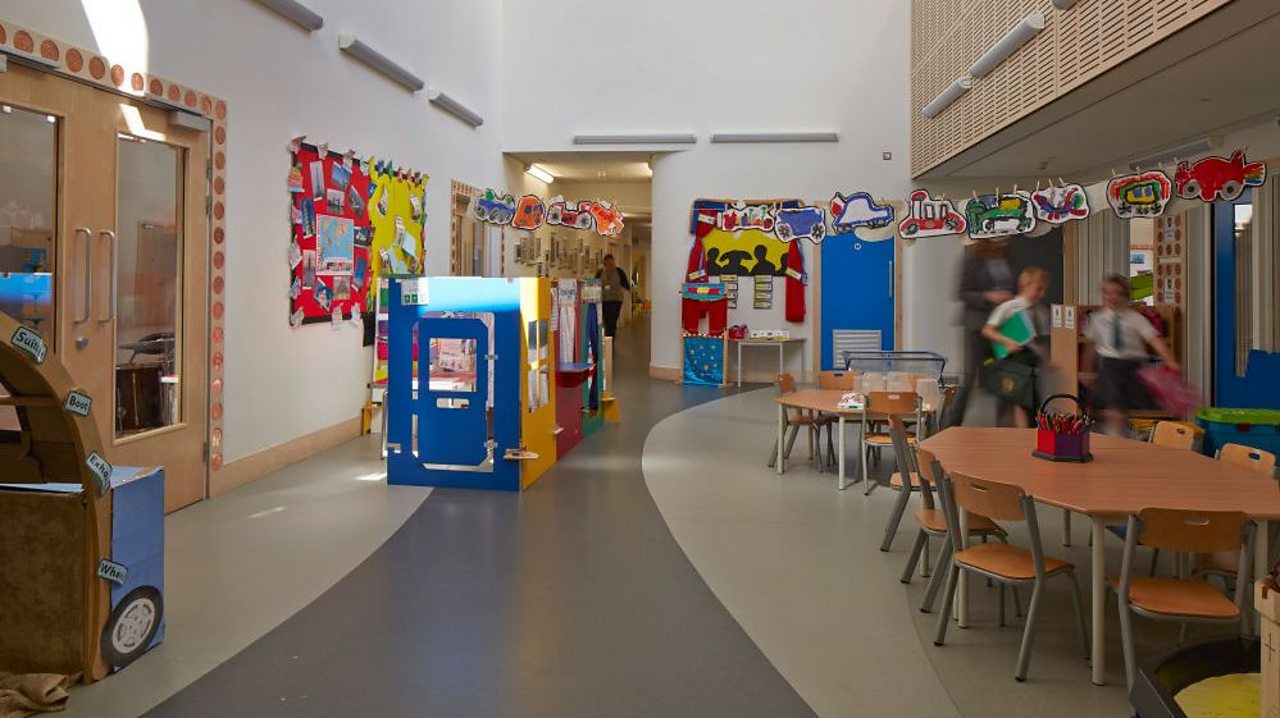 Caroline says: "There has been research done on the psychologies of colour on children in the learning environment over the years.
Primary children are stimulated more by the primary colours of red, blue and yellow. When they get to secondary school age, and certainly sixth form and beyond, it's a slightly more soothing colour, the mauves and a different pallette.
"If you put a lot of young teenagers in a bright red room, if it was a performing arts space, it could be quite vibrant. If it was for study, it could be very distracting. It's all about context."
Caroline explains displays on the walls are crucial, and those are usually quite colourful: "That's really positive, when you have lots of models and pictures on show and you get a really good uplift, so one of the things in design is making sure you have display areas. In one of the schools I designed there were built-in showcases so the work can be expressed."
What's more, there is no 'cookie cutter' solution to improving school environments. A design that works for a countryside school may not necessarily have the same impact if built in a city centre, meaning the community a school serves dictates its look and feel.
But there's also one other factor to consider.
"Design alone doesn't affect educational outcomes," says Caroline, "good teaching does."