SQA Results Day: What next if you're staying on at school?
Moving from National 5s to Highers or Highers to Advanced Highers? Just because you are staying on at school doesn't mean that you don't have choices.
Use our handy decision tree to work out what options might suit you best.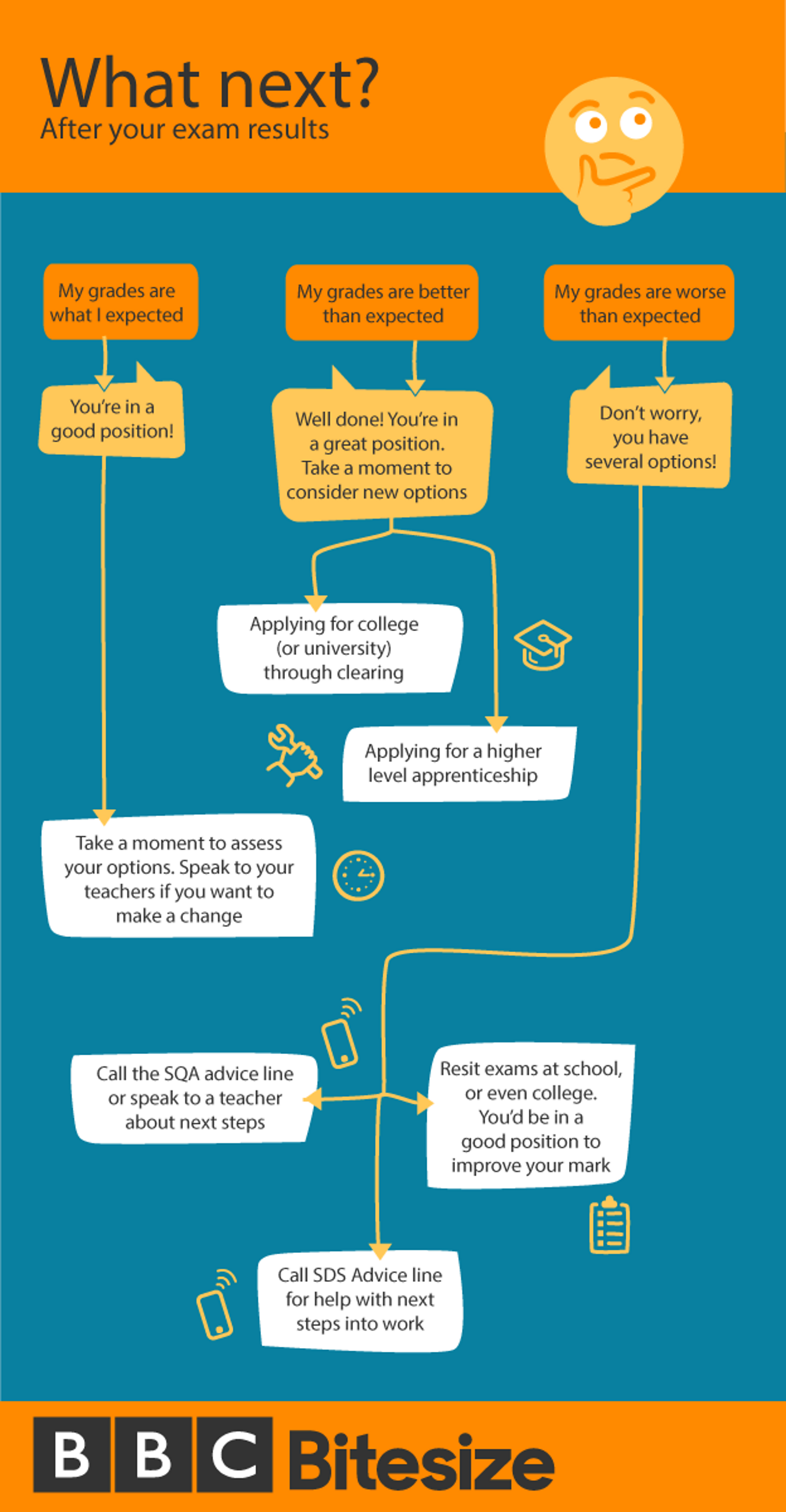 I'm going from National 5 to Highers, or from Highers to Advanced Highers. What happens next if...
...my grades are what I expected?
Well done you! You're in a good position to carry on with your plans for next year.

If you're moving from S4 to S5, and from S5 to S6, then you will already have started your new timetable before the summer holidays.

There's no harm in assessing your options. Take a moment to think about your choices and make sure they line up with your future ambitions. You can always talk with your school careers adviser or a teacher to make sure you're on track.

If you want to make changes to your timetable, just talk to your teachers and they will advise you on your options for when you return to school.
...my grades are better than I expected?
That's great! You could consider taking a course or apprenticeship at a higher level or applying for college.

Some colleges have late applications to fill courses before the end of term so, if this appeals to you, head online to see what's out there.
...my grades are worse than I expected?
Try not to worry, you still have options

Students can't contact the SQA directly to make an appeal. If schools have a concern about a candidate's results, a request for a clerical check or a marking review can be made by head teachers via the SQA's Results Services.

You could resit your qualifications, taking the course again and sitting the exam in May. Having already taken the course, you should be in a good position to improve on your results, but do talk to your school or college to see what options are available to you.

Don't forget, college can also be a good option for resitting Highers. You can combine resits with a fresh start as well as a useful introduction to more independent study.
Where else can I get advice?
The SQA will run its Candidate Advice Line on 0345 279 1000 from 8 am on Tuesday 6 August 2019, until 9th August 2019, offering results guidance
SDS (Skills Development Scotland)'s advisers can give you information on your options, including applying for college or university through clearing, and taking resits, as well as Modern Apprenticeships, Foundation Apprenticeships or alternative courses for this year.
You can also contact the SDS Exam Results Helpline, from 8 am on Tuesday 6 August 2019 on 0808 100 8000.