'We're doing jobs that didn't exist 20 years ago'
Everything changes - and when it comes to the jobs market, advances in technology are giving people
career options
their parents could only have dreamed about.
The continuing rise of social media and apps, as well as developments in sectors like renewable energy, mean the careers market is changing. And that means opportunities for you.
A smartphone app developer? Vlogger? Solar-farm manager? Your folks may not recognise these job titles but they're popping up in career searches more and more often.
To find out about these roles, we caught up with some of the fresh new talent working in thriving industries which barely existed at the turn of the millennium, to hear their stories of cracking their careers.
Isaac the vlogger
Got video skills? Thanks to the web, it's easier than ever to share your calling card and that's exactly how today's vloggers and citizen journalists are making names for themselves.
Isaac Harvey's regular updates on video-sharing sites have proved a hit with followers and he was named London's best young vlogger in 2017.
The 23-year-old has a condition which affects his limb development, so carries out all editing work on his video blog with his feet. However, Isaac is keen that people recognise him for his content skills first.
He says: "People usually see me in the wheelchair and my disability. I don't allow that to stop me making my videos.
"During school, when I got to A-Level, I did Media where we were taught to make music videos and a film sequence that really sparked my interest of making films. Every day is different for me, it can vary from filming outside to editing videos."
Manish the solar farm manager
Running one farm is a big enough responsibility but 23-year-old Manish has to look after 10 of them dotted all over the country.
There's no milking or mucking out involved here though. Manish manages farms of solar panels, designed to create energy from the sun's rays and then store it until it's needed.
Manish's love for physics makes him a good match for this science-based role as it's a discipline which involves a lot of problem solving and systems analysis. His responsibilities include checking power and energy readings, either from his office or at one of the farms, as well as inspecting equipment and measuring output.
He says: "After my degree in physics, initially I was searching for software jobs. I had a contact through a friend who suggested I work in renewables. I took the chance and they hired me."
Ben the digital marketing entrepreneur
When you spot a gap in the market, jump on it. That's the message from Ben Jeffries, who saw the early potential of matching up social media stars with major brands to introduce the latter to new audiences.
Ben says: "When I was 15, I launched a clothing brand… I wanted the biggest and best celebrities to wear my clothes. However, I couldn't afford traditional celebrities so I started reaching out on social media to models, food bloggers, fitness bloggers, saying 'hey guys, I'll give you free clothes and 50 quid cash, to post a tweet along with the link to my website'. I got a really good response."
This inspired Ben, 22, to create his own company. Following a few false dawns, a crowdfunding appeal eventually led to Ben securing the capital required to launch his digital marketing agency in just three days.
He adds: "From my experiences, I've learned that even if you have hiccups along your journey, you can still achieve your goals if you have the hard work mentality and the determination to succeed."
Jack the app developer
Apps don't just exist on our phones and tablets, they interact with the world around us.
That's where Jack's skills as a developer come to the fore. For example, one of his creations worked in conjunction with a print magazine article to generate a video complementing the words on the page.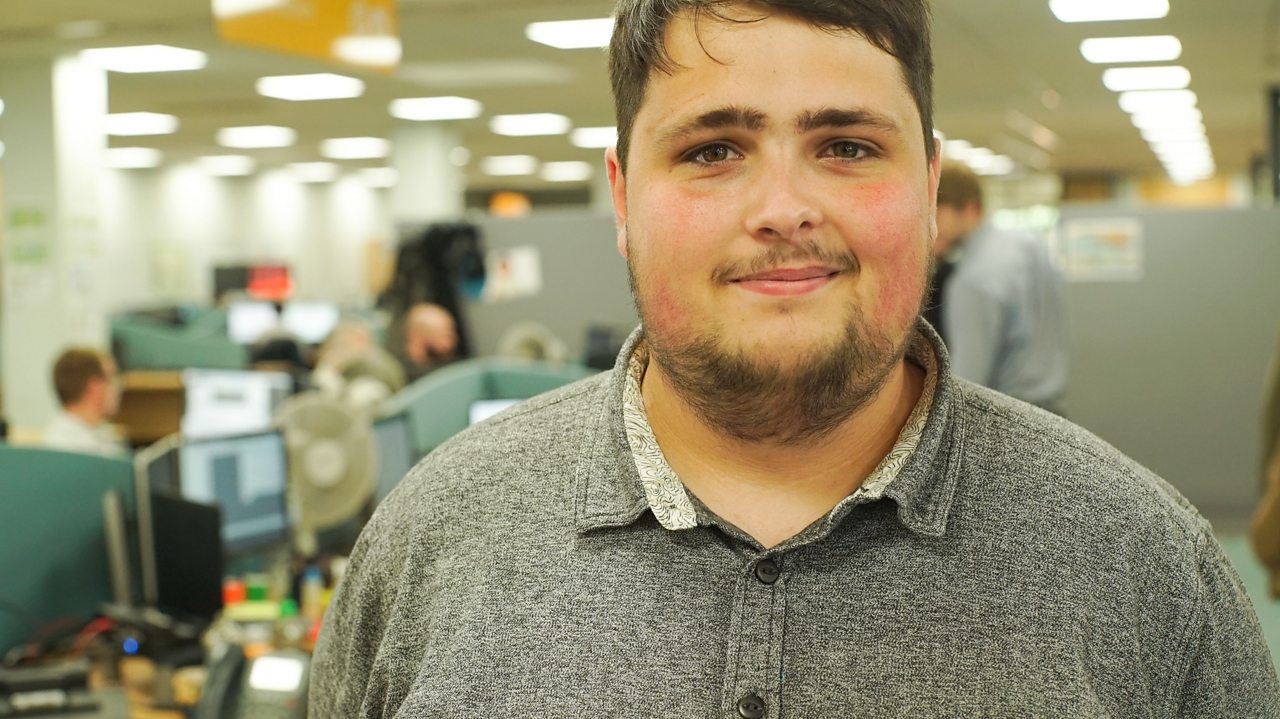 A job like this means you have to be an expert in the coding languages which breathe life into apps. In the fast-paced world of app development, broad skill sets will always be an advantage - 23 year-old Jack expanded his potential by working on his graphic design talents as well. GCSEs in English, Maths, Science, History, Business, Graphics and German were followed by a degree in Computer Game Design and Programming.
If you need any advice about your career choices, don't forget to visit the careers section on BBC Bitesize where you'll find lots of advice and tips from people in the know.