N/A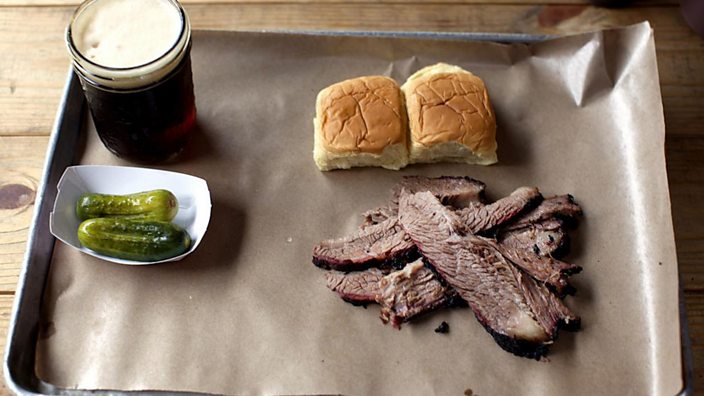 Nicholas Gill
The internet is roasting this photo of a Brooklyn barbecue plate
Hell hath no fury like unimpressed foodies with Twitter accounts
The foodies among us have been through a lot lately.
Over the last year, we've faced down a host of culinary crimes from the 'Avolatte' (a latte poured into an avocado for some unknown reason) to waffles served in dog bowls (which look every bit as a bad as they sound) and the flip-flop crumble (don't even ask).
The latest target of foodie rage is an article in the food magazine Munchies, which went viral earlier this week. It suggested that Brooklyn-style barbecue was sweeping the globe, and the accompanying image - a picture of a totally underwhelming barbecue plate - was widely and passionately mocked.
The image shows a tray covered with a sheet of baking paper upon which stands: one beverage inexplicably served in a jar, two plain white bread rolls, two gherkins and a small heap of sauce-free brisket.
"Brooklyn barbecue is spreading to every corner of the world - Colombia, Spain, Panama, Sweden, England, and Japan," proclaims the story. 
Suffice to say, the foodies of social media have risen up to voice their collective outrage. Tweets have been deployed, emojis have been sent into action and likes and retweets have been issued. The collective goal? To mock the way Brooklyn's hipster eateries have put their minimalist spin on this southern American staple that's traditionally served up in grill joints in states like Texas and Kansas City.
Leading the charge is Wile E. Minogue, a comedian whose deadpan response has so far notched up almost 32,000 likes and more than 6,300 retweets.
Heading up the flanks is Nathan Gaffney, with this inspired take-down.
And bringing up the rear is Emoji Nakamoto, with his version of a Hawaiian pizza.
Many slammed 'Brooklyn barbecue' as a poor substitute for barbecue as they know it.
While this battle raged, the article's author weighed in on Twitter. He pointed out that this was old news - the story was originally published four years ago - and that he was "definitely not saying that all BBQ should be Brooklyn style, or that Brooklyn should teach Texas or the Carolinas how to make BBQ."
He then added "But I appreciate everyone's passion about BBQ. I'm even more fascinated by this world now".