N/A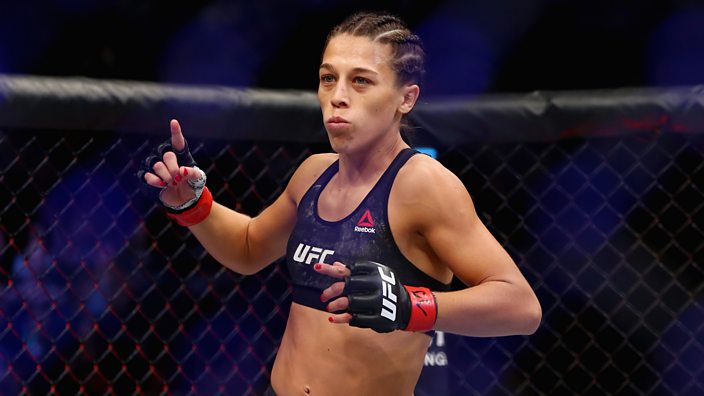 Getty
Joanna Jedrzejczyk's weight cut won't get in the way again at UFC 223
The former UFC strawweight champion says she's got an ace up her sleeve
It came as a shock to many when underdog Rose Namajunas cruised past then UFC champion Joanna Jedrzejczyk by crashing a left hook into her jaw, beating down a champion that had been dominating the division for years.
Jedrzejczyk was previously unbeaten, and defended her strawweight championship belt five times before fighting Namajunas in November last year at UFC 217, making her one of the most dominant fighters in the sport at the time.
Despite having the odds against her, it took Namajunas only two minutes to knock out the former champ in the first round of their fight, but Jedrzejczyk now believes she has all the right tools to reclaim the title she once held for so long.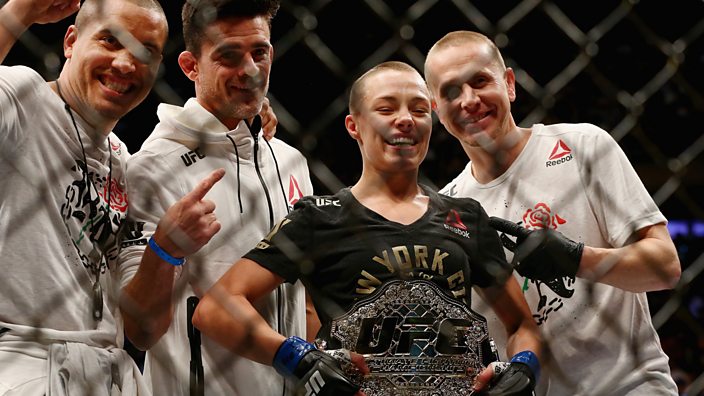 "I'm taking back what belongs to me," Jedrzejczyk said, talking to the BBC MMA Show ahead of her highly anticipated rematch with Namajunas at this weekend's UFC 223.
"I'm in the best shape ever. You're going to see a different Joanna on Saturday, but I can't talk too much about it. It's a secret, so you must wait."
The Polish fighter had originally planned to move up a division in an attempt to become only the second fighter in the organisation to hold two belts consecutively in two different divisions.
Conor McGregor became the only fighter so far to achieve the 'champ, champ' status when he held both the featherweight title and lightweight title in 2016.
However, the loss to Namajunas scuppered Jedrzejczyk's plans of moving to the newly formed women's flyweight category, and set her on a mission to win her strawweight title back from the newly crowned champion.
Jedrzejczyk is now hoping to steal the show this weekend when she takes centre stage against Namajunas in the co-main event before Khabib Nurmagomedov battles Max Holloway for the lightweight title.
"I'm ready to take over the show. I will be 100% on Saturday. Last time, I was not 100%," Jedrzejczyk said.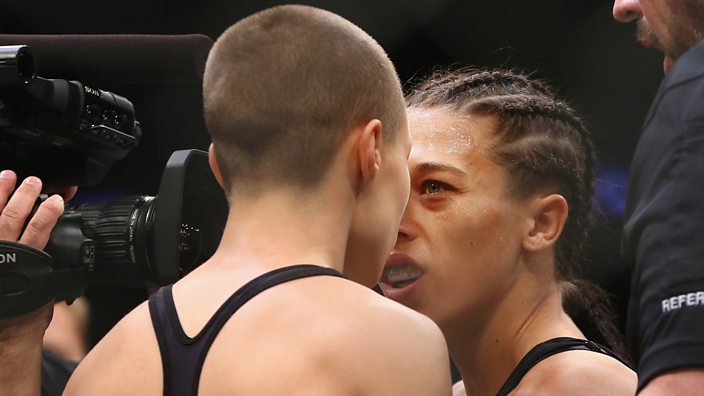 "Things happened a few hours before the fight but right now I've taken care of that," she said, later clarifying that, "the weight cut impacted my performance."
"People who are in the business know how it [weight cutting] can impact your body, but it was someone's mistake."
Jedrzejczyk claimed earlier this year that she had to cut 15 pounds in 14 hours ahead of her fight against Namajunas, a decision which she stated affected her performance in the fight.
"I was more than ready and still believe I was going to win that fight at UFC 217," she said.
"We're all human, we all make mistakes and someone in my team made a mistake, but I paid the ultimate price."
"I know there are so many people helping me to prepare, but at the end when I step into the octagon, it's just me an my opponent - only me dealing with the emotions."
The 30-year-old will have a fresh game plan to beating Namajunas this weekend, claiming that we'll see a new side to her that we haven't seen before.
"We've had to change my game a little bit because I was such a dominant fighter for such a long time."
"I know there are people who've studied my style so we've have to do a hell of a lot of work this camp to change that again - to surprise people and have new aces in my pocket, and I will throw these aces in the octagon on Saturday."
Originally published 5 April 2018.