N/A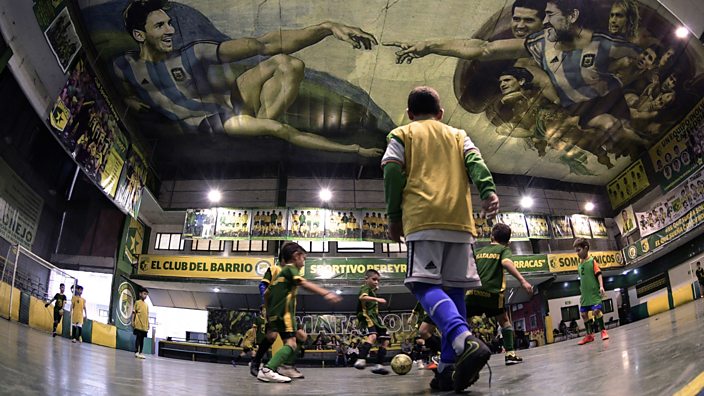 gettyimages
We want to play five-a-side on these amazing pitches
These pitches require no filter
Oh man, we want to play here.
This is the view at Sportivo Pereyra de Barracass in Bueno Aires, Argentina -  an indoor football pitch where artist Santiago Barbeito has painted the ceiling in the style of Michelangelo's Creation of Adam.
Michelangelos' original, painted on the ceiling of the Vatican's Sistine Chapel, depicts the Biblical Creation narrative with God giving life to the first man. In this instance, Argentine idols take on the lead roles, with Lionel Messi as Adam and Diego Maradona playing God. It's a role he's flirted with before, of course.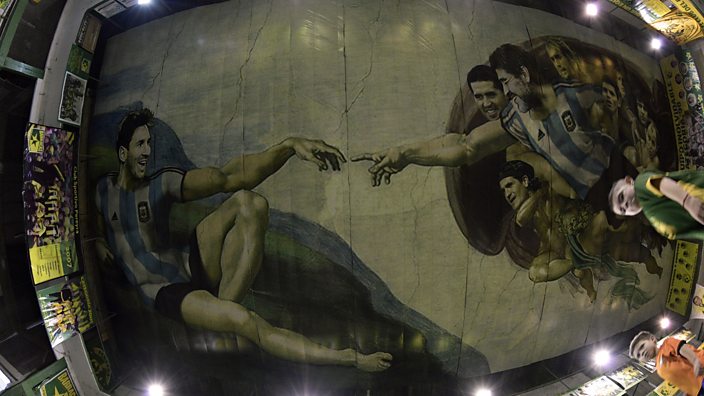 Either way, this place definitely beats the pitches where we play five-a-side on a Tuesday night. We won't defame the establishment's reputation by naming them, but we will tell you that, when the lights went in the changing rooms last year, it took three months before bulbs were replaced. We spent the 12 weeks in-between using the torches on our phones to get changed. They also seem to think it's necessary to tell people not to smoke in the showers, that means you Wojciech Szczesny!
Anyway, here are just a few more five-a-side pitches that are giving us serious FOMO.
Ottmar Hitzfeld stadium, Switzerland
Fancy a bit of altitude training to get you and the rest of the team in shape for the new league campaign? Why not book your tickets now to Gspon, Switzerland, where you'll find Europe's highest football pitch - built into the side of a mountain in the Alps, 2000 metres above sea level?
The artificial grass pitch doesn't have a roof so, basically, no hoofing it, because it's a long way down to fetch the ball.  
This floating pitch is based in Koh Panyee, in Thailand's southern Phang Nga province, with a backdrop of crystal clear water and limestone cliffs. 
Accuracy is key here - no option to rebound it off the side-boards and just look at the size of the goal!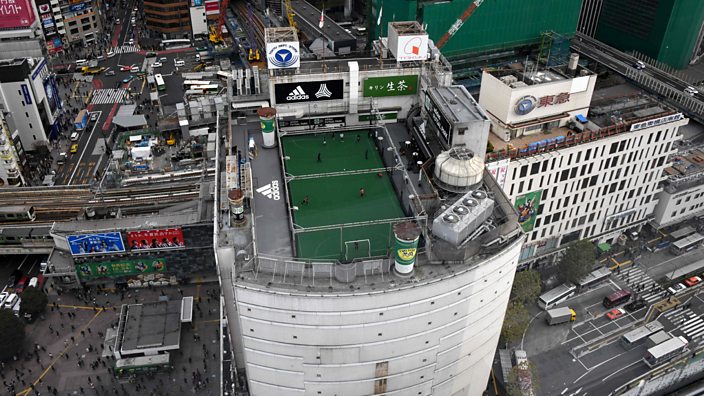 Check out this futsal pitch on top of a department store next to the Shibuya crossing in Tokyo. Scenes upon scenes. Another one where you might want to enforce the 'no over head-height' rule on passes and shots.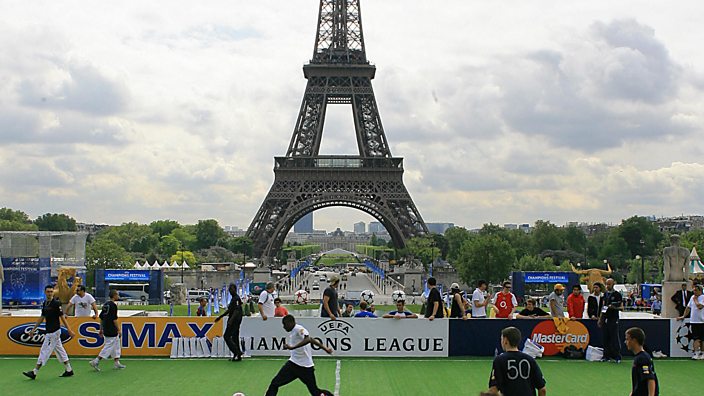 Not a bad backdrop that, is it? 
We may have missed the boat on this one though. By about 12 years. This pop-up pitch was offering some serious views before the Champions League final back in 2006.
You can imagine the inquisition in the defence after a conceding a goal:
- "Where were you?! Go with the runner!"
- "Put your phone away, Gary.'"
Anyway, we want to play on one of these pitches - time to get our shinnies and boots on. Yet despite these glorious surroundings, those perennial five-a-side question will surely remain:
Will the pitch be waterlogged after 10 minutes of mizzle? Will the bibs have been washed this week? Will anyone remember to bring their subs? Or even a ball?
All part of the fun though, isn't it? Sigh…