N/A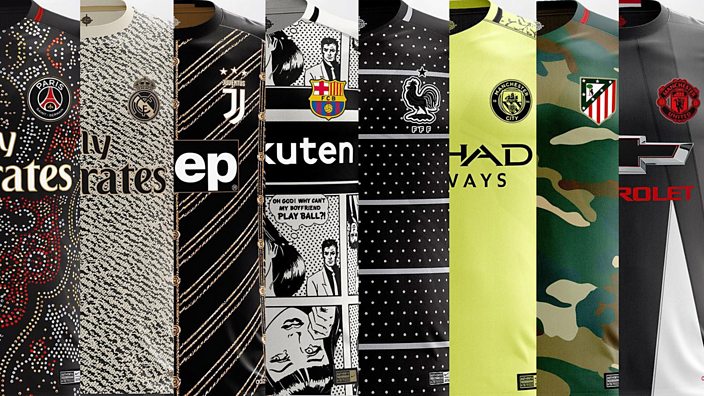 Instagram / Settpace
Fan-made football kits that are arguably better than the real thing
A new generation of kit designers are making their mark - and one even designed Man United's official 2017/18 third strip
Football kits have come a long way since the classic block colour shirts that Pele wore for Brazil or Bobby Charlton wore with England. It seems contemporary fashion is now at a stage where designers are happy to take risks to create the next big style.
Footballers clearly like their fashion – look no further than Neymar's casual swagger or Hector Bellerin's wardrobe ensembles at 2018's Men's London Fashion Week – but it could be argued they aren't looking as trendy on the pitch as they are off it.
Classic shirt collector and friend of BBC Three, Neal Heard, said, "football shirts, like everything, move with the times," however arguably the biggest change to Arsenal's 2018 shirt is the addition of collars to the neck. "Let's go back to making some more noise with shirts," Neal told us in 2016.
Football fans from around the world have been taking matters into their own hands by designing their own daring and flamboyant football kits, and we spoke to some of the leading players in the field.
When did designing alternative kits become a thing?
"People love fashion. People love football. Mash them together and they go crazy for it," football fan and designer Marlon Feeney-Thompson, known as 'Settpace', told BBC Three.
"There's a subculture now and there wasn't when I started. There was only me and two other guys that were doing it but now there are loads of alternative designers"
"There are certain guidelines set by Fifa and Uefa about how kits can look, so alternative designers now want to be free and make crazy designs that you wouldn't be able to see on the pitch because of those guidelines. They just want to do something different I think."
Twenty-one-year-old Andy Slater, who works under the alias 'xztals' on Instagram, told us how the social media platform has been a major player in the way fan designers connect with broader fans.
"People's jobs nowadays revolve around Instagram as it gives people careers. I've noticed that design work is a lot more prominent on Instagram when compared to other social media pages."
Should football kits be considered as fashion items?
Well, Marlon reckons they should. "Sportswear and fashion are very close and football replicas are £100 pieces. They should have some fashion elements to them."
The 23-year-old designer creates kits that infuse styles from high-end fashion brands such as Gucci, Versace and Tommy Hilfiger, as seen with his Balmain-inspired PSG shirt.
"If I see a nice pattern I like when I'm shopping around, I'm going to take it and put it on a shirt. Even a little pattern on a coat I have or a pair of jeans perhaps."
One of Marlon's most successful designs is a Real Madrid kit influenced by the highly popular Kanye West-Adidas Yeezy collaboration.
"I usually match a brand up with a team. But with Real Madrid, I questioned which brand would fit Cristiano Ronaldo? He's arguably the best in the world - and some would say he has a bit of a god complex. So I thought who else has been labelled as having that? Kanye West, so I matched them up."
Other alternative designers have gone as far as to replace the club sponsors with something different that suits the club's brand, such as the red and black colours of Netflix matched with AC Milan.
Andy struggles with some of the design choices on official replica shirts.
"I'm a Manchester United fan and it kills me to see the Chevrolet sponsor on the shirt. It's big, it's ugly and it takes up a lot of space on the shirt. When I see a sponsor on a shirt I want it to be clean"
Perhaps Juventus with Nestle coffee brand, Nespresso for example...
Can these fans influence the official club kits?
They already are. In summer 2017, Nello Carotenuto, a 21-year-old Italian computer science student, helped to design Manchester United's third kit.
Vice-president of Manchester United's Italian fan club, Red Army Italy, Nello was involved in the design of the Premier League side's grey away shirt that pays homage to the club's 'holy trinity' of legends Bobby Charlton, George Best and Denis Law.
"What I study isn't closely related to my kit designing passion but I've been designing kits for more than eight years. It's a passion I've had since I was a child when I used to draw them on paper sheets. I still do it whenever I can because I believe it's a great way to express creativity and to do something that really pleases me."
Nello got involved when kit-maker Adidas launched a competition called 'The Creator Studio' that allowed fans to submit their designs with a chance to design an away kit for one of Europe's top clubs.
"When I heard about this contest involving all the fans, I was very happy to know that this could have resulted in United wearing a unique kit with more personality than those you usually see in football nowadays.
I was really looking forward to seeing one of my creations being actually realised and I have to admit, I really appreciated the result.
"I just thought to put my own entry for fun - you know, in contests it's always someone else who wins - so it was a big surprise."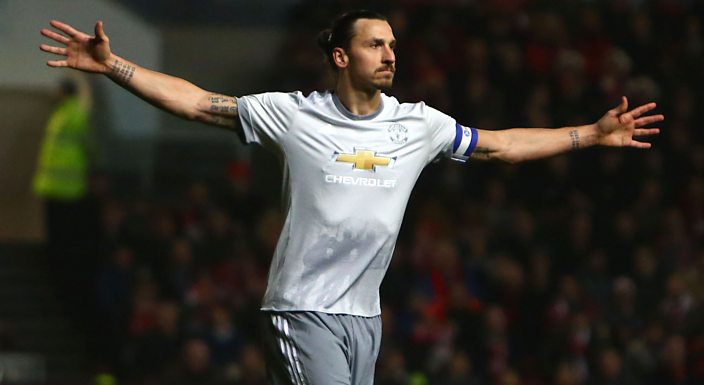 There was a lot work involved in turning Nello's idea into reality.
"I was in touch with Adidas a lot and they made me understand how difficult it is to make a kit out of a supporter idea. This is mostly because of the time needed to work out a design, which takes more than a year. Taking into consideration the production of fan-designed kits just like Adidas did is risky and there aren't many brands that could afford it in my opinion."
What's the issue with today's football kits?
Andy is not impressed by today's official club kits.
"I just see teams like Manchester City, Chelsea, Tottenham and if you look at their kits, it's one template and there's no special design on it. They literally just change the colour. It's boring and repetitive and doesn't really excite people."
"A kit that caught my eye in recent years was the pink Juventus away shirt (2015/16). That was a kit where I saw people around the world, whether they like or disliked football, loving that shirt. Even Drake was spotted wearing it and that just shows that it was more than a football shirt, it was a nice design."
"The 2018 Germany World Cup kit is another example. People look at that and those who aren't necessarily football fans say it's not just a football shirt, it's a nice shirt in general."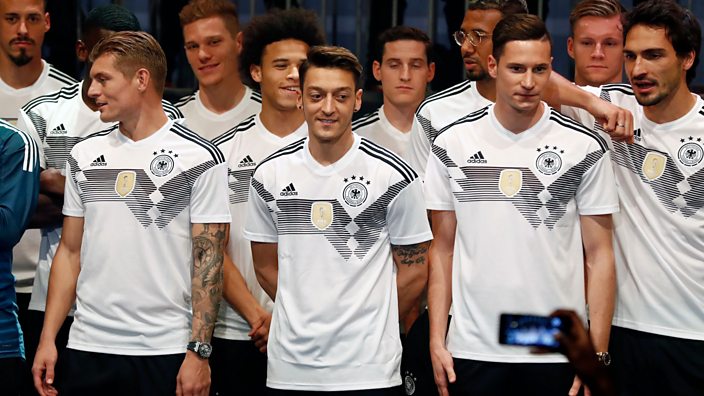 What's the future for alternative kit designers?
Marlon believes football fans will have more of a reason to go out and buy a kit if they know its been designed by another fan.
"Fans know the history of the club, they know what they like to see and what they don't."
Andy reckons it's high time for a change in the world of kit design and big brand should be taking note.
"Alternative kit designing is quite recent to social media and there's quite a big following for it so it's definitely something brands should think about. Primarily these kits do attract a younger audience, but a good design is a good design and people of all ages can appreciate that."
"I think eventually, especially over the next couple of years, we could see more exciting and daring kits brought to the table."