N/A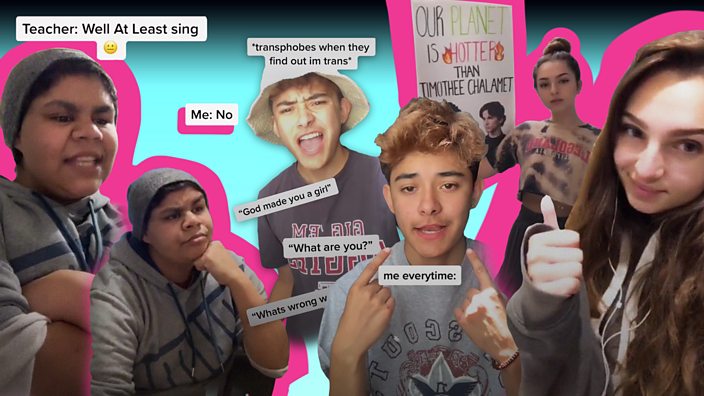 TikTok/BBC Three
TikTok activism: 'We're changing the world in 15 seconds'
Why some teens are using short, shareable social media videos to deal with the big issues affecting them.
"My uncle died due to knife crime in 2015... he was 19."
"My brother's friend died as well a week ago :("
"I've been there too and I'm only 11... sorry for your loss."
These comments were posted underneath a recent TikTok video made by 17-year-old Rhea.
She knew Ben Gillham-Rice – one of two boys stabbed to death at a house party in Milton Keynes on 19 October.
Three days later Rhea made her video, with the aim of making other teens understand the real impact of knife crime.
"It's only just hit me properly that they are actually gone forever," she says in the clip.
The video quickly had more than 100,000 views and hundreds of comments on TikTok, starting a viral conversation about a huge issue.
Serious subjects on a 'jokey' platform
In case you haven't heard of it, TikTok is a video-sharing app that lets users create and share 15 – 60-second clips set to music or sound bites. Most of its users are reportedly under the age of 30.
Unlike Snapchat and Instagram, on TikTok's main feed you see content from people you don't know as well as from friends and family - meaning anyone on the app has a potentially huge platform (otherwise known as clout).
The app - owned by Chinese company ByteDance - isn't without controversy. Recently it has been accused of censoring content that the Chinese government doesn't like, including the Hong Kong protests.
But the company denies this, telling the BBC: "TikTok does not remove content based on sensitivities related to China. We have never been asked by the Chinese government to remove any content and we would not do so if asked."
Go onto TikTok and you'll find a world of lip syncing videos, trending dance moves and reimagined memes.
So while it might not seem like the most obvious place to try to bring about social change, some say the lighthearted nature of the app allows them to be activists without feeling the full weight of activism.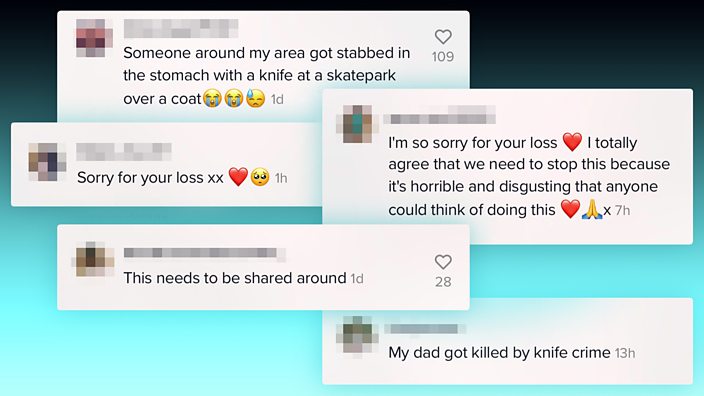 It's not just knife crime videos. Teens are using TikTok to talk to each other about other topical issues, from wealth inequality to racism.
'Political statements and goofy videos'
Nicole, 18 - Pennsylvania, USA
After taking a shot at wealth inequality armed with a pad of lined paper, a permanent marker and her phone - Nicole spoke to us about why she started making satirical videos on TikTok.
"I live in a small town with a lot of close-minded people, and my political views differ a lot from my family and friends.
"Social media helped to influence my opinions and I want to be able to do that for other young people."
'I turned TikTok activism into real-life action'
Gillian, 16 - Nevada, USA
Gillian used TikTok to organise a student strike over teachers' pay. She was moved to do it because her mum is a teacher. As a result of the strike, Gillian's mum and her colleagues got their pay rise, as did other teachers across America.
Gillian told the BBC: "The way they treated the teachers at the school board meeting I went to was absolutely disgusting…. [Changing things] was probably the best feeling I've ever had."
'The support I got changed my world'
Two weeks after Leah was diagnosed with rare cancer Ewing's sarcoma, and started documenting her treatment, she was receiving over 2,000 messages on TikTok.
She told the BBC she wanted to share her eight months of treatment on a social media app that allowed her to be open and real about everything: "The side effects are really hard with vomiting, nausea and a lot more. It's all very scary… but I wouldn't have such good days or be this positive without the support I am getting on my social media, it's so amazing."
'Educating people about Aboriginal culture'
Eshia, 20 - Adelaide, Australia
Eshia was frustrated with how Aboriginal teenagers like herself were treated. So she started sharing her experiences of racism on TikTok. 
"I have faced racist comments my whole life, just for the colour of my skin… In primary school if Aboriginal kids [like me] did not sing the national anthem because of our culture, we were sent to the principal's office," she tells the BBC.
'10 minutes to make videos that can help people'
Jaden, 18 - California, USA
When the beat dropped in Jaden's first hit 15-second video, he came out to his followers as transgender. The overwhelming reaction, and "dumb and hurtful" comments he says he has received in his life, encouraged him to keep using the app to raise awareness.
"I used to see the app as a joke but now I get DMs every day, telling me that I'm encouraging young trans people, and that I've helped them come out with their family," he says.
'I raise awareness, then go back to being a normal teen'
Luiza, 16 - Staines-upon-Thames, UK
After Luiza and her friends saw TikTok videos about the Global Climate Strike in September - they decided to protest - then use the app to do the same.
"Climate change is a very real thing that impacts my generation's future directly.
"I didn't want to limit the protest to being strictly on the streets, I wanted our voices to be heard and did it the best way I know how - through the internet."