N/A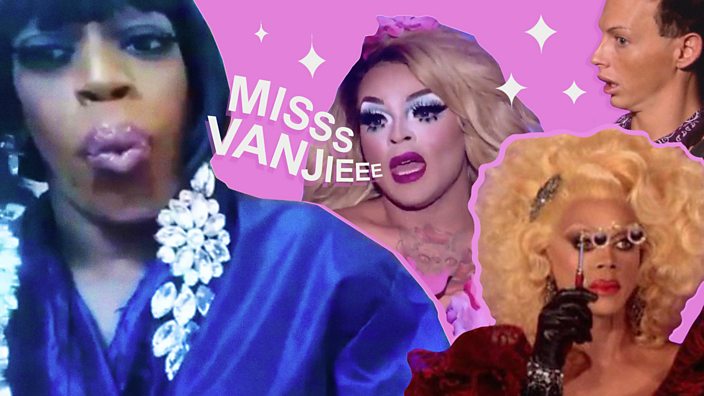 RuPauls Drag Race/World of Wonder Productions/Jasmine Masters/YouTube
RuPaul's Drag Race: Funny memes from the last 10 years
The UK version of the show airs on BBC One tonight. Get yourself in the mood with some of the most memorable memes from 10 years of the US show
"Miss Vanjie… Miss Vanjie… Miss… Vaaanjie…"
For fans of RuPaul's Drag Race, these words uttered by season 10 queen Vanessa Vanjie Mateo will go down in drag queen history. Not only was it one of the funniest moments of the season but it became an instant viral hit and inspired countless memes on Twitter, Instagram, YouTube and Reddit.
And ever since the show launched in the US in 2009, fan-created memes shared on social media have been a crucial part of its success. "Social media has played a really important role in its move from a niche programme to a more mainstream and global one," show co-creator Randy Barbato told the BBC in 2018.
If you're new to the show, let me explain (you can skip this bit Drag Race fans): you're going to see drag queens competing in fashion, music, acting and comedy challenges, until one is crowned the next drag superstar.
So whether you're a superfan, or watching for the first time, take a look at 10 of the most iconic memes created by fans in the last 10 years - ahead of the show airing tonight at 11:25pm on BBC One.
1. You're perfect, you're beautiful, you look like Linda Evangelista, you're a model!
Aja's argument with Valentina about her treatment on the runway, during a season nine episode of Drag Race spin-off show Untucked, inspired this immortal line.
When Vanessa Vanjie Mateo was booted off the show after just one episode in season 10, she made sure to leave her mark with this weird, now-infamous moment. She even got a shout-out during the BBC's Eurovision coverage.
And obviously, it was just begging to be made into memes.
3. Everything Alyssa Edwards ever did
From the infamous insult "backrolls?!" to her tongue pops, Alyssa Edwards is - essentially - a one-woman meme machine.
4. Oppalence! You earn everything!
5. BenDeLaCreme's self-elimination 
When fan favourite BenDeLaCreme voted *herself* off the third season of RuPaul's Drag Race: All Stars, fans were, well, gagged... and they decided the moment had real meme potential. 
Naomi Small and Valentina might not have won the Queen of Clubs challenge in All Stars season 4, when the contestants were tasked with setting up a fictional nightclub, but their performance - about "Club 96" - was a runaway favourite with meme-hungry fans.
7. I don't think I belong here
Another shock moment came when Adore Delano decided to quit the second season of RuPaul's Drag Race: All Stars. And her dramatic, emotional delivery of the line "I don't think I belong here" inspired many, many memes.
8. Is she gonna jump from there?
Aja's death-defying drop on season three of RuPaul's Drag Race: All Stars wowed the judges - and the stunned reactions from her fellow queens were quickly noticed by fans.
(Meanwhile, her incredible voguing in that performance inspired the very funny line from celebrity guest judge Vanessa Hudgens, "I'm so into voguing right now," which was also ripe with meme-potential).
A'Keria Chanel Davenport sang this line in her verse for RuPaul's song "Queens Everywhere" in the penultimate episode of season 11, and fans obviously loved it.
Jasmine Masters is responsible for one of Drag Race's most popular memes - and she didn't even deliver the line during the show. Named one of the year's best memes by Vogue, Jasmine uploaded this video in 2015. It shows her interrupt herself with the line "And I oop" - a moment which turned the internet upside down when the clip resurfaced this year and exploded on Twitter.
- Naomi Smalls' very impressive lean
- The Vixen v Eureka fight
- And those poor, poor butterflies
This article was first published on 29 Sep 2019