N/A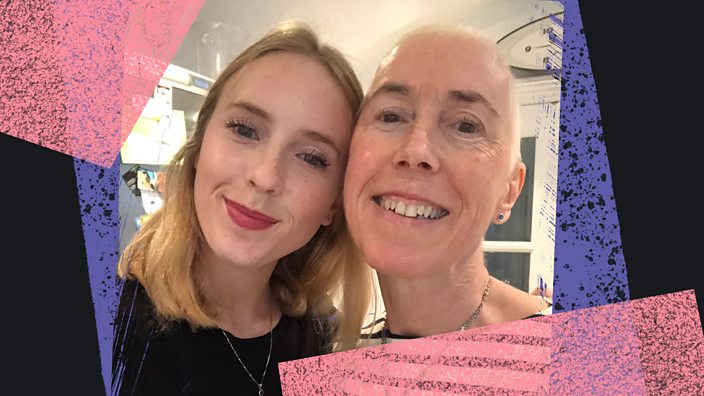 Celia Jones / BBC Three
How my mum's cancer diagnosis changed me
'I cried so much that day and during the weeks that followed that I stopped noticing the tears streaming down my face'
Growing up, my memories of Mum are of her always engaged in lively conversation. Popping to the shop with her would always take hours because she'd bump into people on the way and then make new friends once we were there. She always seemed to be surrounded by people, who were drawn to her warmth, big smile and sense of humour.
We're both big talkers, tenacious and determined, we love life and we love people. Inevitably, we clash from time to time because of our mutual stubbornness and similarities but, even now I'm 27, she's still the first person I turn to for advice, and I wouldn't have it any other way.
A few years ago, I had a jawbone infection - a long-ignored abscess that had escalated - and I was really unwell. While I waited to have my operation, I briefly moved back to my parents' house. My mum, Anne, stayed up with me all night as I writhed in agony. She held my hand and rubbed my back to calm me down, staying by my side the whole time. I remember feeling so lucky to have such an amazing mum.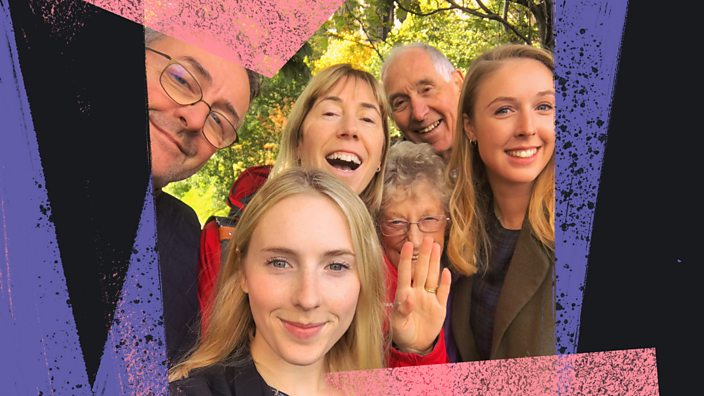 Last summer, Mum retired from her job as a teacher for kids with profound disabilities and went on holiday to Switzerland for three weeks, where she scaled mountains and swam in lakes. We video-called most days while she was away. Then, in September, something in her changed. Suddenly, her desire for company faded, along with her appetite. She became constantly tired, said she felt bloated and seemed quite dazed. At first the GP thought she had a urine infection and prescribed a course of antibiotics.
One evening, we went out for pizza but she seemed spaced out and wasn't really hungry. She later told me she had been feeling so unwell that she struggled to get home, overcome by exhaustion and the sensation of being overwhelmingly full. We didn't think anything was wrong - she was just tired, we thought, but she would soon get her energy back and enjoy her early retirement.
But, the following week, Mum had to take herself to hospital after vomiting more than 10 times in 12 hours. My dad, younger sister and I visited her every day as she was transferred from A&E to acute admissions and then to gynaecology. I was terrified from the second she entered hospital. I had a sense something was terribly wrong and was desperate to help, but there was nothing I could do. I felt totally helpless.
Mum had blood tests and CT scans, which showed a large mass creeping from her ovaries into her stomach. A week later, we gathered within the small confines of my mum's section of the ward and were told that, at just 57, she had developed advanced ovarian cancer. My dad, boyfriend, sister and I sat around my mum in her hospital bed. My boyfriend squeezed my hand very tight. We all looked at each other and I have never felt so sad. It was a numbing, wretched, all-encompassing sadness like I've never experienced before. There were no tissues, so me and my sister used scratchy hand towels to try and stem the flow of our uncontrollable tears.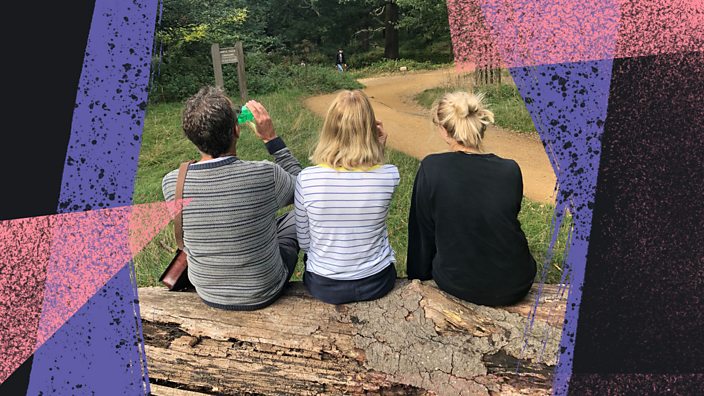 The day of Mum's diagnosis changed me. I cried so much that day and during the weeks that followed that I stopped noticing the tears streaming down my face, only realising when a kind stranger offered me a tissue. I stopped wearing make-up altogether, because I knew it would just be ruined. Whenever someone outside of my immediate circle asked if I was ok, I would just say, "Yes". Not only was I trying to keep it together for Mum's sake, I just couldn't find the words to describe the grief and fear I was feeling. On the outside, I seemed numb, but inside I was screaming.
Mum was determined that her illness wouldn't affect me or my siblings' lives more than could be helped. She couldn't bear seeing us all so upset and insisted that I shouldn't miss work, even though all I could think about was what she was going through. My family had a WhatsApp group called 'AJ's Army' where we'd be in constant contact, sharing updates about my mum's condition. Every day, I showed up at the office, went to meetings and went through the motions. But, as soon as I walked out at 5.30pm, I would dissolve into tears.
The senior nurse on Mum's ward arranged a meeting to help my family understand our devastating new reality. She introduced us to the strange new language of stages and grades, and told us there could be no prognosis until my mum had surgery to analyse the extent of the cancer. She was scheduled to have a hysterectomy, ileostomy (where they divert your bowel through a stoma), and removal of her omentum (a fatty pad that covers your stomach), appendix and any potentially affected stomach lining. The cancer had spread from her ovaries to her abdomen, and the procedures were to remove the affected areas and to maximise the chances of her healing. Mid-op, they took live biopsies of the various areas to check the extent of the cancer's spread.
Mum was worried about having such serious surgery, but she trusted the doctors and just wanted the cancer out as soon as possible. There were so many technical medical terms, and so much uncertainty about the outcome, that I found it hard to focus. I just wanted to cut through the eerie calm of our conversation and beg the nurse to tell me that mum was going to be OK. That she was going to get better and beat the odds.
There is no screening programme for ovarian cancer, so there was nothing Mum could have done to find out any earlier. Almost six in ten women are diagnosed when the condition has advanced to stages three or four and is significantly harder to treat. Mum's cancer, we were told, was at stage 3c, which is very severe. Tissues scrunched in hand, I pushed my emotions aside and focused on the facts, asking about timelines and treatments. The rest of my family just stood there in shocked silence.
According to Target Ovarian Cancer, a woman in the UK has a one in 50 chance of developing ovarian cancer in her lifetime. Cancer Research UK data says it is the sixth most common cause of cancer deaths. In 15-20% of cases, ovarian cancer is caused by a mutated gene, and my mum was tested for this but, thankfully, she doesn't have it, so neither do my sister and I.
Mum was in hospital for five weeks, and I visited her as much as I could. Seeing her lying there looking so thin, with tubes attached to her, was heartbreaking, but she somehow managed to stay cheerful in front of us, which in turn helped us stay strong.

My boyfriend, Jack, was an amazing source of support. He held me as I gasped for breath during late night panic attacks, stocked up on tissues ahead of each hospital visit and even visited Mum on his own at times. Once, he took me to get my hair cut - Mum had been telling me off, in a very light-hearted way, for looking scruffy when I came to see her - and patiently sat by me as I tried, unsuccessfully, to hold it together. He patiently explained to the kind man cutting my hair that I was just having a really bad day and my tears weren't anything to do with his hairdressing skills.
When Mum was discharged, Dad looked after her at home. We wanted to make sure that someone would always be with her to keep her spirits up and give us peace of mind. I was lucky that I could work from home some days, so my sister and I would take it in turns to give Dad a break. Dad has been so stoical throughout everything and I haven't seen him falter once. He's a very pragmatic person who takes each day as it comes.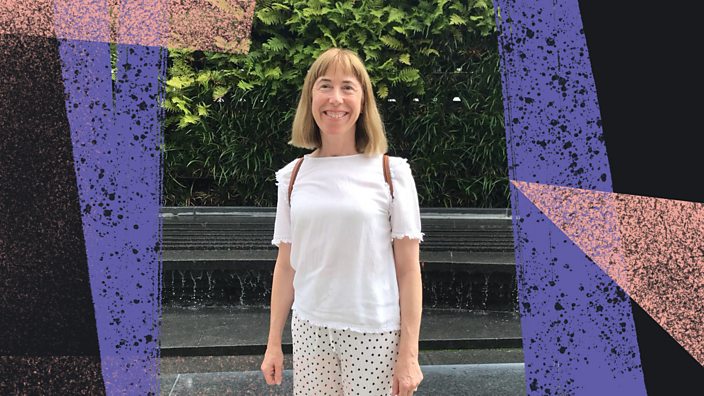 I was amazed by Mum's strength. "I haven't snuffed it yet!" she'd laugh, with her typical gallows humour. I would lie awake late reading other women's stories on online cancer support forums, some of whom had Mum's diagnosis. When I saw that some of their accounts hadn't been active in years, I wept. I wanted reassurance that survival was possible.
We all dealt with Mum's illness in our own way. "There isn't a right or wrong way to cope with a cancer diagnosis and no rulebook when it comes to the emotional fallout of potentially losing a parent," Sara Lister, head of pastoral care and psychological support at the Royal Marsden Cancer Hospital, where Mum was treated, tells me: "Personalities are different. Some people need to talk things out and express things. Other people prefer to be very quiet and put it in an internal box." She recommends family members should seek help when their emotional response is greater than that of the cancer patient, or when emotions get in the way of the ability to carry out day-to-day life for a significant period of time.
Sometimes, I'd try to do things to help Mum out - like offering to cook Christmas dinner - and Dad would gently tell me not to smother her. They knew I meant well, of course, but Mum is still fiercely independent. Dad would just say: "If she feels up for it, your mum can do it". I was secretly relieved, knowing I could never match her Christmas dinner. 
That same month, Jack asked me to marry him on a surprise holiday to Iceland. I immediately phoned my mum to share the good news but she already knew what had happened - she'd been in on it all along. Jack had told my parents a couple of weeks previously, after staying behind at their house after I'd left to go home. I hadn't thought anything of it at the time. I was so happy I couldn't stop smiling and crying while on the camera with her.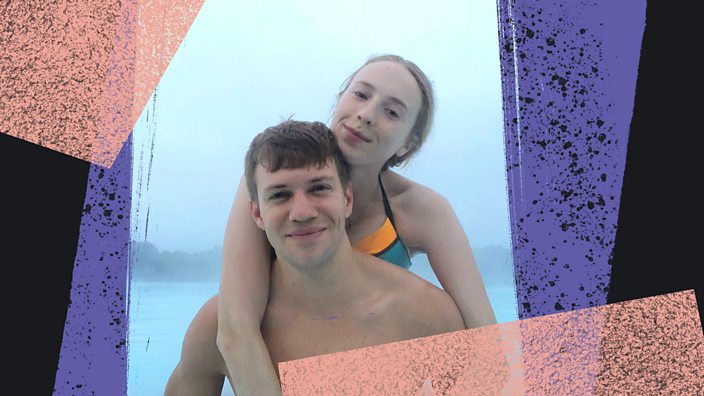 After the proposal I couldn't sleep. I was so excited but then my mind swarmed with worries about my mum's health. I made a promise to myself to try and not think negatively - to always hope my mum will be able to enjoy each new chapter of my life with me. We're getting married in July next year and it has given us all a positive focus. Mum is getting fully involved in wedding planning - even though it's still over a year away she's already making sure everyone's going to have enough food.
Bit by bit, I've worked out how to cope with Mum being ill. I realised I had to open up about my fear. I started saying it out loud: "Mum, I'm scared you're going to die."
"Me too," she would reply, every time. But, even then, she didn't cry.
Mum's from South Shields and, even though she's lived in London for 35 years, she still has a fierce northern spirit. She is scared, she knows that this is a really terrible disease, but she's determined to just get through it as best she can.
In time, I learned to stop fixating on the big, scary possibilities and celebrate the small victories. The milestones of each chemotherapy session, or the reintroduction of foods that previously turned Mum's stomach. When my mum resumed her bossy behaviour, my sister and I cheered. We danced around her when she turned on her favourite music and took endless pictures when she felt comfortable wearing a dress.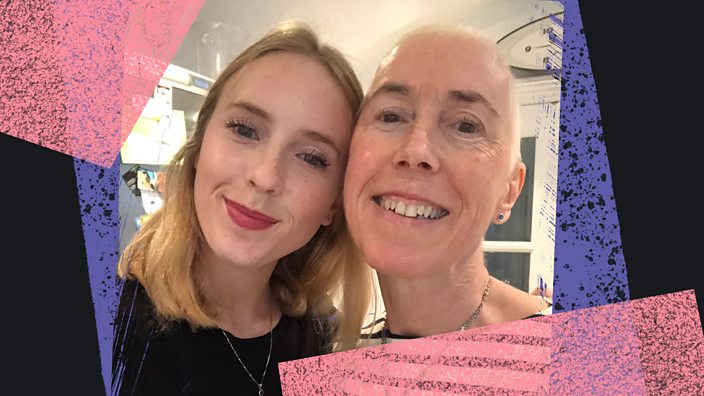 During the second cycle of chemo, Mum started to lose her hair. She's always had very thick, dark hair, and she was sad about the idea of losing it but she wanted to take control of the hair loss and so decided to shave her head. After the cut, she took one look in the mirror and laughed. "I look like a younger version of my dad," she said. She called herself "mini-Don", after my grandad, who is called Donald. After that, she sometimes wore a wig, but she actually felt quite confident going out without one, which made me really happy.
Right now, Mum is doing well. She's had six rounds of chemo, and we're waiting on a scan to see if it's worked and whether she'll require any more surgery. Her latest blood tests showed a staggering 97% decrease in tumour markers, which are used to monitor ovarian cancer. Her skin is glowing, the bristly white hairs on her head are growing, and she's regained almost all of the two stone she lost from her tiny frame. The house continues to burst with cards, flowers, and visitors and she's able to walk for longer distances every week. After a long period of darkness, we are all daring to hope.
This article was originally published on 19 March 2019.