N/A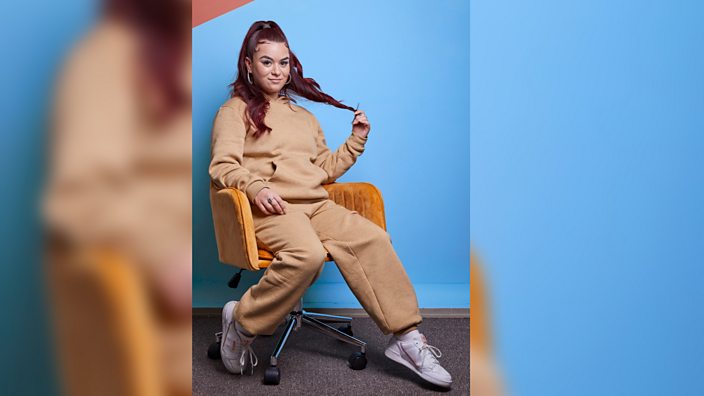 BBC / Domizia Salusest
'In Pupil Referral Units teachers have more time for you'
How one actress was cast in the BBC sitcom PRU thanks to social media - after channelling her own real-life experiences in Pupil Referral Units.
"If I'm honest I had to grow up quicker than I was really supposed to."
Actress Pia Somersby spent time in care when she was growing up and she'd often get into trouble at school.
When she was in year eight, she was kicked out entirely and sent to a Pupil Referral Unit (PRU) - a place that provides education for children who can't go to a mainstream school.
But 20-year-old Pia wasn't held back by her non-traditional education. In fact, she was able to channel her experiences in an audition for a new BBC Three sitcom, called PRU - a comedy about a group of teens in a school for excluded kids.
Pia saw a casting call on Instagram and was immediately drawn to it.
"I just automatically wanted to get involved," she says.
She was asked to send a short video of herself performing a monologue before being invited to take part in an online audition via Instagram Live.
"I was literally in my audition and I was just praying the whole time, it's all I ever wanted in my whole life, literally."
After a few more rounds of auditions - both online via Zoom and in person - she finally got the news she'd been hoping for.
"With each step it felt like I was getting closer and closer and I just kind of had a feeling. I kept holding onto that feeling because I just didn't want to let it go."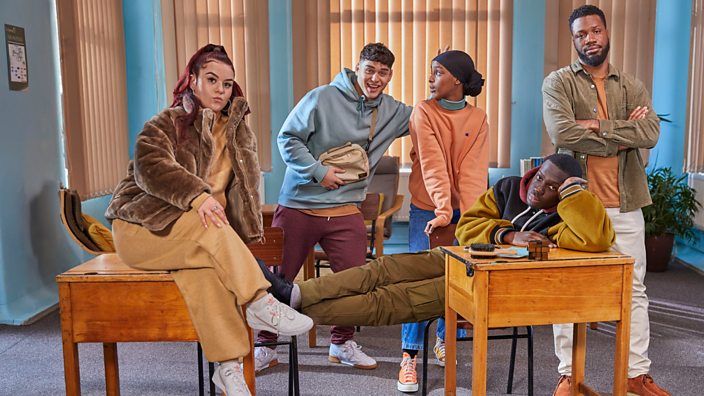 Landing the role of Belle in the sitcom - which also stars Famalam's Tom Moutchi and Kosar Ali from the 2019 film Rocks - "was literally like a dream come true," Pia says.
"I kept feeling like I needed to pinch myself, like, 'Is this really happening?'
"All my life I wanted to be an actress and even though there's been a lot of setbacks, I'm glad I never gave up pursuing acting because that was my outlet for such a long time."
More than 200 people auditioned live in front of the director on Instagram and Pia's co-star Jaye Ersavas, who plays the character of Halil, was also offered a role after performing online.
Explaining the open Instagram casting process, executive producer Leah Henry explains that it was "so we could find young people who don't normally get to access casting opportunities but have plenty of talent."
The actors didn't need to have an agent or any experience, she adds, and PRU had 17 young trainees on set shadowing the production crew. PRU's writers and directors also have experience of working in Pupil Referral Units in London.
'I had to tap into my 16-year-old cheeky self'
Pia, who now lives in London, struggled with her behaviour and attendance in mainstream schools - and spent time in Pupil Referral Units for the majority of her teenage years.
"My behaviour wasn't good but I would say I was actually really misunderstood in school.
"I just feel like no-one understood me and they all just thought I was a problem but no-one was listening to what I was going through.
"So it just came out sideways and I used to self-destruct and then distract everybody because I was the class clown."
She remembers the first Pupil Referral Unit she attended as "chaotic".
"We used to finish early so we all used to be hanging out but no-one really did any work.
"There was always something kicking off, like someone getting locked in a room, stuff getting smashed up all the time."
But Pia has been to four different Pupil Referral Units and she says there are things she really loved about them.
"I think mainstream schools should take a leaf out of how PRUs do it, definitely.
"In PRUs, teachers are there for you because of the small class sizes - there were never more than six people in a class.
"So teachers have more time for you and they want to know how you are feeling.
"I remember definitely feeling like I was a lot more heard.
"That's the thing with PRUs, even though you might have had a bit of a rocky start, they don't just want to throw you out into the world.
"They do really go through steps of, like, 'What do you want to do with your future?'"
In fact, Pia's own life helped inform her performance in the BBC Three sitcom.
"It made me have a deeper understanding of my character because I literally feel like with that character of Belle I had to tap into my 16-year-old cheeky self."
'I've faced stereotypes all my life'
Until recently Pia attended Wac Arts College in London, which provides alternative education for 14-to-19 year-olds through creative arts, as well as offering mentoring for the young people it looks after.
Alumni of Wac Arts - the associated performing arts charity - include Oscar-nominated actors Marianne Jean-Baptiste and Daniel Kaluuya - and Eastenders' Danny Dyer.
"[Wac Arts College] are quite therapeutic, they will be there for you, they don't do things in a mainstream kind of way," Pia says.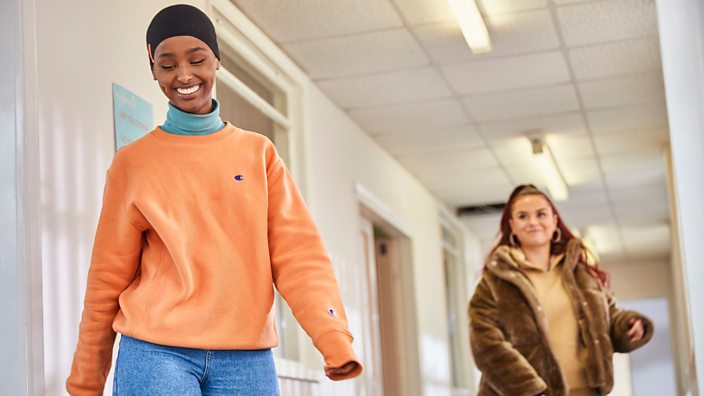 Ultimately Pia hopes the show can be educational and help to get rid of some of the stigma of attending Pupil Referral Units.
"I've faced stereotypes all my life.
"I'm kind of used to it but it does get annoying, being judged all the time.
"People don't realise that we all have different defence mechanisms and [acting out] is just one way of coping, do you know what I mean?"