N/A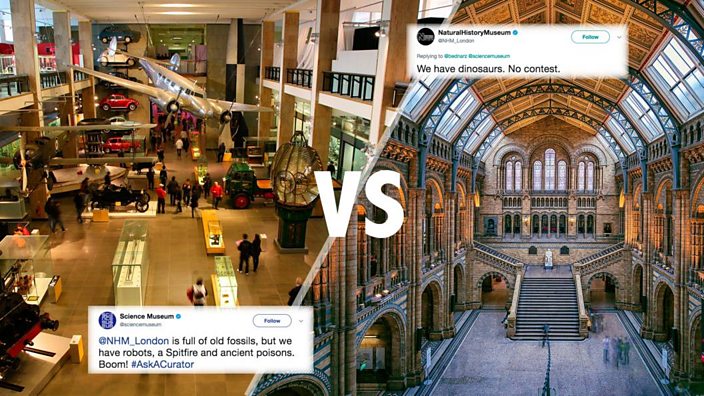 Getty Images
These museums went to war online and Twitter loved it
On first glance, 'ask a curator' day has a noble academic purpose. The good people of Twitter get a day to pick the brains of the custodians of some of the world's finest museums.
But Twitter is a curious place, and whether it's jokes men can't understand or lesbian moon lobsters, it often bestows on us wonderful surprises. So as the curators of two of the UK's best-loved museums readied themselves at their keyboards, a rather unexpected question was thrown their way.
The question (which had undeniably been troubling us all, even if we didn't truly know it), quickly ignited an epic Twitter battle.
The first to strike was The Natural History Museum, with a snappy and direct shot.
The Science Museum, however, was quick to return fire.
It wasn't long before their dispute started to get a little creative as The Natural History Museum threw in a GOT reference.
But the Science Museum had the perfect get-away...
Before it all got out of hand, though, a fair draw was offered.
But the Science Museum had no intention of letting this battle fade so quickly, and the debate spiralled into a brutal round two.
Museums across the world soon caught wind of the struggle, catalysing a local feud into to an international dispute. From down under, the Australian Museum decided it fancied its chances and took a shot at both UK museums.
But the Queensland Museum decided to shut them down, suggesting they might have arrived a little late to the party...
As the battle died down, both sides took five and set their differences aside.
Twitter followers came together in thankfulness for the bountiful offerings of humour and knowledge.
It even caught the eye of the BBC's own Chris van Tulleken.
If you liked this you might also like: