N/A
You may have heard of a game being played online across Russia that involves young people taking their own lives.
The premise is that players are asked to carry out certain tasks across a 50-day period until they are eventually told to kill themselves on the final day - ultimately to win the game.
Reports of its existence have arisen before but the issue has come up again after a recent spate of suicides in Russia.
But could an online game actually be responsible for these deaths?
The game itself is called Blue Whale - a reference to the way some blue whales purposefully beach themselves and die.
Russian media are linking it to the deaths of two girls on Sunday - Yulia Konstantinova, 15, and Veronika Volkova,16.
It is being reported that they fell from the roof of a block of flats in the Irkutsk region of Russia and that one of them had posted a picture of a blue whale on one of her social media accounts before she died.
Authorities claim another girl identified as Ekaterina, 13, was critically injured after falling from a fifth-floor flat in Krasnoyarsk this week.
Crucially, in none of these cases has the authorities mentioned any link to an online game.
But they have said that the girls may have been influenced by conversations with others on social media.
Authorities have opened criminal cases looking into whether someone tried to influence them, but there is no mention of a game.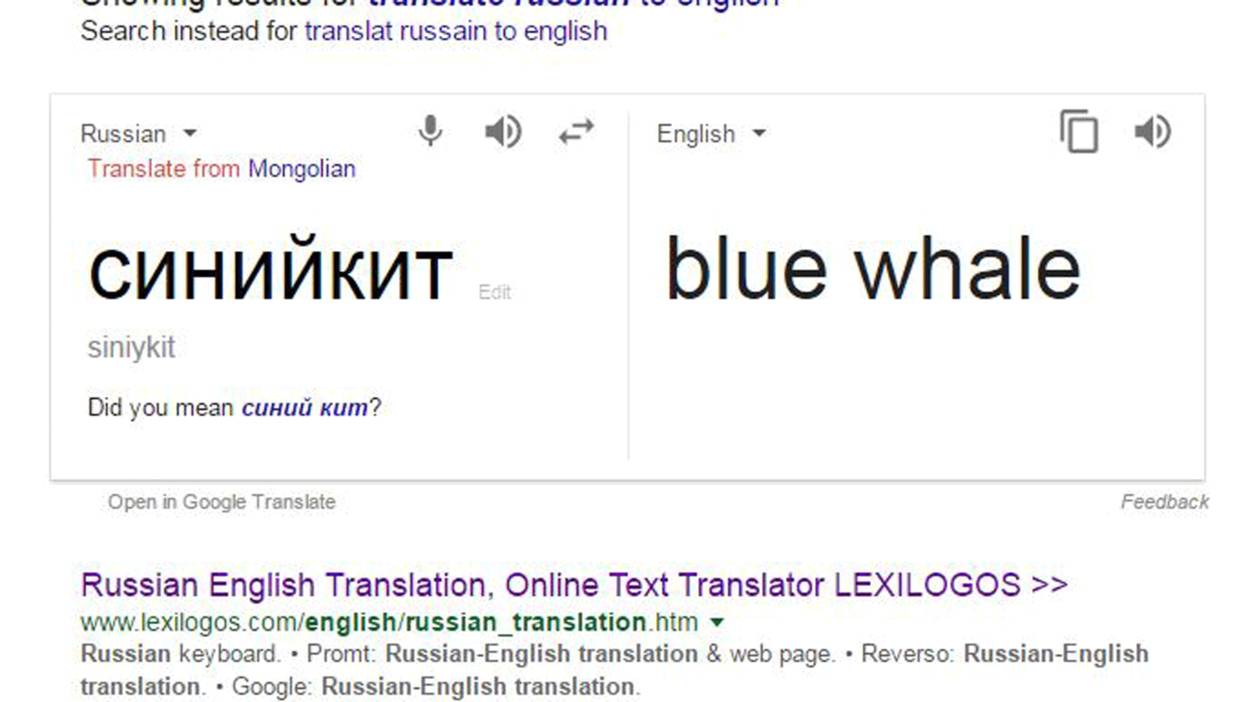 Google
Novaya Gazeta, a Russian media outlet, has linked 130 suicides to the phenomenon, based on the fact many of the young people who have died were in the same online community.
However, it is not unusual for suicidal teenagers to be drawn to the same social media groups.
There is actually no official data that specifically links any one death to the blue whale challenge.
Youth suicide rates are particularly high in Russia, so sadly it is not unheard of for there to be a spate of young people taking their own lives.
Nevertheless the the Blue Whale concept undoubtedly exists. It seems to have started on Vkontakte - a large social networking site which is popular among Russians.
Hashtags like #F57 #F58 #СИНИЙ КИТ (blue whale) bring up people discussing the game - but it's on closed groups where the more sinister stuff is claimed to take place.
Journalists from Radio Free Europe say they have spoken to one of the curators behind the games.
Reporters created a fake profile and as one of their tasks were asked to cut "F58" into their arm, but the conversation finished after the station sent a photoshopped image back when asked.
References to the game are now beginning to appear on other sites more popular in the UK like Twitter, Instagram and Facebook.
Last year a 21-year-old was arrested following claims he was an administrator for a "death group" on the VKontakte social network.
He is accused of being partially responsible for the suicide of at least 15 teenagers. In one interview he admitted being involved in 17 deaths but has given differing accounts to different outlets.
He is awaiting a court date, at which time it may become clearer if there is, in fact, a game at play here.