N/A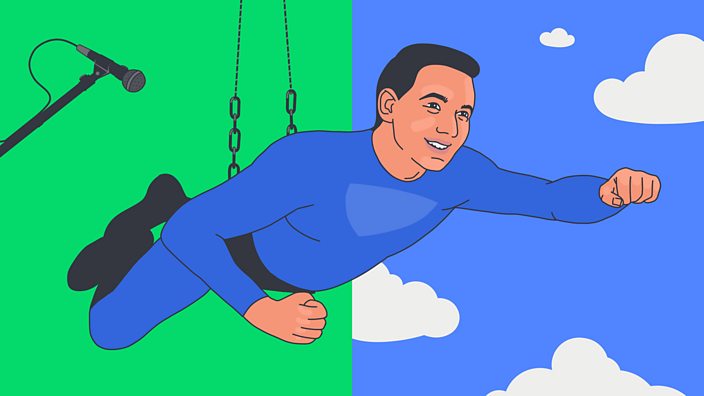 David Weller / BBC Three
These special effects transformations will take your breath away
How do special effects experts make such incredible movie magic?
Modern moviegoers have come to expect the most breathtaking, mind-boggling, reality-defying special effects every time they head down to their local multiplex.
Recent flicks like A Quiet Place, Blade Runner 2049 and Black Panther - pretty much all the Marvel movies for that matter - need to be positively packed with stupendous visual effects for audiences to lift their heads from their phones to take notice.
Basically, we're a long, long way from Yoda puppet.
And this SFX glut has, equally, made its way to television; just think of some of those epic Game of Thrones and Walking Dead battle scenes.
"The line between TV and movies is eroding," visual effects producer Luke Groves explained to Vulture. "That's now the way of the world."
Explaining the process that goes into making such spellbinding special effects, London-based visual effects expert John Rafique - who's worked on Top Gear, 2005 horror The Descent, and Ricky Gervais' upcoming Netflix comedy series After Life - tells BBC Three: "Something the public might not realise is the amount of planning, research, and testing that goes into even the shortest special effects sequence.
"What eventually turns out to be a two second shot in a film can take a whole crew of SFX men and women a week to make."
Looking ahead to how special effects could change in the years to come, John adds: "I kind of think the future is always to make the most unreal, dramatic effect as possible.
"Our advances tend to be in the slow process of refining our equipment to do that more and more efficiently. It's the advances in the other areas on set that changes the look of things on screen: new cameras, new VFX software, and new post-production techniques."
And a viral Instagram account is now lifting the curtain on the special effects process that goes into making movies so magical.
The account, with more than 400,000 followers, gives a fascinating breakdown of what iconic movie moments look like before and after the visual effects teams have done their stuff.
Here are some of the most jaw-dropping transformations.
Harry Potter And The Half-Blood Prince (2009)
This film, directed by David Yates, the sixth instalment of the much-loved franchise, features some very memorable moments, including this library scene starring Daniel Radcliffe and Emma Watson.
Game of Thrones (2011 - present)
The brainchild of George RR Martin, this HBO series has fundamentally changed the game in terms of TV storytelling and visual effects. Perhaps the most famous fruits of this special effects revolution are Daenerys Targaryen's dragons: Drogon, Rhaegal and Viserion.
The team behind Alfonso Cuarón's Gravity, starring Sandra Bullock and George Clooney, went as far as to invent new technology to craft the special effects in this sci-fi flick.
"It was a great leap into the unknown," producer David Heyman told Cinema Blend. "All of the technology, you know, when we began the process, we had no idea what we were doing. It was a process of discovery."
Jon Favreau's CGI remake of the Disney classic The Jungle Book made more than $900 million (£690 million) at the box office, and fans fell in love with the cast of weirdly life-like creature characters. But the original pre-CGI puppets are hilariously unrecognisable from their final form.
Fantastic Beasts and Where to Find Them (2016)
This Harry Potter spin-off, again directed by David Yates, features a massive cast of magical creatures - aided by some special effects stardust.
Alice In Wonderland (2010)
This adventure film, from the weird and wonderful mind of Tim Burton, really pushed the boundaries in terms of creative, colourful special effects. Matt Lucas, who starred as Tweedledum and Tweedledee, had to wear a motion capture suit and walk on stilts while filming.
This sci-fi classic from The Wachowskis features some of the most iconic SFX moments in movie history. Will Smith, who turned down the part of Neo, recently explained in a hilarious YouTube video, how the producers originally pitched the character's iconic 360 degree 'bullet time' effect to him.
Life of Pi, directed by Taiwanese film icon Ang Lee and starring a computer generated Bengal tiger named Richard Parker, won the Oscar for Best Visual Effects at the 85th Academy Awards.
Mad Max: Fury Road (2015)
This Marvel comics film, directed by Josh Trank, leaned heavily on special effects to create the universe of the movie.
Harvey Dent (played by Aaron Eckhart) transforming into the villainous Two-Face is an all-time iconic superhero movie moment.