N/A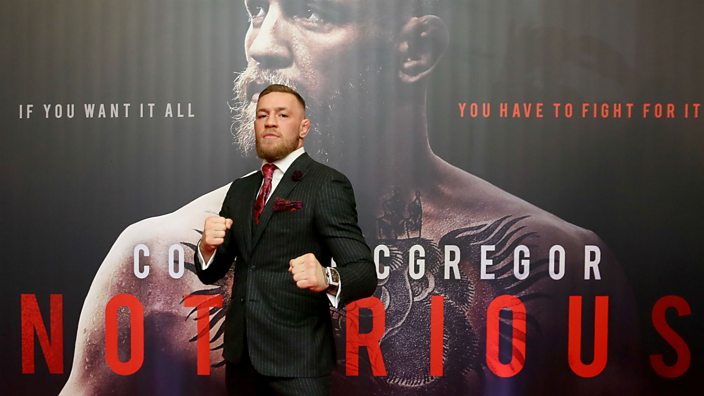 Getty
UFC 223: Conor McGregor stripped of lightweight title, confirms Dana White
Khabib Nurmagomedov or Max Holloway will claim the title this weekend, but the Irish fighter is "100% coming back" in 2018
Khabib Nurmagomedov and Max Holloway will headline a sizzling event in Brooklyn at UFC 223, but it's a familiar Irishman who'll undoubtedly be stealing the headlines once the final bell rings on Saturday night.
UFC president Dana White has confirmed that Conor McGregor's lightweight title, which he claimed in 2016 at UFC 205, will be officially stripped this weekend, and will be claimed by either Nurmagomedov or Holloway. 
"No interim champ. When this fight is over, champion," White said during a press conference on Wednesday. Pointing to Nurmagomedov and Holloway, he said, "One of these guys will be the champion."
White had been criticised in the past for putting the title on hold during McGregor's 18-month stint away from MMA, but has said that the prize-fighter is "100% coming back" at some point in 2018.
McGregor, who tweeted his displeasure about the announcement, is expected to make an appearance at UFC 223, reigniting a rivalry with Nurmagomedov in the process: a man who's tallied 25 fights with 25 wins.
At the 11th hour - and at the UFC's fourth attempt to make the bout - the long-awaited meeting between the pair was called off.
One champ out, one champ in
It could have left the UFC with a major headache, but, thankfully, the announcement of Ferguson's withdrawal also came with news of an immediate replacement: undisputed UFC featherweight champion Max 'Blessed' Holloway. This involved the Hawaiian stepping up a weight class to face Nurmagomedov for the lightweight title.
Holloway may be moving up a weight class, but he'll be no pushover. He has a career record of 19-3, is unbeaten in a dozen straight contests over a five-year period, and holds back-to-back stoppage wins over featherweight legend Jose Aldo, as well as finishing former UFC lightweight champion Anthony Pettis.
Holloway is also a big featherweight and won't look out of place at 155lbs. Indeed, the biggest test for 'Blessed' will be making weight at such short notice. Usually he gets a run-up of 8-12 week, but this time he's coming in on just six days notice, without a fight camp. It's a big ask.
It may be a short-notice matchup for Holloway, but it's a bout he was prepared to step into months ago.
During a UFC press conference earlier in the year, UFC president Dana White was asked if he had a contingency plan in place should the seemingly cursed Ferguson-Nurmagomedov bout fall through again. But before the UFC supremo could answer, Holloway grabbed his own mic and stepped in.
"You've got a '45 champion who'd gladly take that spot after 3 March," he said, adding that he had to get his scheduled bout with Frankie Edgar out of the way first.
An ankle injury forced Holloway out of that fight, but with his injury now sufficiently healed, it meant there was one name at the top of the UFC's list when Ferguson dropped out.
And, as promised, Holloway answered the call.
In stark contrast to the trash talk between Ferguson and Nurmagomedov, the lead-up to Saturday night's main event has been noticeably more respectful.
The pair have both been working out next to each other at the host hotel's gym, and even exchanged pleasantries, thanking each other for agreeing to the short-notice matchup.
The duo's competitive rivalry came out during the pre-fight press conference on Wednesday, but they kept their emotions in check, with no outlandish insults thrown or expletives hurled.
But despite the clear respect between the pair for agreeing to the bout, it'll be all business when the octagon door closes on fight night, as Nurmagomedov explained.
"For Max, its going to be a long night," he told reporters during the pre-fight presser.
"I respect him. Max is going to try to knock me out in front of my own people: my team, my friends, my whole family. When the cage closes, I'm gonna give him a hard 25 minutes."
Holloway was just as happy to state his case as he prepares to spring what most believe will be a huge shock after coming in at such short notice to make his debut at a higher weight.
"This is how legends are made," he told the fans and media in Brooklyn.
"This guy's one of the best guys in the world - the best 55er. People don't want to fight him. But to be the best you've got to beat the best. And the best is 'Blessed', baby! Let's go!"
And, after an entertaining back-and-forth between the pair over who'll have the upper hand on fight night, they eventually ended in agreement, with Holloway pointing out that everything will be decided in the octagon on fight night.
"Khabib, you know what's beautiful? We find out Saturday night, baby!"