N/A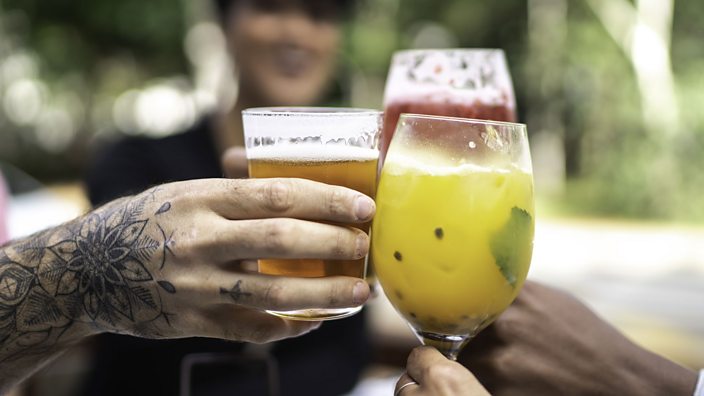 Getty Images
Dry January: 'I thought not drinking was just for alcoholics'
Can being sober find a mainstream audience outside trends like Dry January?
Scott Pearson has been sober for a year. Now 29, he began drinking at 16, the age that he came out as gay.
"I started going out drinking – alcohol is a big part of LGBT culture. I wasn't happy at all, I felt I wasn't accepted for who I was by some people, and I was drinking out in the depths of Soho. I was meddling with something quite dark."
Scott used alcohol to ease the pressure he felt to fit in. "When I think about it in terms of me coming out, I craved for people to like me and accept me, and I thought that meant drinking as much as them," he says. "Drinking was just what you did. People who didn't drink didn't exist."
Every year, after the excesses of the festive period, people give up booze en masse for Dry January. It's meant as a detox period, to give your liver a break if you've overindulged at Christmas. But for Scott, overindulging wasn't just something he did on special occasions – it was something he was doing several times a week, every week.
Scott knew his drinking was problematic before he decided to give it up, but there was something stopping him making the leap to sobriety. "I couldn't figure out how to do it," he says. "The only narrative I knew around sobriety in the media was that it was for recovering alcoholics."
Dry January (or its pre-Christmas counterpart, Go Sober for October) are marketed as temporary periods of sobriety, with some people even asking their friends to sponsor them for charity to take a month off the booze. But is being teetotal for four weeks really on par with running a marathon or climbing a mountain for charity? 
Scott doesn't think so – he'd like to see it normalised. "I think there's a lot of work to be done in changing the narrative and making sure sobriety is accessible to everyone who wants to access it."
Being sober might also make you think of "wellness". Think artfully-presented mocktails, yoga and high-end gym gear – it can seem intimidating and exclusive. One expert told The Guardian that wellness is becoming "a way for people to show off their wealth" in a subtle way. Does the growing sober trend also have the potential to be like that?
It's not surprising that a sober lifestyle outwardly appears to cater only to a certain demographic – there are some class stereotypes around alcohol consumption itself.
If I say the words "Britain" and "booze" - what do you think of?
This picture, which went viral after being published in the Manchester Evening News, fits the stereotype that probably comes to mind. The show is stolen by the man lying on the road, beer in hand, looking like he's being drawn like one of Jack's French girls in Titanic. The photo shows New Year's Eve celebrations in Manchester in 2016. One BBC journalist said it was "like a beautiful painting".
Is that stereotype fair though? Maybe not.
A DrinkAware study from July 2019 showed that 45% of adults in higher economic and social groups were "risky" drinkers. By comparison, 34% of adults in lower socio-economic groups drank in a risky manner. YouGov, which conducted the poll for DrinkAware, used a questionnaire about drinking habits to figure out how risky people's drinking was.
Why does the boozy Brit character come with some assumptions about class? It could be that, while poorer adults consume less alcohol, the damage is more visible. A 2018 study in the Journal of Public Health suggested that "those from lower socioeconomic groups consume the least amount of alcohol, however, prevalence rates for disease and mortality due to alcohol harm is highest in these groups, often because of... other [harmful] health behaviours". 
Teased for not drinking enough
A shift in drinking behaviour is being led by younger people. A study by the British Pregnancy Advisory Service (BPAS) last year, on the decline in teenage pregnancy rates in England and Wales, suggested that 24% of 16-18 year olds were teetotal. DrinkAware's study suggested that younger age groups drank less overall, indicating they're a less boozy demographic than older people.
But sobriety is yet to be fully accepted – DrinkAware's study suggested that 75% of 18-34 year olds felt pressure to drink, while one in five said they'd actually been teased for not drinking enough. 
On a mission to make sobriety cool and rebrand alcohol-free socialising is London's Redemption bar. Hanging houseplants are draped down the pastel-coloured walls and a counter at the front of the shop displays neatly-decorated vegan cakes. In the bar at the back, a mostly young, female clientele sips on drinks that look like, and share names with, popular cocktails, but are entirely alcohol-free and made from fruit, veg and botanicals. The vibe is young, professional, Instagram-ready prosecco drinker – just without the prosecco.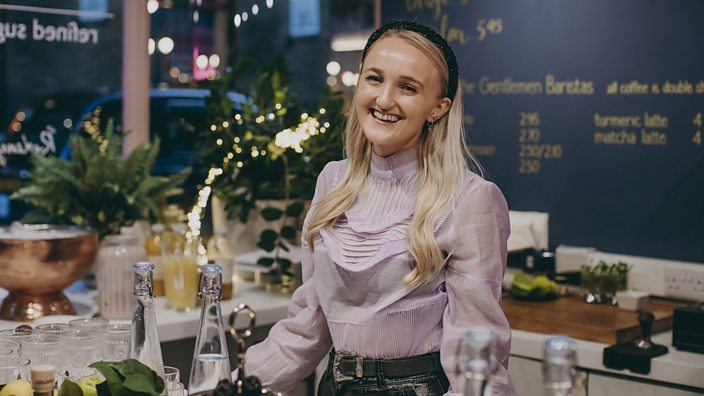 I'm here to meet sober influencer Millie Gooch. She's 28, and went sober in February 2018, after getting into binge drinking at university, and realising it was affecting her mental health. 
"I had three jobs at uni, all in bars. I was always supplied with free drinks," remembers Millie, whose Instagram account Sober Girl Society has almost 60,000 followers. "I'd get really bad blackouts, I'd forget bits of my night. Everyone was drunk – it was the thing to do. 
"When I came out of uni I went to work in the media and it was a boozy industry, so I kept it up. Then I realised day and evening drinking wasn't working for me, I was embarrassing myself around colleagues, so I gave up weekday drinking. But even drinking only at weekends gave me bad anxiety – I'd feel like the world was ending, and that would creep into Monday and Tuesday. I wasn't productive, and I felt really sad and anxious. I tried to work out what the common denominator was, and pinned it down to booze."
'Alcohol became a fixture'
Scott and Millie met through sharing their experiences of sobriety online. Like Millie, Scott began documenting his journey, and shares his thoughts on being sober on his Instagram account The Boy Who Drank Too Much. Both have similar stories – finding themselves working in industries where excessive drinking was normalised and even expected. 
After a year at a fashion college in London, Scott was offered a job with a fashion PR agency. "Every night of the week there was a fashion party to go to that was sponsored by an alcohol brand," he remembers. "The alcohol was even more accessible because it was free. One of the biggest parts of my job was socialising, because there was no way to make a name for myself without doing that. Alcohol became a real fixture in who I was." 
Millie relates to that: "My followers are similar to me, a lot are my age, young professionals," she says. "I talk about what I know, which is young millennial party girls suffering with anxiety, and taking out booze will help that."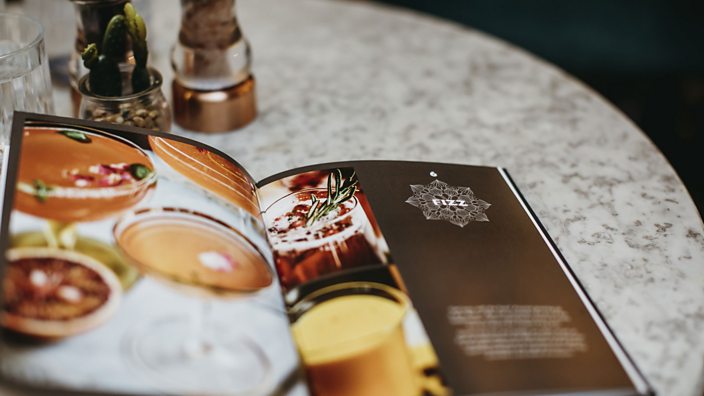 But what about people who aren't millennial party girls (or guys)? Not all jobs come with expectations to socialise and network. Does the stereotype of a cocktail-guzzling, work-hard-play-hard graduate really describe the average young adult, or is it too simplistic, a bit like the headlines saying millennials could afford houses if they bought fewer avocados? 
I ask Millie if she thinks "Instagram sobriety" is truly inclusive. "It's a really hard one," she says. "I think local pubs need to be more aware of what they're stocking – if I go into my local, there's no alcohol-free options. There's this sober-curious trend and a lot of drinks coming out are targeting the higher-end consumer. I'd like to see more own-brand non-alcoholic drinks, rather than the really high-end trendy ones.
"But I think it does have to have a bit of a cool edge to it to make it accessible to people."
'Look at me, I'm different'
In Liverpool, on a rainy Friday evening, a group of early 20-somethings are sharing jugs of booze and ordering shots in a city centre chain pub. I wander over to them, crack a joke about the UK's reputation as a boozy nation, and join their table to talk about drinking. 
Andrew, who's 20, explains that the group met at work, having all recently started jobs at the same finance company. "This was a group decision to come for drinks," he says, adding there was no pressure to come.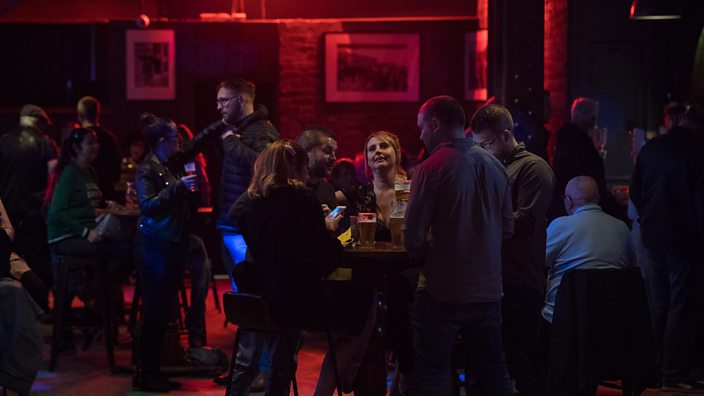 I ask the group if they're aware of sobriety becoming more popular.
"I've never heard of it," says Sarah, 22. "The only thing I've heard about sobriety is things like Sober October, or different religions not drinking. I probably wouldn't go somewhere just to drink mocktails."
Matthew, also 22, echoes Scott's thoughts on drinking in the LGBT community. "The only social spaces for LGBT people seem to be bars or alcohol-based places. I feel like if there were more sober bars and cafes for people to come and socialise it would be good – it would mean we could interact with people like us before we're 18."
We move on to talking about whether a venue like Redemption could succeed in Liverpool, or even in any of the group's hometowns, which include the Wirral, Huddersfield, and Tamworth. 
While one member of the group says lots of her friends back home don't drink because they don't like the effect alcohol has on them, and would probably love a venue like that, others are unsure. "People are aware of trends like veganism or sobriety where I'm from, in Huddersfield, but there isn't the audience," says Andrew. "I'm not sure there'd be much interest."
"If you're going to open a non-alcoholic business, and 80% of the demographic there drinks alcohol, there's no point. You need the interest and the awareness," Matthew adds.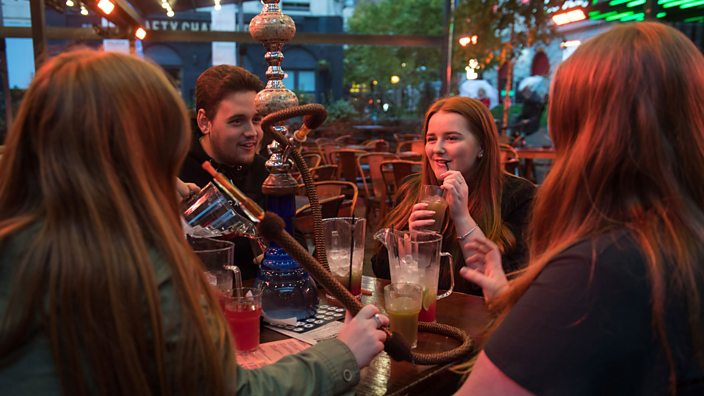 Round the corner in another bar, 22-year-old Liverpudlian local and retail worker Kieran laughs when I ask if he's ever felt any unwanted pressure to drink. "I'm probably more the pressurer, than the pressuree," he says. "I'm the one coming over with the sambucas on a night out!"
I ask what he and his friends think about the concept of an alcohol-free bar, and one says they wouldn't be interested. "It's a bit, 'Look at me, I'm different,' sort of thing," says Kieran. "I mean, if people don't like drinking, that's fine, but do they need to publicly broadcast that?"
As it happens, Liverpool does have its own non-alcoholic venue, located just a short walk away from the pub the friends are drinking in. It strikes me that there might be a gap in sobriety marketing, with Redemption's brand of abstinence seemingly too self-aware, and Liverpool's dry bar flying under the radar.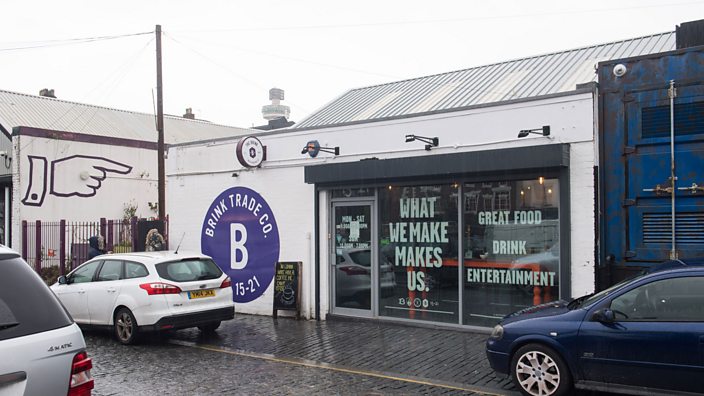 The Brink was opened in central Liverpool in 2011 by the charity Action on Addiction, to provide a social space for people in recovery. It also hosts open mic nights, gigs and events. It was around long before sobriety became a cool trend, and its vibe couldn't be more different to Redemption's. It sits next to a garage in a backstreet, near other independent bars and restaurants.
David Barnicle, 38, has worked at The Brink since it opened and is now assistant manager. He talks about a time when Liverpool was "really high in the league tables for drug and alcohol-related incidents and deaths", and says the Brink is a means to reconnect those in recovery with the community. 
'People saw us, and wanted to start sober bars in their own cities'
Liverpool has repeatedly had high levels of alcohol-induced harm. In 2004-5, along with Copeland in Cumbria, it had the highest rate of alcohol-related hospital admissions in England. It came second in the data for number of adults who binge-drank.
In 2010, a doctor at University Hospital Aintree warned that people as young as 20 were suffering neurological problems because of excessive alcohol consumption, and in 2011, Liverpool again was top in England for the number of alcohol-related hospital admissions. The latest findings put Liverpool ninth for this, with Blackpool at number one.
Eight of the areas in the top ten for hospital admissions for alcohol-related complaints in England are in the north.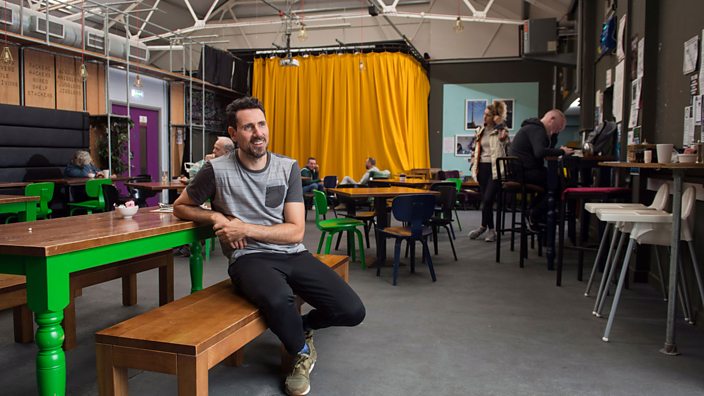 The Brink got attention in the national news in 2012 when the Duchess of Cambridge became a patron of Action on Addiction, sparking interest in the concept of alcohol-free bars.
"The world's eyes were on us then," David remembers. "After that, the phone was red hot with people asking how they could set it up in their own city. So we started doing business consultations." Dry bars have since appeared in other cities, with Nottingham's Sobar opening in 2014, and Birmingham's Friends Kitchen in 2016. Like The Brink, they're both run by charities, and partly publicly funded. 
Budgets for community drug and alcohol services have fallen in recent years. The money for public health grants – which, among other things, fund those services – has fallen £700m since 2015-16, the Local Government Association warned last year. It means that places like The Brink need to attract paying customers to stay afloat.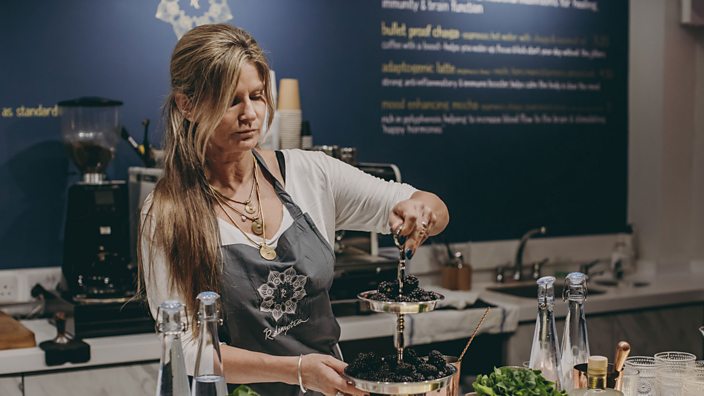 Redemption is different, because it's a private business.
"People thought we were mad when we first started it, because you make money on booze," co-founder Andrea Waters tells me. "We don't make loads of money, and lots of people have told us if we want to make money, we need to sell alcohol. But we don't want to drop our principles."
She says that, while Redemption does donate some money to charities chosen by staff, they don't work with any alcohol support services. "I have been researching alcohol charities," Andrea says. "We would like to get involved with one."
'Weight Watchers for booze'
With mocktails at Redemption at least the same price as alcoholic cocktails at Redemption, it's fair to question how accessible it would be even if a charity was involved. It seems there is still something of a gap between being sober for recovery and sobriety as a glossy lifestyle choice.
What about people who aren't alcoholics or into wellness, they just want to cut down on their drinking?
Club Soda is an online community for "mindful drinking", co-founded by Laura Willoughby in 2015. "I realised there was a need for something that's a little bit more like Weight Watchers but with booze," she explains.
Its website helps people find places serving non-alcoholic drinks around the country, and offers paid-for courses to help people cut down on drinking. There are also Facebook groups where people can share tips and support, and a group specifically for under-30s. Laura says Club Soda has around 45,000 members.
The organisation also runs sober events around the country, organised by people like Millie and Scott.
"We have a meet-up and discussion group aimed at younger people, and we also run an event called Queers Without Beers, which attracts a really young demographic in Manchester and London. We're about to start that in Bristol too," Laura says.
As for the gap between sobriety for those in recovery and being sober as a lifestyle choice, Laura says Club Soda bridges that divide by giving non-judgemental advice and a sense of community. "Most people don't need specialist intervention. What we need is to know we're not alone – we need tips on how to socialise sober that come from real people and not from the government.
"We only talk about positive lifestyle changes because we feel that's far more persuasive than hammering people about how bad they're being to themselves.
"It's about saying to pubs, bars and restaurants that there's a whole market of people out there who don't drink and they're just as important as those that do."
Laura's approach sounds like a way of being sober that Scott needed as a young adult using alcohol to escape from his difficulties.
If the number of non-drinkers continues to rise, there'll be more like him looking for a version of sobriety that's for everyone.
This article was amended on 02/01/2020 to remove a personal detail about an interviewee.