N/A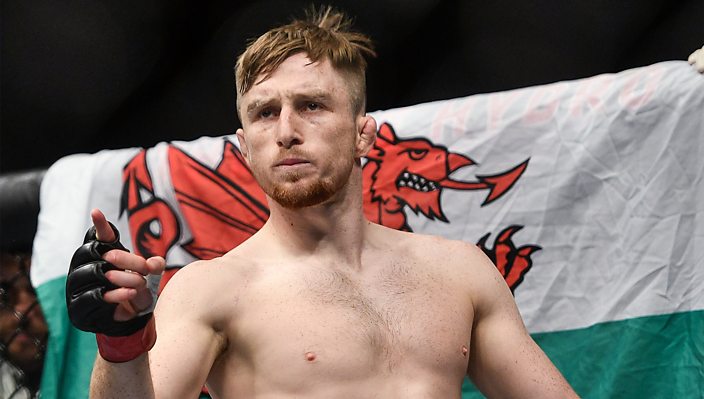 Getty
Brett Johns: "I've had four UFC fights and I've broken my nose in three"
The 26-year-old from Swansea is hoping to bounce back from a defeat to break into the UFC's top 10 bantamweight rankings
UFC bantamweight Brett Johns is hoping to come back from his recent loss to Aljamain Sterling when he trades blows with Pedro Munhoz this weekend at UFC 227.
The BBC MMA Show caught up with Johns to see how he plans to avoid the same mistakes he made last time out.
"It sounds very cliche, but to say that in the last fight I wasn't really there would be an understatement," Johns says.
"I have a lot more to show and I was very disappointed with that. Just mentally, I was a bit flat and it showed in my performance. In my last fight it felt like I was working a 9-5 job."
Johns' loss to Sterling in April of this year may have been the first defeat of his professional career, but it seems the experience has put things into perspective for the 26-year-old from Swansea.
"I've got one of the best jobs in the world and it's taken me a loss to realise that," he says.
Despite the many pros of his MMA career, Johns highlights the harsh reality of a fighter's life by revealing a few of his recent injuries.
"I've had four UFC fights and I've broken my nose in three," he says, "and in the Aljamain Sterling fight, I think it was the first or second exchange and I felt the iron smell in my nose and I thought, 'Here we go again'."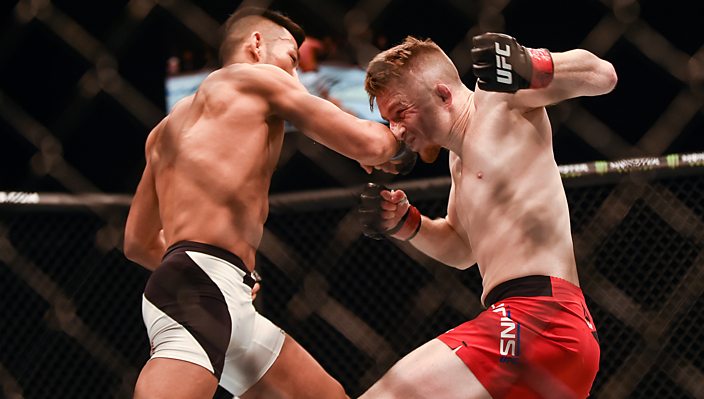 Johns will feature on the undercard this weekend before the main event, which has a rematch between bantamweight champion TJ Dillashaw and Cody Garbrandt. The scale of the event has got the Welshman hyped.
"This is the first time a Welsh guy has fought on a proper numbered UFC event," he claims. "There's going to be a lot of people there and it's sold out. That pressure, it kind of builds me and helps me out, and I thrive off that pressure and emotion."
Johns' opponent Pedro Munhoz - nicknamed 'The Young Punisher' - is a 31-year-old Brazilian jiu-jitsu specialist who has racked up 15 wins and three losses throughout his career. And he's got a specific set of moves that can force his challengers to submit.
"We can't go any further without mentioning Pedro Munhoz's guillotine," Johns says. "I'd be lying if it said I hadn't spent the last six weeks in camp working on that, but, like I said, I'm very confident.
"The goal I'm trying to achieve at the moment is to get into the top 10 rankings, so beating Munhoz I feel will get me in to the top.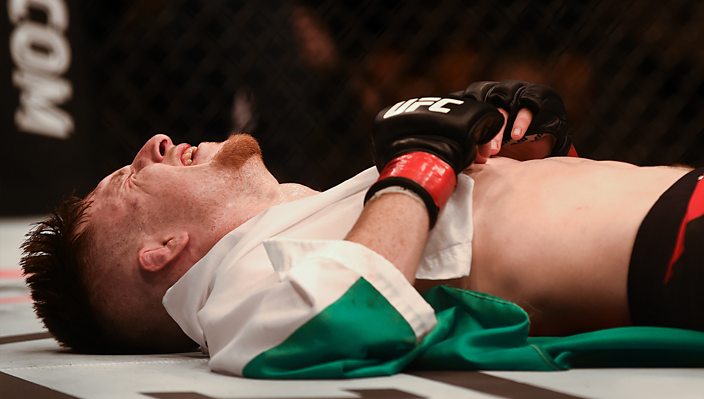 "I feel like it's the old me coming back. This is Brett Johns in his UFC debut and he wants to come back now. I truly feel that it's going to be the fight of the night."