N/A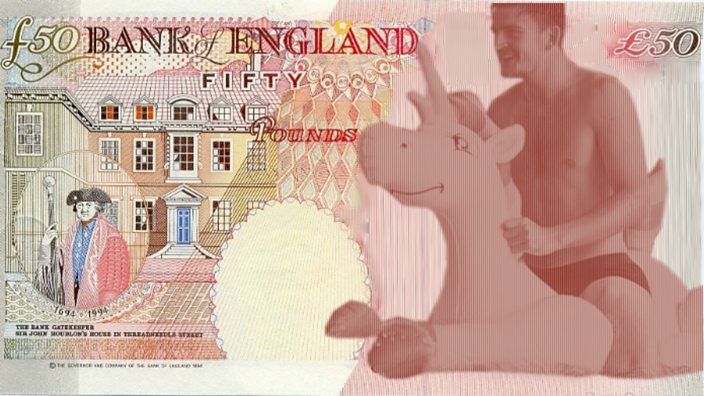 Jonny Sharples/Change.org
We need Harry Maguire riding an inflatable unicorn on the new £50 note
He is a national treasure and we must honour him as such
Rather than scrapping the banknote, which people had feared was used a lot by criminals and not really for ordinary purchases, the bank is going to release a plastic version instead.
Whenever things like this have happened in the past, the nation has come together to come up with very, very serious suggestions (we'll never forget you, Boaty McBoatface). So obviously this is no exception.
Presenting the faces Britain wants - nay, needs - on its new £50 note.
Harry Maguire riding an inflatable unicorn
England fans are all still so proud of their team for their exploits in the World Cup this summer.
Not only did they not get knocked out in the group stages (a celebration in itself) - they actually got to the semi-finals for the first time in 28 years. 
So why not honour their achievements with this picture of England player Harry Maguire riding an inflatable unicorn?
In fact, this idea is so popular that the guy who first suggested it went on to start a petition, mocking up what the banknote might look like.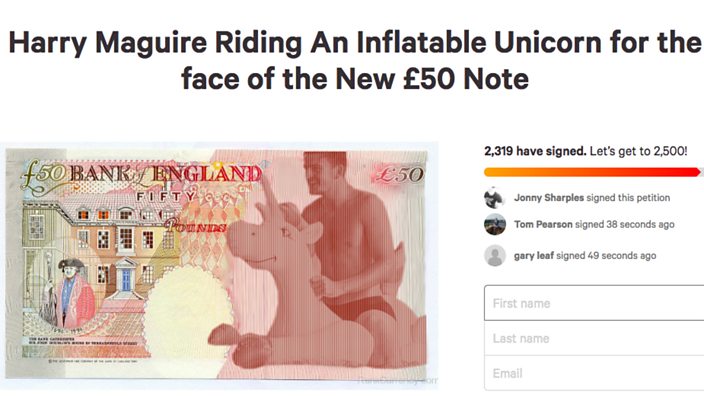 At the time of writing, it's got almost 2,500 signatures. Oooh-wee.
They were the voice of the 90s, they weren't afraid of a bit of hair bleach and, let's be honest, they probably taught a generation of kids how to count (five, six, seven, eight…).
That's right - we're talking about Steps.
Lisa from Steps has been singled out because she's Welsh and, well, we need a Welsh face on the note. A good back-up is of course H from Steps, who is also Welsh.
Cymru (and Steps) am byth!
We see it on our TVs almost every morning, so clearly we also need to see Phillip Schofield's glorious face on our banknotes too.
A suggestion by a Twitter account dedicated to 'Phillip Schofield memes' (who knew such a thing existed) has got a lot of support, with more than 21,000 likes.
If you're wondering what such a note would look like, well…
Liam Gallagher flipping everyone off
Liam Gallagher is a national treasure - particularly when he's giving everyone the finger.
It's about time we finally honour Liam as the British hero he clearly is.
And of course, last but not least…
Finally - the recognition Boaty McBoatface always deserved but never received.
Boo. I guess we'll have to find another way to show Harry Maguire and his unicorn how much we all love him.