N/A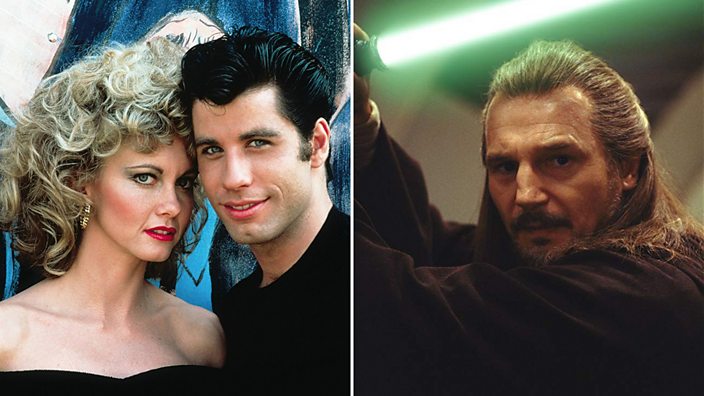 IMDB
Five of the best and worst film prequels of all time
A Grease prequel is coming - but how will it compare to these silver screen hits and misses?
Wella wella wella, huh? As unlikely as it sounds, this week we got the news that 1978 classic Grease will be getting its very own all-singing, all-dancing prequel.
Rumoured to be called Summer Loving, the film is expected to expand on the story told in the famous song Summer Nights recorded by John Travolta and Olivia Newton-John. 
Grease, directed by Randal Kleiser, became a box office smash and an even bigger cultural phenomenon (just don't mention the less-than-successful sequel Grease 2).
And according to reports, the script for the prequel is being written by John August, who wrote the 2005 incarnation of Charlie and the Chocolate Factory and the upcoming Aladdin live action remake.
Fan reaction to the news was, well, mixed.
Not sure whether to risk your precious memories of Grease by watching this new instalment? Here are five other famous - and sometimes infamous - examples of prequels from the vaults of cinema history to help you decide…
The Godfather Part II (1974)
Setting the gold standard for high-quality prequels, this Francis Ford Coppola picture is considered, by some, to be even better than the original.
The film, which is both a prequel and a sequel to The Godfather, continues the story of Michael Corleone (played by Al Pacino) while simultaneously following the journey of his father Vito (Robert De Niro) as he cements himself as one of New York City's greatest gangsters.
It's so good, in fact, that it became the first ever sequel to win the Academy Award for Best Picture.
Another triumph for prequel film-making, Batman Begins reinjected life into this otherwise tired superhero franchise. This Christopher Nolan-directed film, starring Christian Bale as the caped crusader, tells Bruce Wayne's origin story as he becomes Batman following the death of his parents.
"The Batman franchise has finally found its way," reviewed the legendary film critic Roger Ebert at the time. 
This prequel was followed by two more just-as-successful films, 2008's The Dark Knight and 2012's The Dark Knight Rises.
Indiana Jones and the Temple of Doom (1984)
Not every great film has to be an intellectual masterpiece, right? Sometimes they can just be fun and a little wacky like Steven Spielberg's gory, swashbuckling, action-packed romp Indiana Jones and the Temple of Doom.
Co-written by George Lucas, the movie is set in India and follows the archeologist as he battles to free a group of kidnapped children from a 'black magic cult'.
There has been some controversy around this film, though, especially in relation to its problematic portrayal of Indian culture and cuisine. In particular, the infamous scene that shows a buffet of baby snakes, eyeball soup, beetles and chilled monkey brains has been called into question because, well, obviously no-one in India eats like this.
"Indiana Jones remains an icon of cinema, and rightly so," writes Kayleigh Donaldson in SyFy Wire. "Still, the next time you watch Temple of Doom, maybe think twice about why anyone would think it was funny to have chilled monkey brains on the menu."
The Exorcist: The Beginning (2004)
The Exorcist is, rightly, considered to be one of the finest horror films of all time. Its sequel The Exorcist: The Beginning, on the other hand, is definitely not.
Coming three decades after the success of the original, this film - starring Swedish actor Stellan Skarsgård - has an intriguing plot: it follows Father Lankester Merrin, years before he helped to save Regan MacNeil (Linda Blair), as he first encounters the demon Pazuzu in East Africa.
Unfortunately, the film was a commercial and critical flop, earning reviews much more terrifying than any scene in the movie.
"Reams of tedious exposition finally give way to a random jumble of horror movie clichés, rising to a shrill pitch of hysteria that is never remotely frightening," read the Time Out review. Eeeeek!
Star Wars: Episode I – The Phantom Menace (1999)
The Star Wars reboot was always going to struggle to match up against the original trilogy. And, as many critics argued, struggle it definitely did. With a measly Rotten Tomatoes score of just 54%, this hotly anticipated reboot has been described as 'tedious,' 'abstract' and 'deflating'. Not the sort of descriptions you're looking for when you're making a fun sci-fi flick.
Set 30 years before the original, this film - George Lucas's first as director since 1977 - follows Jedi Knight Qui-Gon Jinn (Liam Neeson) and his apprentice Obi-Wan Kenobi (Ewan McGregor) as they battle to protect Queen Amidala (a young Natalie Portman).
While the visual effects were roundly praised, many critics and fans weren't too impressed with the plot. Having said that, it still made a boatload of cash at the box office and the sequels - Attack of the Clones and Revenge of the Sith - were better received. And the new round of Star Wars spin-offs are pretty popular too. 
So good luck with the prequel, Grease! We're looking forward to even more cheesy singing and dancing. But maybe this time just *a little* less hairspray?