N/A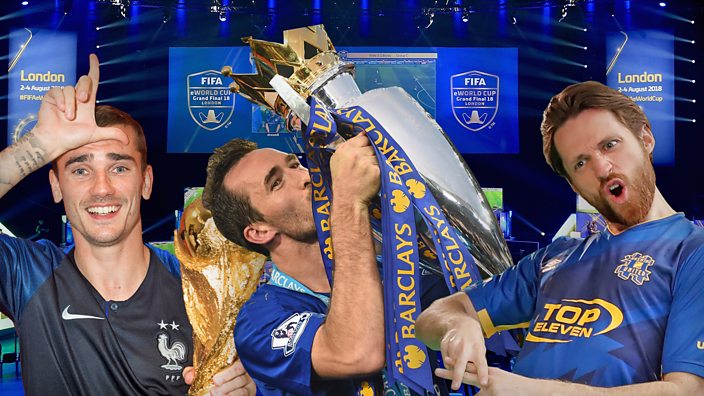 BBC
Football and gaming are becoming inseparable
Footballers love gaming. Gamers love football. We look at this modern-day sporting marriage with Leicester's Christian Fuchs.
More and more, it seems as if two sporting football worlds - online and on the pitch - are merging.
Numerous football clubs around the world have their own esports teams and by signing professional players they are winning big money in lucrative leagues, in the same way as the teams do on the pitch.
Meanwhile, some professional footballers are building a big online presence by showing off their gaming exploits on platforms like Twitch and YouTube. Some may even look to this as an extension of their careers once their on-pitch playing days are over.
Games provide cultural reference points too that have been readily on show in the beautiful game. Players have celebrated scoring goals and winning World Cups with video game emotes, and, for a few, the desire to improve their virtual stats year-on-year is an obvious real-world motivation.
For Leicester City defender Christian Fuchs, football and gaming just go together.
"I think everybody who's interested in football, is also interested in football games," he told us. "When I grew up, besides doing homework and practising football outdoors, I still found some time to play Fifa, right?"
"Esports players want to be associated with clubs. I believe that all those guys have a passion for football," Fuchs observed. "Esports is another way to get into professional clubs now."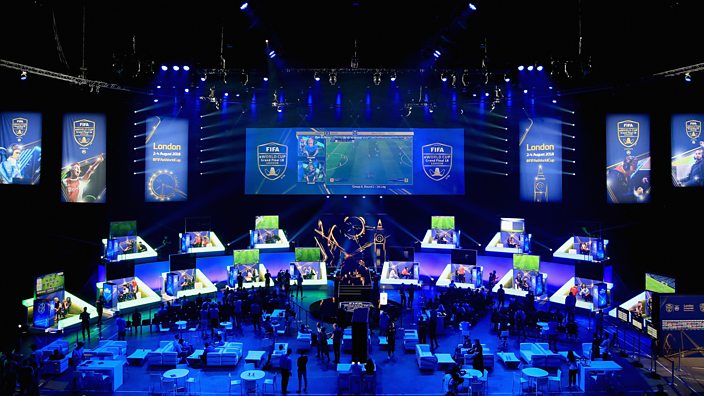 A number of professional football clubs - including Paris St-Germain, Manchester City, Schalke 04 and Ajax – have their own esports teams, with pro gamers playing everything from Fifa to multiplayer online battle arena (MOBA) games like League of Legends.
For now, Fuchs told us, his focus is on Fifa alone, but you don't have to look far to see there are other games that are very popular in the dressing room too.
If you've watched any European football whatsoever in the past year, then chances are you've been exposed to Fortnite.
Whether you play the game or not, no doubt you've seen a player react to scuffing in from five yards out by doing the 'pickaxe', the 'take the L' dance or pretending to 'gather resources'.
Elon Musk may think that Fortnite gamers are 'eternal virgins' (nowt wrong with that, we're not judging), but it's one of the many games footballers can't get enough of. In fact, Antoine Griezmann celebrated winning the actual World Cup by doing a little dance from Fortnite.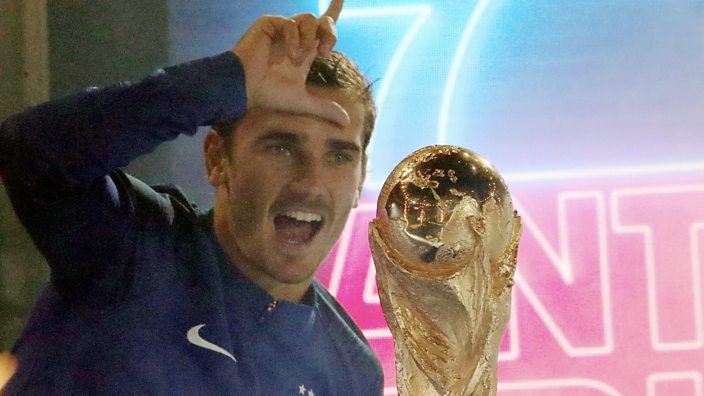 It received over 30,000 concurrent views, and Ozil grabbed a victory. Nice.
David Meyler is a footballer who is also synonymous with gaming and Fifa, in particular.
Over a year ago, the Reading and Republic of Ireland international began uploading videos onto YouTube. A lot of these involve him playing games (mainly Fifa), shouting 'yes lads' a lot and unpacking cards in Ultimate Team mode, including this time when he unpacked himself.
At last count he had 327,261 subscribers to his channel. 
"When I started posting videos on YouTube, the lads were a bit, like, 'what are you doing?'" he said. "And then they saw the growth of my channel and how much people were actually interested in it. So then they were kinda, like, fair play. And some of them even wanted to get involved in the videos."
Meyler insists that this is just a hobby, but his success could be a roadmap for a future career.
The cultural exchange isn't just one way either. Gamers and YouTubers can now enjoy some of the fame previously exclusive to professional footballers through documenting their exploits with average-performing and Sunday League teams.
Spencer Owen is a massive football and gaming YouTuber, with nearly two million subscribers.
In 2016, he had the idea to set up his own tournament, inspired by the Fifa games, in which his team, Hashtag United, would play real matches, within a fictional league.
They were promoted or relegated depending on a points system dictated by match wins and play opponents from other YouTube channels like Copa90 or F2Freestylers.
Hashtag United have played at Wembley and the Etihad. They have toured the US, Serbia, Ireland and Jersey. They have replica kits. This year they entered the English Football League system, joining the Eastern Counties League Division One South. They're legit.
For Fuchs, the motivation to set up a Fifa team came from a few places. He told us that he was approached six months ago by Trevor Keane, from fan engagement specialists Sportego, about the possibility of setting up his own team, but that it was actually his son who gave him the push.
"I saw that he wasn't just playing, but also following certain e-gamers."
Of course, there's a financial reason to get in on the esports bandwagon too. It's a growing market. 
According to research by Copa90, 19% of UK football fans aged 16-19 consume esports content daily. Gaming trends analyst Newzoo recently published their 2018 global eSports market report, including a projection that the global esports economy will grow by 38% to more than 900m US dollars (£700m) in the coming year and that the global esports audience will reach 380m people.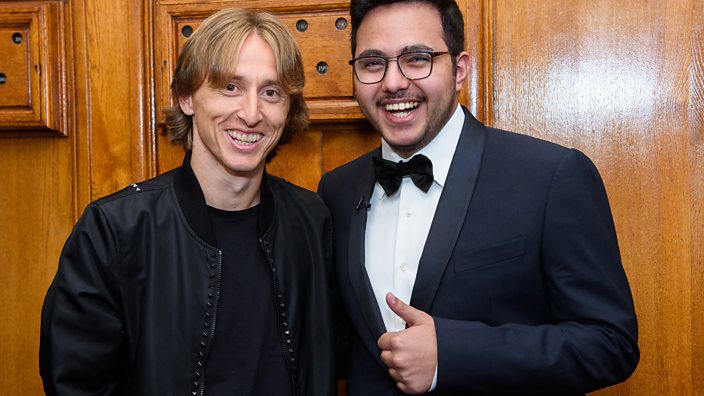 "I simply think it's the future," Fuchs observed.
Currently, No Fuchs Given have nine players signed to them for the FUT (Fifa Ultimate Team) competitions, hailing from as far as Singapore to LA and including Mohamad Al-Bacha, the 2016 Fifa World Champion.
The team chat with each other mostly through WhatsApp apparently and have, according to Fuchs, "good banter." Well, we all know that's a basic pre-requisite for any successful sports team.
Apart from his profile as a Premier League player, what does the Austrian left-back bring to the table?
Fuchs tells us that a lot of what he offers, beyond financial backing, is first-hand experience of how to deal with high-pressure situations. He is a Premier League winner, after all.
"When they go through games sometimes, they can be totally drained by it," he told us. "The qualifiers for FUT easily consume 30-40 hours on the weekend with 30 games that need to be played and there is not much room to slip up." 
There is one of these FUT Championships every month.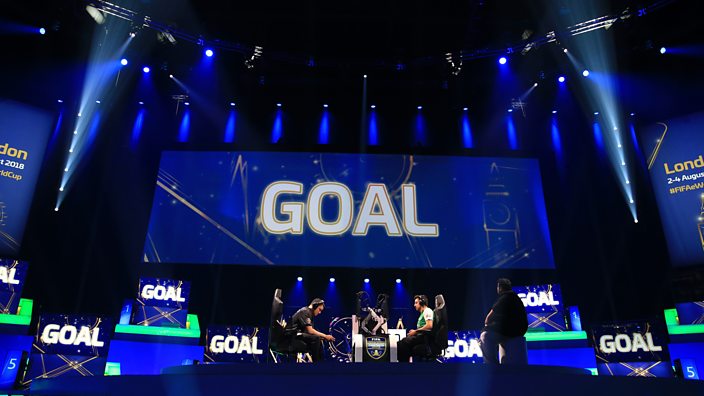 As for himself, Fuchs definitely seems to see this as something he wants to build on.
"When I do something, I do it fully," he told us, adding, "this is something that, yes, I want to follow and that I want to build up after my personal football career."
As the borders between the world of football and gaming get even more blurry, don't be surprised if you see other professional footballers doing the same.