N/A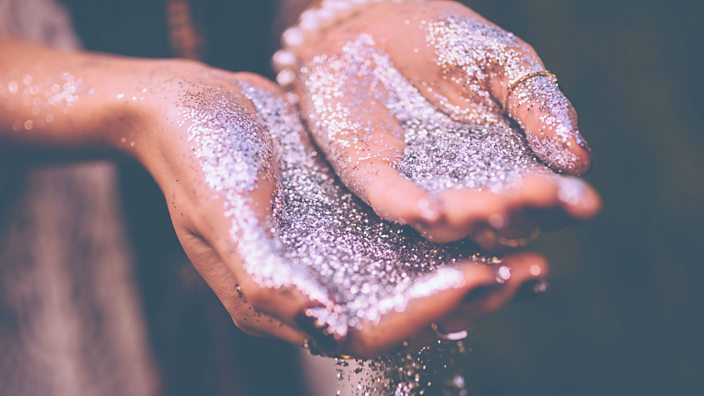 iStock
Should glitter be banned?
Scientists say glitter is bad for the environment, so should we stop using it altogether?
'Tis the season to go overboard on glitter – in costumes, decorations, make-up and even men's beards. 
But more and more experts are voicing concerns about the environmental impact of using glitter, with some scientists calling for it to be banned outright.
"We don't yet know all the details [about glitter]," said Anas Ghadouani, professor of environmental engineering at the University of Western Australia."But it's not a natural product that will morph into our system. It's not like nutrients, it's a chemical."
Glitter is made up of tiny pieces of shiny plastic measuring less than five millimetres, known as microplastics. The problem with these microplastics is that they "can easily pass through water filtration systems and end up in the ocean and Great Lakes, posing a potential threat to aquatic life." 
The fear is that sea life ends up consuming microplastics, which in turn introduces it into the human food chain.
"I think all glitter should be banned, because it's microplastic," said Dr Trisia Farrelly, an environmental anthropologist at Massey University in New Zealand. 
Over the last few years, microbeads – which are one form of microplastic - have come under scrutiny. Microbeads are found in lots of beauty products, like shower gels, facial exfoliants and toothpaste. Indeed, research has shown that a single shower can result in 100,000 plastic particles entering the ocean. 
In the UK, a ban on microbeads will come into effect next year, which will impact on the type of glitter used in 'rinse off' cosmetics and personal care products. But other types of glitter won't be covered by the ban.
Momentum seems to be growing for a glitter ban here, however. Last month, one nursery chain in Dorset made headlines by announcing it was banning glitter in its crèches because of the environmental impact of the product. 
The nursery chain's managing director, Cheryl Hadland, said, "You can see when the children are taking their bits of craft home and there's glitter on the cardboard, it blows off and into the air and on to the road, and it's only a tiny little bit, but we've got 3,000 children and they're all doing Christmas craft at the moment, so we've got glitter everywhere.
"There are 22,000 nurseries in the country, so if we're all getting through kilos and kilos of glitter, we're doing terrible damage, and these children, the world is for them."