N/A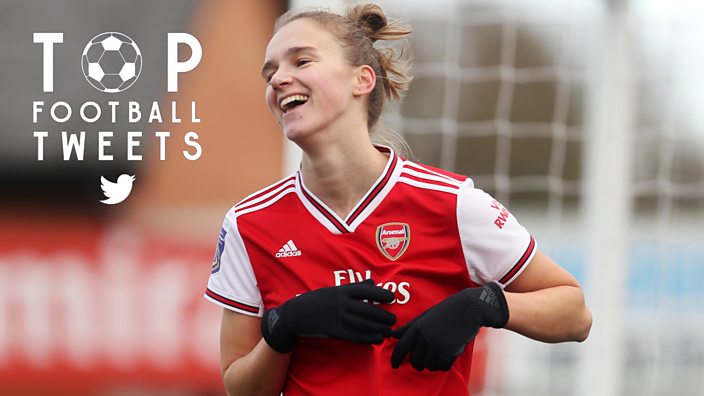 Gettyimages
Arsenal striker Vivianne Miedema just put in the greatest performance of the decade
Elsewhere, the goals temporarily dried up for Robert Lewandowski
We're into the final month of not just the year but the decade and you know what that means — it's almost time for the busiest period in the football calendar.  
As Christmas time draws closer, teams know results now could make or break their season. 
With that in mind, let's take a look at what everyone has been talking about this weekend. 
Arsenal sent out a word of warning to the rest of the Women's Super League on Sunday as the defending champions thrashed Bristol City 11-1. 
While much of the recent talk has been about Chelsea signing Australian striker Sam Kerr, Vivianne Miedema reminded everyone why she is still the top dog, with a late entry for performance of the decade.
The 23-year-old (that's right, she's still only 23) found the net SIX TIMES and added FOUR assists as she claimed a hand in all of Arsenal's first 10 goals. 
2) The more things change...
Quique Sanchez Flores became the fourth Premier League manager — and the second Watford boss — to be given his marching orders so far this season, with teams changing gaffers seemingly every other week at this point. 
It was quite the day for David Martin as he stepped in between the sticks for West Ham to make his Premier League debut at the age of 33. 
The son of Hammers legend Alvin Martin, he kept a clean sheet to give the Irons a 1-0 win over Chelsea and celebrated with his father after the final whistle. 
After Roberto's struggles over the last few weeks, West Ham supporters have quickly taken to Martin, singing his name after the game. 
4) You've got to hand it to him
Hammers fans will no doubt be delighted with the result, having failed to win any of their previous six matches heading into the game, but it could have been even better. 
Michail Antonio had the ball in the net in the 69th minute, but saw his goal ruled out by VAR for a handball, a decision which the attacker jokingly contested after the game. 
5) Lewandowski's dry spell
If you haven't learned it by now, be careful what you put on social media. You'll be surprised how quickly things can come back to bite you on the behind. 
For example, after scoring four goals during the week against Red Star Belgrade to bring his total for the season up to 26 in 19 appearances for his club, Robert Lewandowski was feeling unstoppable.
6) A lesson in team building
With the continued success of Red Bull's clubs in Austria and Germany (Salzburg and Leipzig respectively), we can't help but think what other brands might dip their toe into the footballing world... 
After coming fourth at the World Cup last year, some England fans are wondering if next summer will be the one where it finally comes home and the tournament will certainly feel very local for Gareth Southgate's men. 
If that all sounds too good to be true, it probably is because one of the teams from the group of death — Germany, Portugal or France — awaits the winner of England's group in the next round.  
When life gives you lemons, you make lemonade. But when life gives you a broadcasting area with no view of the match you're supposed to be commentating on, you have to get a little more creative than that.
Tom Pope sent Port Vale through to the third round of the FA Cup next month as he scored an eight-minute hat-trick to inspire his side to come from a goal behind against Cheltenham.
Whereas most of us would probably be over the moon with such a performance, Pope took it all in his stride.
Hibernian striker Christian Doidge scored his sixth goal in four games at the weekend, giving us a classic of the 'so bad it's good' genre of social media posts from an official club account.  
You think your local rivalry is heated? We guarantee it's got nothing on the hottest fixture in the Botswanan Premier League. 
Insert your own Mean Machine/Longest Yard/Escape to Victory reference here.