N/A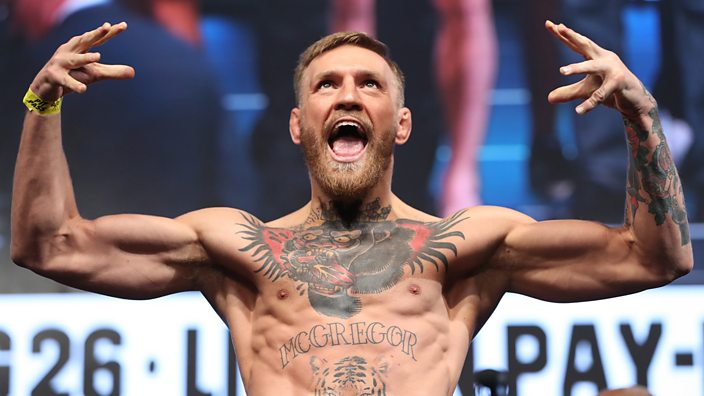 Getty
New York police 'want to contact' Conor McGregor after havoc at media event
Shocking scenes from Brooklyn ahead of UFC 223
Dramatic footage emerged from Brooklyn, New York, on Thursday afternoon as Conor McGregor, along with his entourage, allegedly caused havoc at the Barclays Center after the conclusion of media day ahead of the weekend's UFC 223 event.
McGregor is not involved in the event, but has a teammate, Artem Lobov, on the card, and the main event will see McGregor's UFC lightweight title stripped from him, with the winner of the bout between Khabib Nurmagomedov and Max Holloway walking away the new undisputed UFC lightweight champion.
What happened today was criminal, disgusting and it makes me sick.

Dana White
The dramatic scenes occurred as a busload of fighters were waiting to be driven back to the host hotel following today's Ultimate Media Day event.
Footage captured from the bus appears to show McGregor attempting to grab a guard rail, then a waste bin, before being stopped by UFC security staff. Seconds later, an unidentified individual throws a missile that smashes a window of the bus.
Speaking to reporters after arriving at the scene, UFC president Dana White claimed that the former two-weight UFC champion was set to be arrested by the NYPD.
"There is a warrant out for Conor McGregor's arrest," he told reporters.
"They're looking for him right now. His plane cannot take off. He cannot leave the state of New York with this warrant. He'll be grounded and I'm assuming eventually if they don't catch him, he'll turn himself in.
"You can imagine he's gonna be sued beyond belief, and this was a real bad career move for him."
The incident left the UFC bus badly damaged and UFC lightweight Michael Chiesa with a cut forehead.
Speaking to MMAjunkie after the incident, Chiesa's manager Rick Little said: "Mike's cut up now. He's got marks on him, for sure. I don't think too serious. Everything happened so fast, it was just like we got jumped."
UFC featherweight and teammate of McGregor, Artem Lobov, has been pulled from the card for his alleged involvement in the incident.
Potential legal ramifications aside, questions will now be raised over whether Conor McGregor will fight in the UFC's octagon again.
Based on his reaction, UFC president White seems less than keen.
"Do you want to be in business with Conor McGregor right now?" he asked reporters.
"Do you want to chase this guy around for interviews, and buy his fights? I don't think anybody is going to want to right now. I think everybody is going to be pretty disgusted with Conor McGregor right now.
"Listen, you don't like Khabib and you don't like what happened (with Lobov) or whatever? Then fight Khabib. You can come in here and you can do it legally.
"This fight's happening Saturday. We could have talked and made the Khabib fight right after. You could do whatever you wanted to Khabib within the limits of the rules of fighting.
"But you want to grab 30 friends and come down here and do what you did today? It's disgusting, and I don't think anybody is going to be huge Conor McGregor fans after this."
And White, who has been a strong backer and advocate of the at-times-controversial Irishman, was left almost speechless after today's events.
"To come and do this and act like this? And you're talking about a guy who has a baby. He just had a kid. This is how you're acting? You have a son at home."