N/A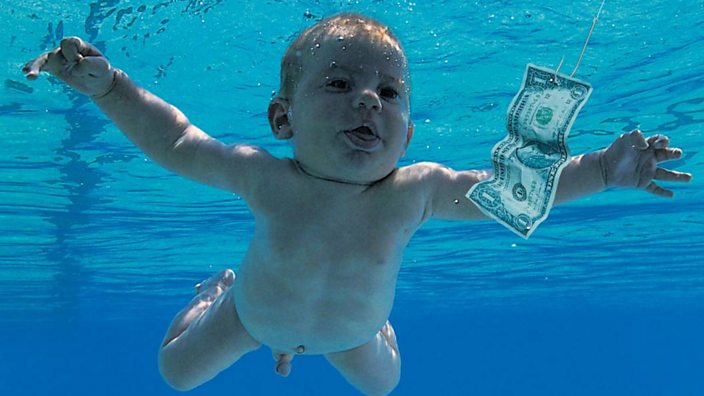 Photo by Kirk Weddle, model Spencer Elden, used by Nirvana.
What the Nirvana baby is doing 25 years later...
It's 25 years and a bit since Nirvana released Nevermind - the album that's become synonymous with the grunge-rock movement. Do you remember where you were on 24 September 1991? Were you even born? Talented artist Spencer Elden was. He probably wasn't old enough to have developed any real long-term memory by that time, but he does at least have a photo to document that point in history.
Spencer is, or was, the underwater baby on that famous album cover. The story goes that Spencer's father, who was at art school at the time, agreed to help his friend out, the photographer Kirk Weddle, with a little project he had going. He'd been photographing a lot of babies and Spencer's image just worked best. As Elden wrote in 2010:
"I think it's because of my penis – a lot of the other babies were girls."
That's a brief précis anyway of how Elden's penis became one of the most viewed in modern rock (perhaps trumped by Lenny Kravitz – we'll let you google that trouser-splitting vid yourselves). As Elden explained to us, 25 years on, he's still not entirely sure what to make of the whole thing.
"Sometimes it's really frustrating, sometimes it's really cool. It's all about how you look at it."
As we chatted, and tried to root out the source of his frustration, it transpired that a lot of it came from a sense of having so little volition.
"It's weird to be affiliated with this band and yet have nothing to do with them at all."
There must be a certain sense of obligation attached to being part of a project like that too, no matter how little say he had in the whole thing. It's not like a throwaway image or album, is it? Nirvana fans tend to be pretty protective.
"At least it's for something cool. At least I'm not, like, the Teletubbies baby or something else man."
Nevertheless, Elden did seem frustrated with having to carry that identity.
"Yeah, I mean, media outlets aren't asking me about myself. I'm just still trying to get my head around this image and be comfortable with myself as I am. I wouldn't want to distance myself, but, at the same time, it doesn't seem healthy. Why is anyone trying to hit me up anyway? Who am I?"
Then there's the financial aspect. That can't be avoided. Nevermind sold 3 million copies before Elden was one. His father received about $200 in a one-off payment from the photographer.
"It was a total bro deal at the time. I wasn't going down there in a suit, making demands like 'no, you need to pay me my due'."
Did he feel at all resentful about this?
"…y'know, it's one thing to do an album cover with me, it's another to do 30 million albums and then pretend like you don't know me. I never met these guys. It's kinda frustrating to pass it off like I didn't exist." Elden explained that he'd tried to reach out to the surviving band members, but had "missed connections".
Of course the cover, as most people have interpreted it, seems to make a statement about corporatism. "I think it's about an abandonment of innocence and everyone chasing money sooner and faster". He must be acutely aware of the irony.
"These people are all rolling around in lots of money and it doesn't seem very grunge rock to me. They all sold out. I'm the last man standing in this grunge-rockness, rolling in my Honda Civic."
There you have it. Spencer Elden - perhaps, by his own suggestion, carrying the spirit of grunge rock to this day. At least there's that, hey...